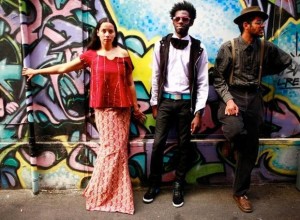 Mixed feelings about he the news that come the new year vocalist/violinist Rhiannon Giddens will be last original member of The Carolina Chocolate Drops.
Details came from the Grammy-winning sting-band's social media channels. Where I personally learned about it was from from their facebook page:
"We're all getting ready to hit the road together in December for a very special US tour. At the end of these dates, Dom Flemons will be embarking on a solo career and two new musicians – cellist Malcolm Parson and multi-instrumentalist Rowan Corbett – will join Rhiannon Giddens and Hubby Jenkins in the New Year for a full run of dates!
"Dom and I have been a tremendous team for the last eight years, and I wish him all the best on his new solo endeavor. I know he will be enriching the landscape of American music wherever he goes," Rhiannon says. "Carolina Chocolate Drops lives on, and honors all past members who have added so much over the years; we wouldn't be where we are without each and every one. I'm looking forward to introducing new, talented musicians to the ever-expanding Chocolate Drop family!"
"Though my music is taking me to new places with my upcoming solo projects, I know that the Carolina Chocolate Drops will continue on to do new, amazing things," says Dom. "My past eight years with the band has been a wonderful experience, musically and personally. As my music grows in a new direction, I know I can count my time with them as a building block to where I am now. I am excited to continue on my musical journey exploring the hidden facets of American Music." Dom will kick off 2014 with a tour of Australia, and continue performing across the US throughout the year (full schedule here).
Leyla McCalla will also be departing the band in order to pursue a solo career. We're very excited for what the future holds for Dom, Leyla, and the Chocolate Drops and we hope you'll come along for the ride!
Below are our remaining tour dates for 2013:
12/06 Variety Playhouse, Atlanta, GA Tickets
12/07 The Orange Peel, Asheville, NC Tickets
12/08 The Orange Peel, Asheville, NC Tickets
12/12 Bijou Theatre, Knoxville, TN Tickets
12/13 Bijou Theatre, Knoxville, TN Tickets
12/14 Neighborhood Theatre, Charlotte, NC Tickets
12/15 Neighborhood Theatre, Charlotte, NC Tickets
We hope to see you all at the shows! Please stop by the merch table to pick up this exclusive tour poster commemorating these last few shows of 2013!"
The Carolina Chocolate Drops have been one of the most exciting bands on the Americana and roots scene for the last decade. " I'm happy that the band is not packing it in completely, but it is bittersweet that Flemons will be leaving.
Here's to their continued success, and I look forward to seeing what the new members bring to the mix. And at some point the extended Drops family comes together for something special for the fans.