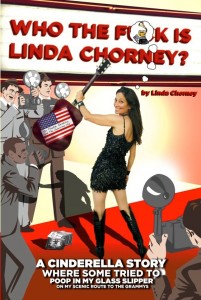 Once there was a woman of musical talent, persistence and ingenuity who performed original songs and favorite covers to audiences worldwide. She was a road warrior for over 30 years before catching a career changing break. Belief in herself, and her craft, took her to heights she'd never imagined. It helped drive her that she possessed the confidence that she certainly deserved to succeed. She believed.
Fellow musicians and industry professionals, caught in a music business grasping for identity, relevance and diminishing revenue, applauded her drive. Though her music – a pop-folk, adult contemporary mix not unlike Sheryl Crow – might not be their shot of hooch, they all treated her with respect and heralded her as a harbinger of the DIY work ethic. One where an artist can circumvent gatekeepers and industrial trip-wires and engage the double edge levers of technology to snag a professional success. Even a Grammy nomination.
Well, not quite. Linda Chorney, a black horse in the run for the 2012 Grammy Award for Americana Album of the year , was nominated among rock/country/folk/Americana heavy hitters Emmylou Harris, Ry Cooder, Lucinda Williams and Levon Helm (winner.) She used the Grammy social network, Grammy 365, to get her 7th album, Emotional Jukebox, in front of Academy members who nominated her for the short list for a little statue.
Chorney's success from planning, help from friends and loved ones, dumb luck and shear will was met by some in the Americana community with almost immediate online character assassination, professional chicanery and calls for withdrawal of her nomination. On what grounds were the calls of withdrawal based? Accusations of "cheating" and "gaming the system" abounded though no actual proof was presented.
"Who The F$%# is Linda Chorney" details the her road to the Grammys much in a manner like her blog posts. Unguarded, profane observational bursts of of highs and lows that ring of authenticity. She tells of making the best of a once-in-a-lifetime moment – dress fittings in New York, cover features in Variety, shooting a music video in L.A. with renowned/producer Forrest Murray, walking the red carpet and hob-nobbing with her hero Gregg Allman. All the while enduring vile online and personal attacks and undermining. She does it in a way that never becomes dour and for reason both litigious and polite she changes the "names of the guilty."
The worst offenders were those most threatened by by her unconventional success. media relations specialists, radio professionals and labels all piled on. Instead of accolades toward someone producing the stuff we all profess to celebrate – music- and a moment of professional self-reflection and reassessment where value is produced in the new music order, there was a circling of wagons and shots ringing into the night. The old guard reacted as you might expect. Attack and attempt retrenchment in a landscape shifting beneath their feet.
Though there was no official condemnation from the Nashville-based trade group Americana Music Association, the choice to not issue it's standard nominee congratulatory press release that year, for the first time in history of the Americana Album of the year 3 year history, spoke volumes.
Cards on that table – I was the official Americana blogger for the Grammys during this whole sad affair. I have a small part in the book and was surprised to discover in reading it that I was the first person to interview her after her nomination. I was also a witness to much of the online attacks and for a while got caught up in, complete with threats, the ugliness that transpired. Truth be told, i was ashamed of our community of outcasts. I still see it as a dark period.
In the aftermath of the spotlight Chorney has brought her story to the prestigious TED talk series (below) and she sang the Star Spangled Banner for her beloved Boston Red Socks and recently recording a song memory of 8 year old Boston bombing victim Martin Richard
Oh, and she wrote a book which she's now shopping around to be made into a film.
Whether you see Chorney as a gatecrashing outsider or a industrious rebel, her story is one that any artist toiling on the road can take to heart as proof that if you believe in your craft, and cultivate a gift for gab and a sense of marketing, success can be yours. It's also a cautionary tale for the music industry and self-appointed gatekeepers that access ain't what it used to be.