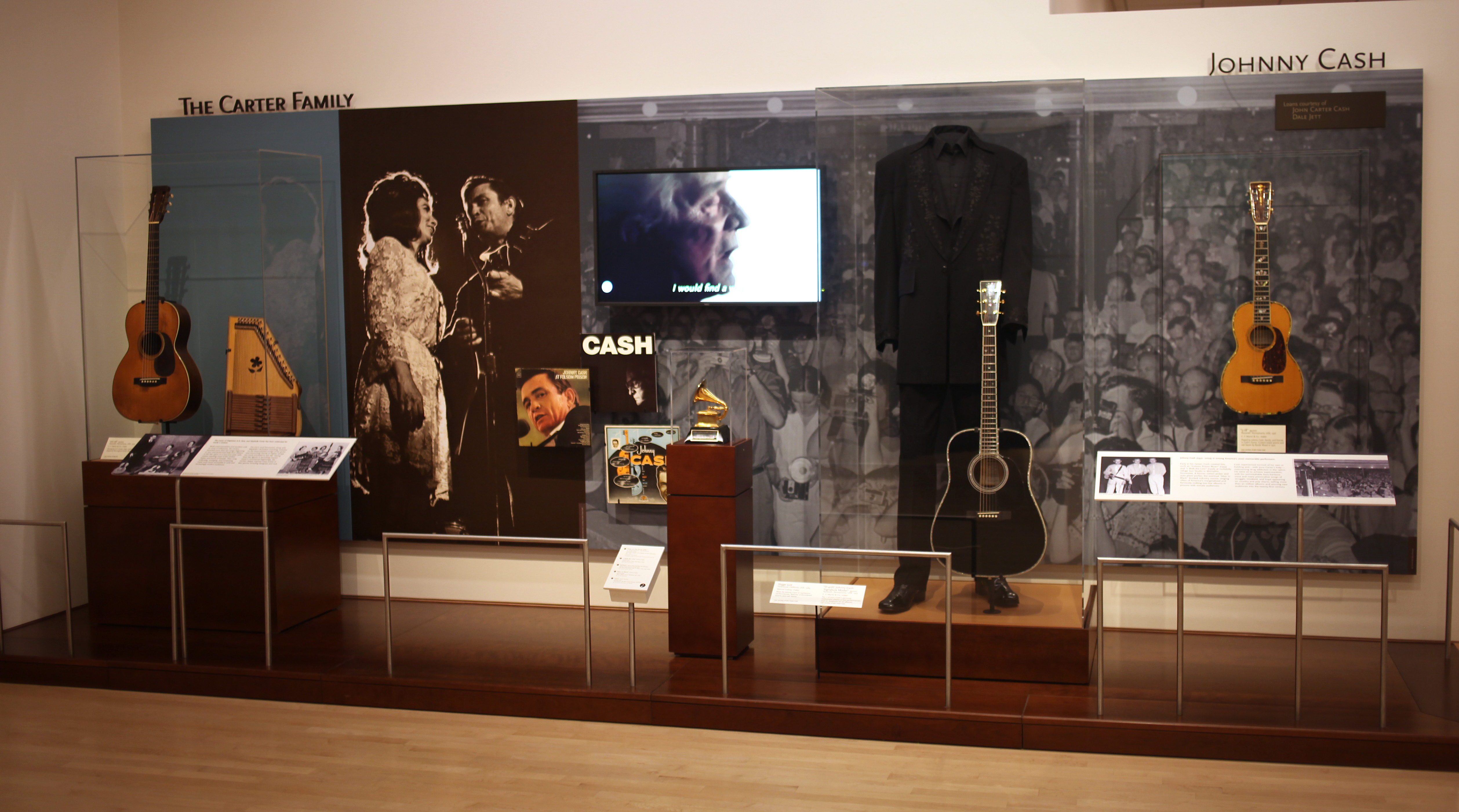 The Musical Instrument Museum (MIM) in Phoenix recently unveiled an exhibit honoring the Carter Family and Johnny Cash. Located in MIM's Artist Gallery, the exhibit provides guests with an overview of the musical careers of the artists and their historical impact.
Items on display in the Carter Family and Johnny Cash exhibits have never before been displayed for the public and come to MIM on loan from John Carter Cash, son of Johnny Cash and June Carter Cash, and Dale Jett, grandson of A.P. Carter. The items will be on display through April 2016.
"When I first visited MIM, I was excited by its inimitable beauty and scale. It has been a wondrous blessing to work with the staff there and help bring about the Carter Family / Johnny Cash display," said John Carter Cash. "I feel it is inspired and shows a unique view into the history of country music that cannot be seen anywhere else."
The music of the Carters (A.P., Sara and Maybelle Carter) has been celebrated for nearly a century. The trio, which recorded more than 250 songs, is widely recognized for helping launch country music's commercial beginnings and for inspiring many artists in later genres including bluegrass and rock.
Items on display in the Carter Family and Johnny Cash exhibits include:
· A.P. Carter's 1929 Martin 00-28 guitar, played by the original Carter Family
· June Carter Cash's custom Orthey autoharp and fingerpicks
· Johnny Cash's black Manuel Cuevas stage suit which was worn in concert and features embroidered acorns and oak leaves
· Johnny Cash's black Martin D-42JC signature guitar which was played in concert and on several of his "American" albums
· Johnny Cash's 1936 Martin 5-18 guitar which was played by Cash, family and friends in Cash's home and inlaid in the early 1970s with acorns and oak leaves
· Johnny Cash's 2002 Grammy award for "Give My Love to Rose," Best Male Country Vocal Performance
The exhibits also feature photographs from the Grand Ole Opry Archives and performance footage from several sources.
"It would be difficult to overstate the significance of these artists in American music," said MIM curator for North America, Dr. Cullen Strawn. "It's an honor to share their objects, songs and stories with our guests."
The Carter Family and Johnny Cash exhibits join the ranks of other country music-focused exhibits at MIM. MIM's Artist Galley features instruments played by Elvis Presley, Roy Orbison, and the Nitty Gritty Dirt Band. In MIM's United States/Canada Gallery, the Country exhibit displays items belonging to Marty Robbins, Buck Owens, Kix Brooks and others.
Entrance to MIM's Artist Gallery is included with general museum admission.
The Musical Instrument Museum is located at 4725 E. Mayo Boulevard in Phoenix (corner of Tatum and Mayo Boulevards, just south of Loop 101). For general museum information and a full schedule of events, visit MIM.org or call 480.478.6000.