Not too be cynical, but Christmas albums are often little more than a money grab from big artists.They makes perfect business sense but rarely results in laying out hard-earned dollars to add to your collection. Here are 5 that break the opportunistic mold/ The artists here are either so singularly excellent as to transcend the material or they exhibit such sincerity and love for the material that it just moves you.
An Americana Christmas

is a rootsy 16 song mix of classic Christmas songs and brand new holiday recordings from country and Americana legends, like John Prine, Johnny Cash and Dwight Yoakam, and some new guns Ronnie Fauss and Nikki Lane. This is a nicely balanced CD to sip your nog to.
Christmas With Buck Owens And His Buckaroos
– Buck recorded two Christmas albums back in the sixties - Christmas Shopping and  Christmas with Buck Owens. This is the better of the two because the King of the Bakersfield Sound avoids the usual Christmas chestnuts and lends his signature style to a collection consisting  almost all original songs. The songs run from barroom weepers Blue Christmas Tree and It's Christmas Time For Everyone But Me and the swinging Santa's Gonna Come in a Stage Coach and Because It's Christmas Time. This is a great stocking-stuffer for the country traditionalist in your life.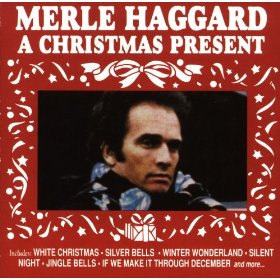 A Christmas Present
– How many Christmas albums can you name that resulted in a #1 song? Not many, but this is one of them. Haggard's  A Christmas Present, released in 1973,  contains the single If We Make It Through December which spent four weeks at No. 1 on the Billboard magazine Hot Country Singles chart that December through  January 1974. That song and others like melancholy "Daddy Won't Be Home for Christmas settles you in for a lonesome Christmas, but Hag does take a light-hearted break with Santa Claus and Popcorn and Bobby Wants a Puppy Dog for Christmas.
A John Prine Christmas
– The legendary John Prine puts away the satircal knives (mostly) on this excellent, though brief, holiday release. Classics like I Saw Mommy Kissing Santa Claus and  Silver Bells are done straight-up and  mixed with wry originals resulting in a tasty spiked Christmas nog. Broken relationships in songs like  Everything Is Cool and All the Best are recalled less bitterness then bemused fatalism.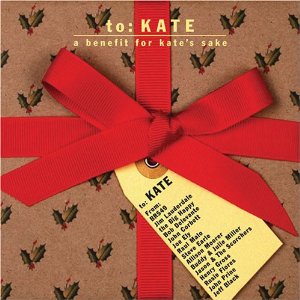 To: Kate a Benefit for Kate's Sake
– A collection of Americana and alt.country legends came together on this 2005 release partake in one of the greatest of Christmas endeavors; charity.
Jim Lauderdale, Steve Earle, Joe Ely, Buddy & Julie Miller and others to put together To: Kate a Benefit for Kate's Sake to benefit a three-year-old  Nashville girl suffering from a rare genetic disease. Chuck Mead and BR549 do a great Western Swing version of The Christmas Song and Jim Lauderdale tears through a spirited Holly & Her Mistletoe. Buddy and Julie Miller strike the perfect tone for the spiritual Away In A Manger and Joe Ely's Tejano-tinged Winterlude is as spicy and pleasing as Mexican hot chocolate on a winter night.
Hillbilly Holiday
– Unfortunately now out of print, Hillbilly Holiday is an excellent 18-track compilation of classic country Christmas songs. Pioneers like Bill Monroe, Tex Ritter and Ernst Tubb sit beside relative newcomers Willie Nelson. Buck Owens and Loretta Lynn on this often whimsical compilation. If you can find this release is  just the remedy for the pop-country fan in your life.