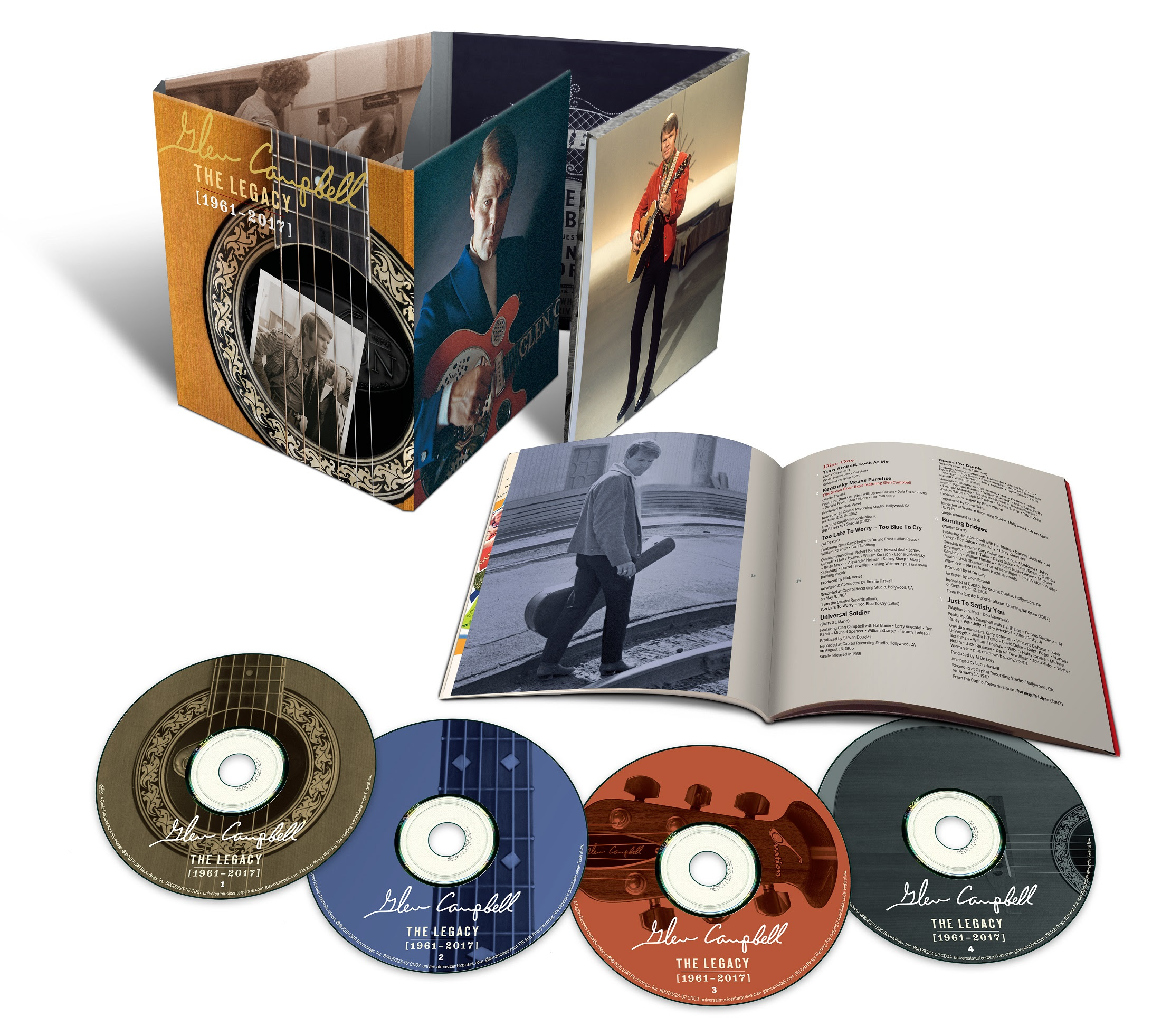 Whether cutting his teeth as an in-demand session musician for the likes of The Beach Boys, Frank Sinatra, Elvis Presley, Simon & Garfunkel, The Righteous Brothers, Merle Haggard and so many more as part of The Wrecking Crew, to his rein of the 70's country charts as a solo performer few artists represent country / pop crossover success like Glen Campbell.
On June 21st Capitol/UMemn will celebrate Campbell's incredible career with an expanded edition of his long-out-of-print, career-spanning box set (originally released in 2003.)
Glen Campbell – The Legacy [1961-2017] is a four-disc anthology reflecting his storied six-decade career chronicling his hits as well as his late-career renaissance with songs from 2008's Meet Glen Campbell, 2011's Ghost On The Canvas, 2014's soundtrack to his revealing and emotional documentary, Glen Campbell: I'll Be Me, and 2017's Adiós, released shortly before he passed away from complications from his long, public battle with Alzheimer's.
The box set includes a stunning 60-page booklet and updated liner notes by well-known music scribe Joel Selvin who wrote the original liners.
Opening with "Turn Around, Look At Me," Campbell's first single released in 1961 shortly after he moved to Los Angeles from Albuquerque to break into the music business, Glen Campbell – The Legacy [1961-2017] includes songs from nearly all of the sixty plus album's he released in his lifetime, providing an outstanding overview of this influential, rare talent.
The collection traces his early evolution from early career bluegrass tune "Kentucky Means Paradise," the honky-tonk oldie "Too Late To Worry – Too Blue To Cry," Buffy St. Marie's protest anthem "Universal Soldier" and "Guess I'm Dumb," written and produced by his friend Brian Wilson of The Beach Boys who Campbell substituted for on tour when Wilson bowed out, to his first works with producer Al De Lory, who helped him hone his signature sound with the song that would kickstart his recording career and put him on the map: the 1967 John Hartford-penned masterpiece "Gentle On My Mind." As Joel Selvin writes in his illuminating liner notes, "Despite a modest chart performance, 'Gentle On My Mind' did turn out to be the definitive record of Campbell's career, the point where he not only took charge of his own artistic destiny but became his own creation."
The next hit was a song that would end up being a turning point for him. "By The Time I Get To Phoenix" which both introduced a new lush sound for Campbell and a shined a spotlight on a little known songwriter from Oklahoma named Jimmy Webb. The song, which along with "Gentle On My Mind," helped him make history at the 1967 GRAMMY® Awards by sweeping the song and performance awards in both the pop and country and western categories, was a crossover success that spent an incredible six months on the charts and catapulted Campbell to fame. It also began a fruitful lifelong partnership between the musician and songwriter that would last more than five decades and include some of Campbell's biggest hits such as "Wichita Lineman" and "Galveston," which kicks off disc two.
The late '60s and early '70s were especially prolific for Campbell who, in between starring in his hit TV show "The Glen Campbell Good Time Hour" and becoming a movie star opposite John Wayne in the western "True Grit" (of which he recorded the Oscar-nominated theme song) and his feature film follow-up, "Norwood," released four albums in 1970 and three more the following year. The Legacy collection includes many of the tracks released during this period including Webb's "Where's The Playground Susie," and "MacArthur Park," "I Wanna Live" (a number one country hit), and several songs recorded with labelmate Bobbie Gentry including "Let It Be Me," Scarborough Fair/Canticle," and the Everly Brothers hit, "All I Have To Do Is Dream." There's also Campbell's version of Roy Orbison's "Dream Baby (How Long Must I Dream)," the sweeping Gordon Lightfoot-penned title track from his album "The Last Time I Saw Her" and a medley with Anne Murray of "I Say A Little Prayer/By The Time I Get To Phoenix.
The second half of the box set features Campbell's trademark song "Rhinestone Cowboy," which earned him his first number one record and became his theme in many ways, and his sprightly spin on Allen Toussaint's "Southern Nights." More than four decades later Campbell's rendition of "Southern Nights" would prominently feature in the film and soundtrack to "Guardians of The Galaxy Vol. 2" introducing a whole new generation to his music. Other highlights include "God Only Knows," Campbell's beautiful take on Brian Wilson's opus, "Sunflower," a breezy #1 hit written by Neil Diamond and "Highwayman," which eight years after recording the Jimmy Webb song, Campbell would introduce to Willie Nelson, Waylon Jennings, Johnny Cash and Kris Kristofferson. They not only used the name for their supergroup but also won a GRAMMY®.
The final disc of the collection, which includes Campbell showcasing his love for gospel and his faith with a stirring live rendition of "Amazing Grace," and flexing his incredible guitar skills on "Classical Gas," has been expanded to include songs from his albums released in the 2000s. Included from his acclaimed 2008 album, Meet Glen Campbell, which saw the icon tackle contemporary and classic songs, is his inspired covers of the Foo Fighters "Times Like These," Green Day's "Good Riddance (Time Of Your Life)" and Jackson Browne's "These Days." 2011's Ghost On The Canvas is represented with a spirited take on the Paul Westerberg song of the same name while 2013's See You There is represented with "Waiting On The Comin' Of My Lord."
The last song Campbell ever recorded was "I'm Not Gonna Miss You." This touching goodbye to his family and fans co-written by him and producer Julian Raymond and recorded with members of The Wrecking Crew, is one of the many high points that round out the box set. The song featured in the documentary "Glen Campbell: I'll Be Me," which chronicles Campbell's diagnosis of Alzheimer's and his final tour, won the GRAMMY® Award for Best Country Song and was nominated for Best Original Song at the 87th Academy Awards. The retrospective culminates with three songs from Campbell's bucket list album Adiós, recorded while fighting his disease and released in 2017 to universal acclaim: a banjo-filled take on "Everybody's Talkin,'" country weeper "It Won't Bring Her Back" and the bittersweet title track, which brought Campbell's career full circle by reuniting him one last time with his lifelong collaborator Jimmy Webb.
Glen Campbell – The Legacy [1961-2017] pays honor to Campbell's exceptional legacy and celebrates the timeless music of one of the best singers and musicians the world has ever known with a lovingly compiled, comprehensive collection that is a must for longtime fans and anyone who wants to learn more about Glen Campbell's singular musical journey.
Pre-order GLEN CAMPBELL – THE LEGACY [1961-2017]
GLEN CAMPBELL – THE LEGACY [1961-2017] TRACK LISTING
DISC ONE
1. Turn Around, Look At
2. Kentucky Means Paradise (The Green River Boys featuring Glen Campbell)
3. Too Late To Worry – Too Blue To Cry
4. Universal Soldier
5. Guess I'm Dumb
6. Burning Bridges
7. Just To Satisfy You
8. Less Of Me
9. Gentle On My Mind
10. Crying
11. By The Time I Get To Phoenix
12. Tomorrow Never Comes
13. Hey, Little One
14. I Wanna Live
15. Turn Around And Look At Me (New Version)
16. The Legend Of Bonnie And Clyde
17. Let It Be Me (Glen Campbell & Bobbie Gentry)
18. Scarborough Fair / Canticle (Glen Campbell & Bobbie Gentry)
19. Wichita Lineman
20. Dreams Of The Everyday Housewife
21. Reason To Believe
DISC TWO
1. Galveston
2. Where's The Playground Susie
3. If This Is Love
4. True Grit
5. Try A Little Kindness
6. Honey, Come Back
7. One Pair Of Hands
8. All I Have To Do Is Dream (Glen Campbell & Bobbie Gentry)
9. Everything A Man Could Ever Need
10.It's Only Make Believe
11. Pave Your Way Into Tomorrow
12. MacArthur Park
13. Dream Baby (How Long Must I Dream)
14. The Last Time I Saw Her
15. I Say A Little Prayer / By The Time I Get To Phoenix (Medley) (Glen Campbell & Anne Murray
16. The Last Thing On My Mind
17. I Knew Jesus (Before He Was A Star)
18. I'm So Lonesome I Could Cry
19. Houston (I'm Comin' To See You)
20. Bonaparte's Retreat
21. The Moon's A Harsh Mistress
DISC THREE
1. Rhinestone Cowboy
2. Country Boy (You Got Your Feet In L.A.)
3. Arkansas
4. Don't Pull Your Love / Then You Can Tell Me Goodbye (Medley)
5. Southern Nights
6. Sunflower
7. God Only Knows
8. I'm Gonna Love You
9. Can You Fool
10. Highwayman
11. Somethin' 'Bout You Baby I Like (Glen Campbell With Rita Coolidge)
12. Any Which Way You Can
13. I Was Too Busy Loving You
14. Faithless Love
15. A Lady Like You
16. The Hand That Rocks The Cradle (Glen Campbell With Steve Wariner)
17. I Have You
18. If These Walls Could Speak
19. Unconditional Love
20. She's Gone, Gone, Gone
21. Show Me Your Way (Glen Campbell & Anne Murray)
22. Only One Life
23. Somebody Like That
DISC FOUR
1. You'll Never Walk Alone
2. People Get Ready
3. Amazing Grace
4. Lean On Me
5. Times Like These
6. These Days
7. Good Riddance (Time Of Your Life)
8. Ghost On The Canva
9. Waiting On The Comin' Of My Lord
10. I'm Not Gonna Miss You
11. Everybody's Talkin'
12. It Won't Bring Her Back
13. Adiós