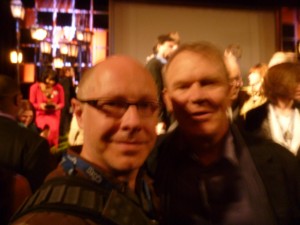 "A Better Place," the second video from Glen Campbell's critically acclaimed album "Ghost On The Canvas" has premiered. The video features a special guest appearance from Joshua Homme (Queens Of The Stone Age, Kyuss, Them Crooked Vultures), and is directed by Kii Arens and Jason Trucco.
Legendary singer, picker, television star, Country Music Hall of Fame member and one-time session man for the Beach Boys, Glen Campbell was diagnosed with Alzheimer's disease last year and is currently supporting his final studio album "Ghost On The Canvas" (Surfdog Records) his "The Goodbye Tour" to say a fond thank you to his loyal and loving fans.
Joshua Homme comments on being featured in Glen Campbell's latest (and possibly , last) video, recalls, "The video director, Kii Arens, is a friend and collaborator. He asked me outta the blue and I jumped at the chance. I believe his exact words where "Do you want to play the bartender from The Shining in the last Glen Campbell?" and mine were "Of course I do!" He continues, "I'm ecstatic. I'm humbled. I'm lucky. I'm honored. I'd have carried lights and cameras to do it."
Like a generation, Homme home grew up with Campbell's songs as a big part of his musical diet at home ""Rhinestone Cowboy" was already a huge hit, "Wichita Lineman" and his work with Anne Murray was being played around the house. It was just part of my soundtrack to being a kid at home. When I got a little older and into picking my own music, I realized Glen Campbell was in The Beach Boys, started hearing his earlier music and seeing the full scope of what an incredible guitar player and recording artist he was too. The amount of sessions and songs is incredible. He is a superstar of music. Between that and his TV show, I began to get a clue that being a musician is more than just playing an instrument."
This farewell video features Campbell looking back at his life and career. He also sends a personal message to his wife, Kimberley, a former Radio City Music Hall dancer that the Rhinestone Cowboy met on a blind date in 1981. "My love goes out to Kim, my amazing grace. You've been by my side through these changing times, and it means the world to me."
I got to briefly speak to Campbell after he picked up his Lifetime Achievement GRAMMY Award (his 8th GRAMMY) and he appeared to be in great spirits joking with the crowd and dotting over his lovely wife Kim Woollen. He then went on to perform at the official GRAMMYs show covering several of his best known hits and causing Paul McCartney to bob his and clap along. It makes sense that he too would be a fan. Here's to a fine man and a lasting legacy.