If you do live in a place with at least one independent record store, and love music, then you need to know about the upcoming Record Store Day. This internationally celebrated day is observed on the the third Saturday in April of each year. The event was originally conceived by Chris Brown, VP of  Portsmouth, NH's Bull Moose music store, and founded in 2007 by Eric Levin, Michael Kurtz, Carrie Colliton, Amy Dorfman, Don Van Cleave and Brian Poehner. Exclusive and limited vinyl and CD releases made just for the day by hundreds of artists in hundreds of US and international stores to draw attention the the disappearing mom and pop music stores being affected by a tough economic climate the dwindling customer base that are flocking to buy music online.
This is the fifth year for the event and will offer special releases from Ryan Adams,The Civil Wars, Townes Van Zandt, Carolina Chocolate Drops, Patterson Hood and many more. There many great one offs and creative packaging (where else are you going to find a Buck Owens Coloring Book with a flexi disc?!)
I put together a quick list below of Americana and country artists participating in the event. There's a good chance that I overlooked something so check the official list of goodies and also check the official participating stores list to make sure yours is on the list. And remember to call ahead for items as not all store will be carrying all releases.
The Black Twig Pickers – Yellow Cat
Format: 7″ 45
Label: Thrill Jockey Records
Blitzen Trapper – Hey Joe b/w Skirts on Fire
Format: 7″ 45
Label: Sub Pop
Bonnie Prince Billy- Hummingbird
Format: 10″ LP
Label: Spiritual Pajamas
Buck Owens Coloring Book w/flexi disc w/ download card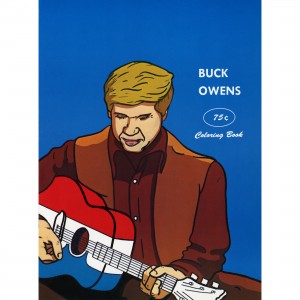 DETAILS
Format: Book
Label: Omnivore
Richard Buckner – "Willow" "Candy-O."w/ download card.
Format: 7″
Caitlin Rose – 'Love Is a Laserquest' & 'Piledriver Waltz' (Arctic Monkeys covers)
Format:Â  7″
Label: Domino Records
Our friends at Domino Records commissioned Caitlin to cover two songs by the Arctic Monkeys as a very limited edition 7 inch release for Record Store Day this Saturday, April 21st.
Carolina Chocolate Drops/Run DMC
You Be Illin
Format: 7″ 45
Label: Warner Bros.
Freakwater – Feels Like The Third Time (reissue)
Format: LP
Label: Thrill Jockey Records
Jay Farrar, Will Johnson, Anders Parker, Yim Yames – New Multitudes
Format: 10″ LP
Label: Rounder
Justin Townes Earle – Nothing's Gonna Change The Way You Feel About Me Now
Format: 7″ 45
Label: Bloodshot
Lee Hazlewood – The LHI Years: Singles, Nudes, & Backsides (1968-71)
Format: LP
Label: Light In The Attic
Patterson Hood & the Downtown 13 (featuring Mike Mills) After It's Gone
Format: 7″ 45
Label: ATO
Richard Thomspon – Haul Me Up
Format: 7″ 45
Label: Beeswing Records
Ricky Skaggs & Tony Rice
Format: LP
Label: Sugar Hill
Ryan Adams – Heartbreak A Stranger / Black Sheets Of Rain (Bob Mould cover)
Format: 7″ 45Â  colored vinyl
Label: PAXAM
Sara Watkins featuring Fiona Apple/The Everly Brothers – You're The One I Love
Format: 7″ olive green and black splatter
Label: Warner Bros
The Civil Wars – Billie Jean (Live)" Micheal Jackson / Sour Times (Live)" Portishead
Format: 7″ 45
Label: Columbia Records U.K.
The Civil Wars – Live at Amoeba
Format: CD
Label: Sensibility Music LLC
Lydia Loveless – Bad Way To Go / Alison (Elvis Costello cover)
Format: 7″ 45
Label: Bloodshot
Ralph Stanley – Single Girl / Little Birdie
Format: LP
Label: Tompkins Square
Townes Van Zandt – At My Window
Format: LP
Label: Sugar Hill
Uncle Tupelo – The Seven Inch Singles
Format: 7″ Vinyl Box Set
Label: Sony
More Info:
3×7″ box set