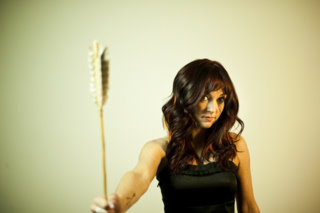 My Jukebox is a new Twang Nation feature where I ask musicians and other folks about their recent  listening choices.
photo Credit: Joshua Black Wilkins
For Americana chanteuse Amanda Shires music is ubiquitous. "I listen to music when the alarm goes off, when I ride or drive, when I can't sleep, in the airport, when I shop, in a box with a fox…," Shires says showing her inner Seuss.
'Like a lot of musicians I listen to everything. I love great songs.  I don't think I have a wide strike zone–I just think that if the song is there, then that's why I like something. So, it could be anything from Nicki Minaj to Bob Wills…Bush to Beethoven..and a ton of songwriters."
"I used to work at Ralph's Records in Lubbock, TX so I was exposed to all sorts of things.  I got to hear a lot of music I wouldn't have heard if I hadn't worked there. That said,  I know what I can't stand."
Her current playlist reflects her current "winter moods." and spans from the Gypsy-folk of DeVotchKa, to blues-garage duo The Black Keys and, showing her Texas roots, Waylon Jennings and Buck Owens .
1.  Out With The Tide – A.A. Bondy
2.  The Corner – Cory Branan
3.  100 Other Lovers – DeVotchKa
4.  Sweet Boy -  Dolorean (this whole album The Unfazed is amazing)
5.  Waitin In Your Welfare Line – Buck Owens
6.  Howlin' for you – Black Keys
7.  You Can't Talk To Me Like That Anymore – Rod Picott
8.  Wrecking Ball -  Gillian Welch
9.  Hank Williams Jr. Drunk as Hell Live!
10. Another Place Another Time – Jerry Lee Lewis
11. The Curse – Josh Ritter
12. Sixes and Sevens – Lucero
13. Black Rose-Waylon Jennings( all of Honky Tonk Heroes really)
14. Jewelbomb – Richard Buckner
15. My Narrow Mind-16 Horsepower
Amanda Shires' new release,  Carrying Lightning comes out May 3/11. She will be be touring behind it soon after.