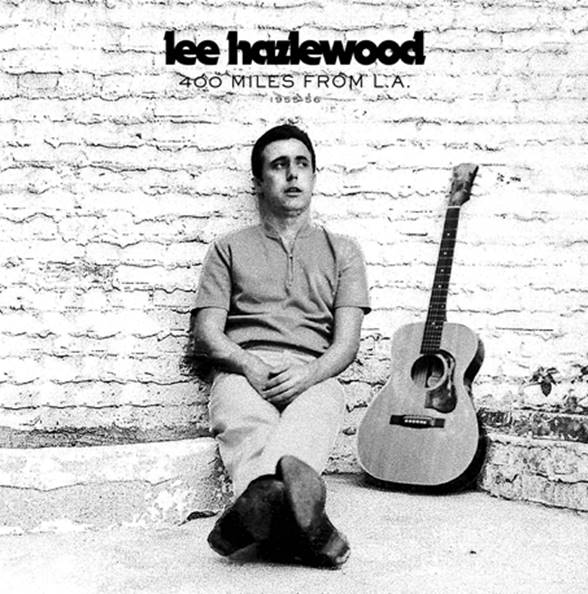 Light in the Attic Records continues its Lee Hazlewood archival series with 400 Miles From L.A. 1955-56, a collection of previously unknown demo recordings that reveal the talents of the late songwriter, producer, and artist from a very early stage in his career. (out Sept. 13th on CD/vinyl and digitally),
Lost for over 60 years, these recently unearthed recordings find Hazlewood in Phoenix, AZ, honing his songwriting skills as he shuttled himself back and forth on a Greyhound bus to Los Angeles in hopes of landing a hit song. These early sketches and unheard gems further expand on Hazlewood's influential recorded history, adding a new first chapter to his legacy that comes a full decade before his song "These Boots Are Made For Walking" became a smash hit for Nancy Sinatra.
A songwriter by trade, Hazlewood kept for himself the songs that weren't snatched up by larger-profile artists (such as "Houston" by Dean Martin and "This Town" by Frank Sinatra), yet never quite achieved the success in his own time that others had with his compositions. He would go on to be discovered and recognized by latter-day champions in Beck, Sonic Youth, Jarvis Cocker and Spiritualized, who appreciated Lee for his unique sonic gifts as a producer and writer.
A natural wanderer, Lee lived a big life, serving for the U.S. Army in the Korean War, working as a radio DJ in Phoenix, Arizona, setting up Viv Records in the '50s, producing hits for Duane Eddy and Sanford Clark, working as a big-shot L.A. producer in the '60s, signing Phil Spector to his Trey Records label and prematurely announcing retirement in the wake of the mid-'60s British invasion. He didn't: Nancy Sinatra came along, the hits started flowing and he continued producing characterful solo albums into the '70s.
Starting in 2012, Light In The Attic became the official custodians of the Lee Hazlewood musical legacy, launching their archival series with The LHI Years: Singles, Nudes & Backsides (1968-71). In 2015, they garnered a GRAMMY nomination for Best Historical Album with their release of There's A Dream I've Been Saving: Lee Hazlewood Industries 1966 – 1971 (2014).
The LP and CD packages contain new liner notes by Hazlewood guru Hunter Lea, featuring an interview with Arizona music historian John Dixon. The Light In The Attic Online Exclusive Bundle (available only at LightInTheAttic.net) is pressed on colored vinyl and includes a treasure trove of Hazlewood collectibles created especially for this release: a travel journal, 18"x 24" silkscreen print, shot glass, and a set of "Labels of Lee" drink coasters, all crafted in cooperation with the Hazlewood estate.
Pre-order Lee Hazlewood archival series "400 Miles From L.A. 1955-56."
Track Listing:
1. Cross Country Bus
2. The Woman I Love
3. Five Thousand and One
4. Lonesome Day
5. A Lady Called Blues
6. Five More Miles to Folsom
7. Fort Worth
8. The Old Man and His Guitar
9. Peculiar Guy
10. Long Black Train
11. I Guess It's Love
12. It's An Actuality
13. Buying On Time
14. The Country Bus Tune
15. Long Black Train
16. Run Boy Run
17. Big Joe Slade
18. Son of a Gun
19. Georgia Chain Gang
20. Look At That Woman
21. Peculiar Guy
22. The Railroad Song
23. Six Feet of Chain
24. Trouble Is A Lonesome Town