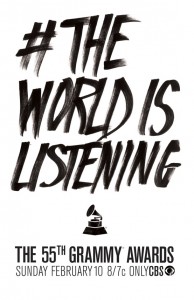 Live on CBS this Wednesday the Grammy organization will announce it's nominees for all categories at The Grammy Nominations Concert Live!! concert from Bridgestone Arena in Nashville.
The Music City event will be the first time the Grammys have hosted an official awards programs since the 1973 Awards was held there. Wednesday's eclectic offering of Pop, rappers, rockers and country singers will reflect the Nashville Grammys that brought together Johnny Cash, Aretha Franklin, Ringo Starr, Curtis Mayfield at the former Tennessee Theatre on Church Street.
The event will also feature a tribute to the legendary Johnny Cash. So far The Band Perry and Dierks Bentley also have been confirmed to take part in the tribute, though I argue that the manner in which Cash was treated by Music City late in his career a more fitting tribute would be populated by those on the Americana side of the fence. Hank III and Shooter Jennings anyone?
Though not reflected in performers on the stage that day (boo!) the Grammys nominees for the Best Americana Album of the Year will be announced. Personally I have no inside knowledge of who's names will be called, but am willing to use what I can from over all three years of the the category's existence. There are two obvious patterns that emerge, the nominees are well-known veterans in the music industry and all have been nominated for or won Grammys in the past.
But then there's the Linda Chorney wild card from last year that blows away the first two patterns. So what do I know?
Set those DVRs for Dec. 5 at 10 p.m. ET on CBS. Then tune back in on Feb. 10, 8 p.m. ET (CBS) for the 55th annual Grammy awards show.
Let's address the obvious two choices first. Mumford and Sons are the indisputable kings of contemporary roots-based music. Sure they were beat out by Adele for the coveted Record Of The Year Grammy last year but their prime-time performance with roots cohorts The Avett Brothers and vet Bob Dylan significantly raised their awareness. This higher-profile status has resulted in impressive sales for their sophomore offering, Babel.
The Avett Brothers have enjoyed an expanded fan base for all the reasons detailed above, as well as benefiting from being around longer and having their latest, The Carpenter, being their second to be produced by Rick Rubin.
Gretchen Peters is no stranger to the Grammys. In 1995 Peters received both a Grammy nomination and a Country Music Association Song of the Year award, for Martina McBride's version of her song "Independence Day." Her latest "Hello Cruel World' is arguably some of her best work and has a great chance of catching the Grammy voters attention.
Dwight Yoakam has said that he doesn't just want to appeal only to the smaller audience from his superstar heyday, I'm certain these days Nashville has little room for his signature Bakersfield sound. though I'm sure he won't balk at his current perch at #1 on the current Americana charts. Yoakam won the Grammy Award for "Best Male Country Vocal Performance" in 1993 for the song "Ain't That Lonely Yet".
Willie Nelson has been nominated in this category before, in 2011 for the T Bone Burnett produced Country Music. Hos latest, Heroes, is a wonderful if uneven body of work that could find no better home than here. Personally, this is my favorite dark horse.
ON EDIT:
After a day of reflection I'm compelled to add a couple of more contenders that had slipped past me while writing this post.
Marty Stuart's collection of country memorabilia is legendary, but his songs are his greatest contribution to the legacy.Stuart snagged his 5th Grammy at last year's 54th annual event for Best Country Instrumental Performance for his"Hummingbyrd," a musical tribute to the Byrds' guitarist Clarence White, Stuart and his Fabulous Superlatives came out with the excellent release Nashville, Volume 1: Tear the Woodpile Down.
Chris Thile was a national mandolin champion at 12, a Grammy winner at 16 and one of this year's MacArthur "genius grant" recipients. He can really screw up the bell curve for other musicians. His newest venture, The Punch Brothers, which I consider like Mumford and Sons with more depth and better chops, were nominated at the 54th Grammys for Best Country Instrumental Performance on the tune "New Chance Blues," a bonus track on their second record Antifogmatic. They were also nominated for Best Country Collaboration with Vocals for the song "Pride" with Dierks Bentley and Del McCoury.