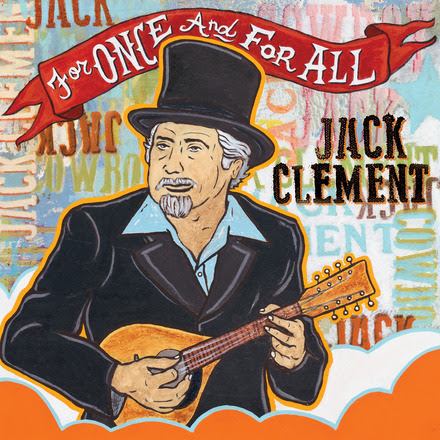 Looks like the late legendary singer/songwriter/producer Cowboy Jack Clement isn't quite done yet.
Clement's last musical work, and only his 4th studio release, "For Once and For All" produced by Dave "Fergie" Ferguson and Matt Sweeney with T Bone Burnett as executive producer — will be the debut release on John Grady's new I.R.S. Records Nashville label. Street date is July 15.
From the release:
"What an honor it is to be involved with Cowboy's final record. This is the perfect way to start I.R.S. Nashville," Grady says. "All the producers and musicians set the tone for this record. Sometimes we should all get together and do the right thing. I hope Jack is proud of us."
He was 82-years-old when he died on August 8, 2013 and 82 when he finished this song-set with help from friends including John Prine, Emmylou Harris, Bobby Bare, Duane Eddy, T Bone Burnett, Vince Gill, Marty Stuart, Rodney Crowell, Buddy Miller, Dan Auerbach, Leon Russell, Gillian Welch, Dave Rawlings, Dickie Lee, Shawn Camp, Dierks Bentley, Jim Rooney, Jim Lauderdale, Will Oldham, daughter Allison Clement and a bunch of others who loved Cowboy and who Cowboy loved in return. His favorite accordionist, Joey Miskulin, played on "The Air Conditioner Song" and "Baby Is Gone."
The whole thing is graceful and true, a primer for the unfamiliar, an anointed completion for the acolytes and a joy-filled lesson for those of us who study phrasing, musicality and soul.
Cowboy Jack was American music's whimsical maverick. He was a singer and producer, a publisher, a best friend to Johnny Cash, Kris Kristofferson and Waylon Jennings. He was a writer of classic songs. He desegregated country music by bringing Charley Pride to popular attention and producing Pride's first 13 albums for RCA. He was the first to record Jerry Lee Lewis and Roy Orbison, there at the popular birth of rock 'n' roll at Sun Records in Memphis.
He made the greatest album of country music's "Outlaw Movement" when he produced Waylon Jennings'Dreaming My Dreams. He created the Cowboy Arms Hotel and Recording Spa, Nashville's first great home studio and the nerve center for what would come to be known as Americana Music.
"If you unraveled all the threads Jack wove into the tapestry of what made country music great over the last 50 plus years, the whole thing would come apart," Harris said.
No one unraveled those threads, though, and no one will. Can't be done. The Cowboy's tapestry weave is secure and indelible, and his import is ratified by a plaque in the Country Music Hall of Fame.
Cowboy Jack Clement sustained an unprecedented and unduplicated career outside of the public eye. He and fame saw each other across a crowded street, waved and went their separate ways.
Though he was in and around recording studios all of his adult life, he didn't release a solo album, All I Want To Do In Life, until 1978, when he was in his late 40s. The follow-up came a quarter century later with 2004'sGuess Things Happen That Way. And he rarely toured. So while Clement impacted myriad major careers, he did little to promote his own.
"I don't remember it being any huge letdown," he said, recalling the less-than-platinum sales of All I Want To Do In Life. "It took a few months before you realized you ain't gonna outdo Elvis or something, and by that time I was off into something else."
Hear "Let the Chips Fall" the tearjerking first single from the album below.