Few people embody the genuine soul of Americana and roots music than Tulsa, Oklahoma's John Moreland. A new album from this unassuming poet of the human landscape is always a cause for celebration. On May 5th Moreland will release his fourth album, entitled 'Big Bad Luv' on England's 4Ad label- an em print better known for alert rock like the Cocteau Twins and the Wolfgang Press, or post-rock noisemakers like The Throwing Muses and The Pixies. Though the label does have some folk and alt.country Cree signing band's like The Red House Painters, The Mountain Goats and Tarnation. The one thing 4AD is consistent with is the quality their artists display in their craft.
This is just what they get with John Moreland, an artist that sits solitary on stage and pulls a silenced audience along his stories of unflinching emotion. The album is being described as '…an honest, bruising experience. A record about love, faith and the human condition.." Sounds like a John Moreland album to me.
Big Bad Luv, was recorded in Little Rock, AK, and mostly with a crew of Moreland's Tulsa friends: John Calvin Abney (piano and guitar), Aaron Boehler (bass), Paddy Ryan (drums), Jared Tyler (dobro) and Lucero's Rick Steff (piano). Coming together in three sessions over ten months, which were sandwiched between touring dates and life, the final album was then mixed by GRAMMY winning Tchad Blake, who has worked with iconic acts from Al Green to Tom Waits.
If the track from the album below, 'It Don't Suit Me (Like Before)', is any indication of the tone of the album there seems to be a stylistic and thematic move away from the shadows. This walk on the sunny side might be due in large part to his marriage last Summer.
Preorder at johnmoreland.net.
Tracklist and U.S. and Europe tour dates below.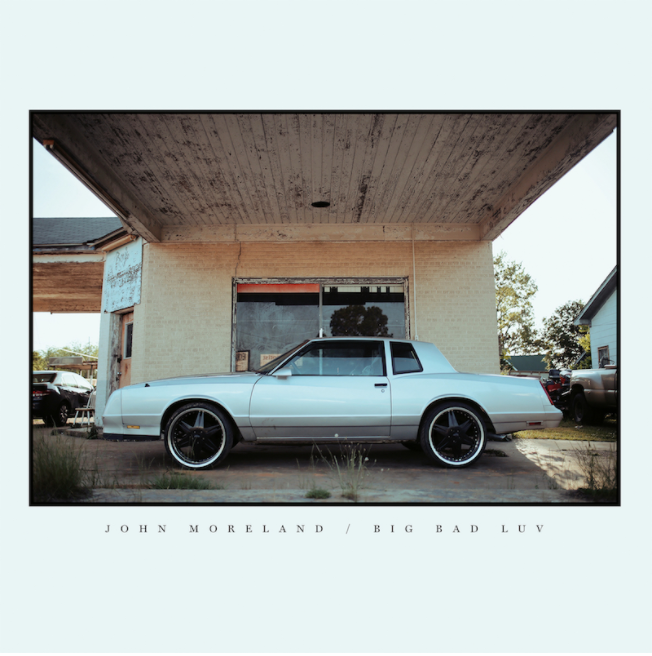 Big Bad Luv tracklist
1. Sallisaw Blue
2. Old Wounds
3. Every Kind of Wrong
4. Love Is Not an Answer
5. Lies I Chose to Believe
6. Amen, So Be It
7. No Glory in Regret
8. Ain't We Gold
9. Slow Down Easy
10. It Don't Suit Me (Like Before)
11. Latchkey KidBig
June 1 – St. Louis, MO – Off Broadway*
June 3 – Cleveland, OH – Beachland Tavern*
June 4 – Washington, D.C. – Rock & Roll Hotel*
June 7 – New York, NY – Bowery Ballroom*
June 8 – Boston, MA – The Sinclair*
June 9 – Montreal, QC – Le Ritz*
June 10 – Toronto, ON – Velvet Underground*
June 13 – Ann Arbor, MI – The Ark*
June 14 – Chicago, IL – Thalia Hall*
June 16 – Minneapolis, MN – Turf Club*
June 17 – Maquoketa, IA – Barnstormers at Codfish Hollow*
July 11 – Fayetteville, AR – George's Majestic Lounge
July 12 – Memphis, TN – 1884 Lounge at Minglewood
July 18 – Asheville, NC – Grey Eagle
July 19 – Carrboro, NC – Cat's Cradle
July 22 – Oxford, MS – Proud Larry's
* = Will Johnson (Centro-matic) opening
May 6 – Glasgow – Oran Mor (UK)
May 8 – London – Union Chapel (UK)
May 9 – London – Union Chapel (UK)
May 11 – Paris – Les Etoiles (FR)
May 13 – Hamburg – Kampnagel (DE)
May 14 – Berlin – Passionkirche (DE)
May 16 – Amsterdam – Paradiso (NL)