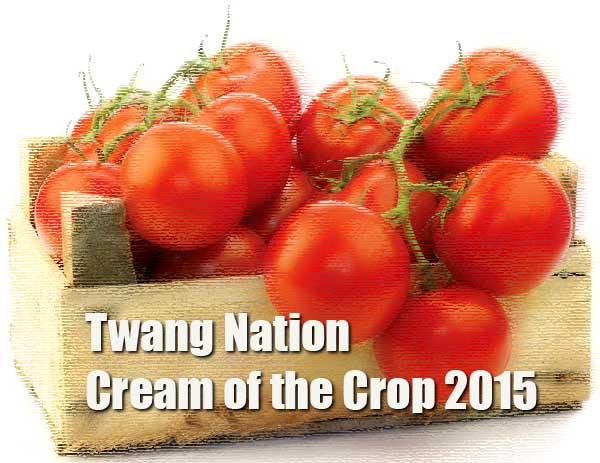 Another year has passed and the amount of quality music being created continues seemingly unabated in spite of the economic conditions surrounding those creators. More great Americana and roots music is being cerated than possibly any time in history. And along with the awards and resulting sales for artists like Jason Isbell and Chris Stapleton the music is becoming more prominent in popular culture which assures its ongoing economic viability and influence in the future for more creative endeavors.
And as a fan it's just plain badass.
But the picture is not all rosy. The golden goose rule applies in few areas more than it does in the music industry. Without the creators output the delivery channels offer nothing. No creator no business. The blame for the pitiful state of revenue sharing gets murky in the finger pointing. Pirating is the most obvious offender (stealing is stealing) But obtuse and outdated licensing laws and artists with little or no sense of their business worth plays into the overwhelming problems that plague the music industry. Some would like to blame technology for the current sorry state of the music economic environment, but the history of delivery – sheet music, radio, TV, movies or streaming, pays the fees they are legally bound to pay. It's that legally mandated equitable distribution that needs to be seriously addressed if fans, and musicians, values the fruits of that labor.
And speaking of streaming, the digital access to music has blurred the concept of genres in the perception of an entire generation. Without the absolute geographic boundary of the record store bluegrass and thrash metal are served effortlessly from the same pipe allowing music in the mind of a young fans to be evaluated into good or bad. Will genres disappear altogether? I don't think so. Human decision processes rely too much of distinctions and connections for it to melt into a mass of mono-genre . But these distinctions will matter less as a badge of personal culture separation and division. Music is becoming a format that brings us together in live events and online conversation.
But for every rules there are exceptions. I love the craft beer boom that is growing here in Texas and all over the nation. The creativity and ingenuity displayed by creates that love their craft is a treat to anyone with consideration to what they imbibe. But in that culture grows a geekdom that can verge on snobbery. A subgroup that use their love of quality as a self-appoineted status used as a license to condemn those that don't align with their gospel. Music fandom falls into these same human patterns. I've done it myself. Nothing is more tedious then someone droning on ad nauseum about the inferiority of Budweiser or Florida Georgia Line. But I've never been a fan of barrel fish.
But when the industry, beer or music, systematically excludes selection (http://www.twangnation.com/2015/05/31/an-americana-response-to-saladgate/) based on some demographic studies to keep them rich and us without choices that needs to be addressed.
I resolve in the new year to try and refrain from wasting time on obviously contrived product, focus on the beauty and care taken on the rare, good stuff and the ways we can get more of the latter to our speakers.
No radio station, label, industry group or hell, blogger for that matter, has a monopoly on great music. It can come from anywhere at anytime. Let's find it together.
Criteria – Calendar year 2015. No EPs, live, covers or re-release albums no matter how awesome.
Don't see your favorite represented? Leave it in the comments, and here's to a new year of twang!
14. Matthew McNeal – 'Compadre'
McNeal creates music well beyond his 22-years on this planet. The rollicking road tale opener of loneliness and doubt "Alonely" sits comfortably with lonely introspective ballads like 'A Losing Hand' – 'It's a shame, my dear, the way the cards were dealt Not a diamond on the table to make it alright Two hearts laid down, Two spades to bury them I'll be playing at a club out of town tonight' – build into an impressive if rough around the edges offering of Texas roots rock and soul.
13. Aaron Lee Tasjan – ''In The Blazes'
Country and folk can often feel weighted down by earnestness. It takes a deft hand of someone like Roger Miller or Bobby Bare Jr. to bring levity to the style without trading in attention and respect to the craft. Wry just short of snark lyrics in the"E.N.S.A.A.T." (East Nashville Song about a Train) is a Heartbreakers-esque send up of the Ohio natives current residence and it's movement toward bohemian homogenization. "Judee is a Punk," a bittersweet ballad that namechecks Jesus and the Ramones and 'Bitch Can Sing' is a buzzed-out number that sound like what might have happened if the Stooges had cut a track in Muscle Shoals studios.
12. Sam Outlaw – 'Angeleno'
Between the "Outlaw" surname (from his mom's side), his past life as an ad-sales director to his SoCal zip code there's much to warn you off Sam Outlaw's Ry Cooder-produced second full-length 'Angeleno.' Like many on this list Outlaw well reflects a golden era of country and roots music without being weighed down by copping a nostalgic novelty routine. The opener "Who Do You Think You Are" is a smooth danzón-mambo number punctuated with mariachi-style horns that brings the tropical heat. 'I'm Not Jealous' is a smart honky-tonk send up of the 'Walking the Floor Over You' that turns the tables on the lady painting the town. Ignore all the surface and dive in and you too will be a believer.
11. Daniel Romano – 'If I've Only One Time Askin'
Canada's contribution to roots music is significant. From Hank Snow to all but one member of The Band it's safe to say without or northern neighbor our favorite music wouldn't be where it is today. Enter Daniel Romano , an ex-punker turned neo-traditionalist is taking classic forms and tropes na turning them on their ear. The string soaked opener 'I'm Gonna Teach You" and the honky-tonk weeper "All The Way Under The Hill' shows he can play it straight but the funk outro of 'The One That GoT aWAY (Came Back Today)" and biting lyrics show there more there under the countrypoliton sheen.
10. Sarah Gayle Meech – 'Tennessee Love Song'
If you think the outlaw spirit resides only in the YX chromosome Sarah Gayle Meech's sophomore release,'Tennessee Love Song' will set you straight. Meech takes us on a grand tour of country music's genres and themes over the years. From the title cuts 70's era Countrypolitan to the slinky, greasy groove of 'No Mess,' Tennessee Love Song,'is a amalgamation of styles forged into an extraordinary body of work.
9. Mike and the Moonpies – 'Mockingbird'
So often we are sold a product with a 'country music' pasted on it's exhilarating to hear a release that needs no outward claim. From the moseying pace of the barstool confessional of 'One Is The Whiskey' or the boot-scooting twin-fiddle driven shuffle of 'Say It Simply' there's no denying Mike and the Moonpies' third studio album bona fides. This is a shot of pure, great country music with no crossover dilution. God bless country music and god bless Texas.
8. Chris Stapleton – 'Traveller'
Anointed the new savior of country music Stapleton is no overnight story. He cut his teeth on Music Row for over a decade penning hits for the likes of Kenny Chesney and Darius Rucker. He took a turn in the spotlight being the original power house lead singer, guitarist and songwriter of the The SteelDrivers. He was so good at that gig he inspired Adele to cover one of their songs. On his solo debut 'Traveller' Stapleton lends his soulful rasp to sparkling originals and breathing life into the George Jones and David Allan Coe chestnut"Tennessee Whiskey." Stapleton wife, singer/songwriter Morgane Stapleton provides a welcoming warm countering harmony on many of the songs. Will 'Traveller' change the ways of Music Row? No and who cares?
7. Andrew Combs – 'All These Dreams'
"Pop" music get's a bad rap these days. But Andrew Combs sophomore release shows that the Texas-bred, Nashville-based singer/songwriter is an astute disciple of '70s countrypolitan/folk rock in the vein of Glen Campbell, Mickey Newbury, Gordon Lightfoot, and Harry Nilsson that reminds us that pop can be inspired instead of just insipid. The album's first single, "Foolin'" features a Jeff Lynne-style driving beat sliding up against Tejano-inspired break reminiscent of Doug Sahm era Texas Tornados.
6. Gretchen Peters – 'Blackbirds'
Gretchen Peters knows a thing and more about song craft. A member of the esteemed Nashville Songwriters Hall of Fame she enlisted a roster of contemporary American roots music luminaries like Jerry Douglas, Jason Isbell, Jimmy LaFave, Will Kimbrough, Kim Richey, Suzy Bogguss to help create her latest dark jewel. Pretty Things rides a "Only Women Bleed" melody and builds an atmospheric ode to to life's ashes and rust. "Black Ribbons" is a moral tale on that BP disaster that isn't cheapened by tin-ear moralizing.
5. Ryan Culwell – 'Flatlands'
Though this is his third album I am a newcomer to Ryan Culwell. But I'm a believe now. His sound and hardscrabble tales bare the mark of country and rock found in much of the Texas troubadours like as early Steve Earle, Ryan Bingham and Rodney Crowell, whose voice he sometimes eerily suggests. The title 'Flatlands' refers to the Texas panhandle where he grew up and he and his family worked the oil fields. "Red River" is a chillingly sparse stroll through a muddled morality and quiet strength of the everyday.
4. Jamie Lin Wilson – "Holidays & Wedding Rings"
A familiar face on the Texas music scene, Jamie Lin Wilson's wonderful full length debut, Holidays and Wedding Rings, is a collection of songs that pulse with authenticity. Her voice is comforting familiar and so uncompromisingly real. It's the perfect vehicle to deliver these tales of hope, love, heartache and mortality. These are roadhouse confessionals and bar and small town testaments wrenched from the personal and identifiable roads we all travel. The pain and regret is palpable on "Just Some Things" Wilson's duet with Wade Bowen follow both down an intersection of regret and quiet desperation. "It's like running for the edge and thinking you'll fly/Knowing damn well that it's suicide." Cheating is a staple of country music an the ballad "Roses by The Dozen" brings a contemporary sound and slant to this murder ballad featuring Texas singer/songwriter, Courtney Patton on harmonies and the sparse arrangement and placid vocals on "Whisper On My Skin" will deliver a chill to the skin and bring a tear to your eye.
3. John Moreland – "High on Tulsa Heat"
Texas born / Tulsa, Oklahoma-based singer-songwriter has only three records chalked in his discography but he's already drawing comparisons to John Prine and Guy Clark. These are not names to evoke in a trifle, but this is more than hot air. Moreland digs deep beneath the surface and drags up the hope, pain and heartbreak that binds us in our shared humanity. In "Heart's Too Heavy" his own humanity is on display "Well these angels in my eardrums / They can't tell bad from good / I lived inside these melodies / Just to make sure I still could." In a field where sincerity and songcraft are the stock-in-trade John Moreland has the goods to earn a place with the greats.
2. James McMurtry – "Complicated Game"
"Honey don't you be yelling at me while I'm cleaning my gun. I'll wash the blood off the tailgate when deer season's done." In the hands of a lesser songwriter hands this exchange between a shop owner looking down at his retirement and his wife might come off hackneyed. But Texas songwriter James McMurtry trained eye , honed over twelve records , the trailer park scenarios and lonesome road characters ring full and true. "Complicated Game" finds McMurtry uncharacteristically hopeful and romantic. It suits him, but these textures are kept short of cloying by his usual sardonic humor. One thing stands true, his stories crackle with his usual empathetic intelligence with a literary eye.
1. Jason Isbell – "Something More Than Free'
It's satisfying to see someone with a dedication and passion for music evolve and gain confidence in their craft to become truly exceptional. "Something More Than Free,' Isbell's follow-up to 2013's 'Southeastern,' has all the markings of that growth, maturity and focus. Songs like "If It Takes a Lifetime," with it's shuffling ragtime-tinged rearview (I thought the highway loved me but she beat me like a drum) whole also looking ahead with hopeful determination to a better future (I keep my spirits high / find happiness by and by) and the title cut, with it's soulful ode to pride in purpose and the study on the folly of planning that is "24 Frames" are all perfect examples of Isbell's instinct for storytelling. With one boot in coffee shop folk and the other in the roadside honky-tonk he was just the man to straddle the Americana music divide and bust to the top of the Billboard Country, Folk and Rock charts. Isbell has become an artisan of life sketches that feel genuine in their detail and reverence. That's what makes these songs exceptional.