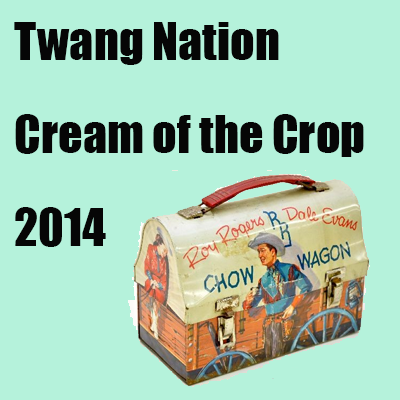 It defies all marketing logic.
Take thoughtful, and oftentimes uncomfortable, music built unapologetically (and more importantly, without irony) from instrumentation and melodies that reflect the past and drag it into the present.
Brazen sentimentality in the face of a blase world and lack of absolute style and ideological boundaries allows Americana to attract strange cultural bedfellows, Reminiscent of the 70's when Saints Willie and Waylon brought the rednecks and hippies together under the tin roof of Austin's Armadillo World Headquarters, this music hits us at the human core. Good music strips away the bullshit, shows our humanity, and can make us whole.
This is why it's the greatest music being created today. That's why it'll last as fashions fall and technology and cultural isolation encroaches.
But it's shit for mapping out a contemporary music career. So how does this great stuff keep happening?
With no apparent thought to charts, hit singles, karaoke reality shows or clutching at the greased pig of contemporary music taste people believe so deeply and completely that they sit in a van for 200 plus days a year, in freezing snow and burning summer heat, to play barely filled rooms at a level like they're playing the Ryman or Beacon. Because that girl near the stage, with the band logo tattoo, is singing every word to every song. In spite of increasingly remote odds of economic sustainability they keeping lining up and enduring.
They have no choice, the spirit fills them. And we are moved by it. It affects us all.
And that extraordinary music is not just culturally and stylistically satisfying, there's a viable market. Jason Isbell and Sturgill Simpson have gone from tight quarter vans and half-full seedy clubs to spacious buses and sold-out theatres. Movies and TV shows are using more and more roots music to set a mood. The genre is snowballing in fans and new music and the influence is felt everywhere. It's no longer our little secret.
This is good, it's evolution. It's is growth. The risk of commercial popularity resulting in diminitionment of quality is assured. But just as Americana is not fed from one influence it is also not any one band. There is a wealth of choice. some of which I hope I've been able to list below.
2014 leaves us in turmoil and cultural upheaval. Roots music has historically been a cultural channel to discuss injustices from the point of view of those most affected. From Woody to Dylan to Alynda Lee Segarra roots music provides a poetic reflection of where society and humanity are and where we'd like to be.
But it's not all topical earnestness. There's plenty of toe-tapping tomfoolery and easy fun to melt away your troubles and woes and sing at the top of your lungs.
We cry, we laugh, we get drunk and do both simultaneously. No airs, no regrets, no AutoTune.
Lists are subjective, and no more so than my own. But each year I hope to place a loose marker around where I feel we are, and where we're headed as disciples of this mongrel aesthetic.
This year we can be assured that country music has finally been saved, so enough of that. Roots music continues to make inroads in the mainstream without losing it's way (or soul.) As happened so music last year, many mainstream media best of country music year-end lists to purloin from the rootsier side (like this and this – http://www.rollingstone.com/music/lists/40-best-country-albums-of-2014-20141210 ). I applaud this. Bro-country's foe is not the same tepid, lazy style wrapped in a dress. It's better music without boundaries and gatekeepers.
2015 shows no sign of waning in output or fan interest. New releases from Steve Earle, Allison Moorer, Ryan Bingham, James McMurtry, Caitlin Canty, American Aquarium, JD McPherson, another from Justin Townes Earle, Rhiannon Giddens, The Lone Bellow, Whitehorse, Robert Earl Keen's bluegrass album, and possibly a new Emmylou Harris and Rodney Crowell collaboration has the new year is looking rosy.
Criteria – Calendar year 2014. No EPs, live, covers or re-release albums no matter how awesome.
Don't see your favorite represented? Leave it in the comments and here's to a new year of twang
26. Mary Gauthier – 'Trouble & Love'
The only way to best your demons is to look them in the eye. Gauthier does just that on 'Trouble & Love' With her wonderfully roughewn voice to inner struggle in the wake of love lost (or, more appropriately, taken) Misery loves company and Gauthier keeps some of
Nashville's finest – Guthrie Trapp, Viktor Krauss, Lynn Williams, Beth Nielsen Chapman, The McCrary Sisters, Darrell Scott, Ashley Cleveland. Catharsis rarely sounds this good.
25. Old 97s – 'Most Messed Up'
Remember alt.country? I sure do. And so does Rhett Miller. The Dorian Gray of roots rock and his faithful compadres Ken Bethea, Philip Peeples and Murry Hammond still bring the heat to their blend of Tex-power pop in even the most road-weary, blase' moments. This is a work of fury, fun and not giving a damn. here's to that!
24. Angaleena Presley – 'American Middle Class'
Presley steps out of the shadow of her super group Pistol Annies and digs deep into her history to deliver an album deeply steeped in country music traditions. Presley writes songs of hardship that rings true and is too busy making a living to sing hands and despair.
23. Sunny Sweeney – 'Provoked'
Who needs bro-country when you have Sunny Sweeney. Her voice is your afternoon sweet sun tea but her wit is the bourbon you stir in. 'Provoked' is Sweeney's true voice and it twangs true and kicks some serious ass.
22. Billy Joe Shaver – 'Long in the Tooth'
Billy Joe Shaver is not about to sit on his long and prestigious laurels. No sir, not if Todd Snider has anything to say about it (Todd prodded Shave into this) Shaver takes aim at Music Row ( 'Hard To Be An Outlaw') love ("I'll Love You as Much as I Can") and teh absurdity of life ( "The Git Go") God bless Billy Joe Shaver and everything he represents!
21. Rodney Crowell – Tarpaper Sky
Following his Grammy-winning collaboration with Emmylou Harris 'Tarpaper Sky' finds Crowell relaxin into a zone of a craft he's spent 40 years refining. Songs from the rearview ("The Long Journey Home", "The Flyboy & the Kid") , heart-busters sit beside cajun frolick ("Fever on the Bayou") to create a satisfying release.
20. Kelsey Waldon – 'The Goldmine'
Great country music is rooted in the blood, sweat, and the threadbare hope of those just out of the reach of the American Dream. Kelsey Waldo's songs richly reflects a lives hobbled by hard decisions and opportunities never given. While 'The Goldmine' reflects a hard realism, Waldon smartly ensures that it is never devoid of hope.
19. Doug Seegers – ' Going Down to the River'
A story too absurd to be true. Swedish documentary features homeless Nashville busker leading to a number 1 single on Swedish iTunes Charts for 12 consecutive days and a Will Kimbrough produced full-length featuring collaborations with Emmylou Harris and ex-tour mate Buddy Miller. But it's true, and ' Going Down to the River' is deep with truth.
18. Robert Ellis – 'The Lights From the Chemical Plant'
Ellis moved to and works in Nashville. But he's still got the heart if a Texas musician, wandering and unbridled. His love for George Jones is as much a part of him as his love for Jimmy Webb. 'The Lights From the Chemical Plant' reflects not only his versatility on the fretboard but his command of the songwriting craft. He reflects multiple styles, sometimes within the same song, and makes it behave. And across it all his voice glides across each with its own high lonesome.
17. The Bones of J.R. Jones – 'Dark was the Yearling'
Brooklynite J.R. Jones, aka Jonathon Linaberry travels even further down his moody roots road with his second effort 'Dark was the Yearling.' Fitting comfortably with with moody-folkies like Lincoln Durham and Possessed By Paul James, sparse production 's soulful croon, haunting blues picking and percussive stomp make Darkness Was the Yearling is a galvanization of Linaberry both as a songwriter and a producer.
16. Marah – 'Mountain Minstrelsy of Pennsylvania'
Pennsylvanian folklorist Henry Shoemaker long-ago cache of American song lyrics are discovered and interpreted by Marah's David Bielanko and Christine Smith performing live around a single microphone in a ready-made studio set up in an old church, doors open to allow local performers and the generally curious to gather and join along. The result is a startlingly cohesive work driven by a ramshackle spirit. 'Mountain Minstrelsy of Pennsylvania' opens a contemporary channel to the restless, rustic ghosts of Big Pink more authentically than the recent T Bone Burnett helmed effort.
15. The Secret Sisters – 'Put Your Needle Down'
Shedding the gingham shell that encased their debut The Secret Sisters , Lydia and Laura Rogers, apply their exquisite sibling harmony to push their songwriting chops and build a testament to contemporary roots music. I'm looking forward to riding along with the Rogers as they take us from the past toward a brave musical adventure.
14. Lee Ann Womack – 'The Way I'm Livin' '
Music Row superstar hangs out with motley Americana crew and ends up making a spectacular roots album? ANd it's up for the Country Album of the Year Grammy?! Bask in genre confusion and the beauty of great songs performed by a master.
13. Hurray for the Riff Raff – 'Small Town Heroes'
Few bands have the roots chops of Alynda Lee Segarra and her Hurray for the Riff Raff. Social-minded tunes performed with poetry over preachiness strikes a delicate balance most of the Guthrie-inspired falter. Segarra and crew prove you win hearts and minds my tapping toes and shaking asses on the dancefloor.
12. Lera Lynn – 'The Avenues'
Lynn's warm honey voice might lure you like a Siren, but the smart songwriting will truly wreck your ship. No, no this is a good thing! Stripped down guitar, drums and doghouse bass and cause you to sit on shore amongst the wreckage and let bask in 'The Avenues' glint and shimmer.
11. Cory Branan – 'No Hit Wonder'
I defy you to find a better contemporary songwriter that is as deft and studied at the craft as Cory Branan (DEFY YOU!!) As evidence I submit to you "The No-Hit Wonder." a work expansive yet grounded in the classic folk and country styles. That's a fancy way of saying it's badass.
10. Shovels & Rope – 'Swimmin' Time'
This follow-up to their 2012 acclaimed 'O' Be Joyful,' has Michael Trent and Cary Ann Hearst has a tighter focus and arrangement of songs. This can sometimes come off as too eager to please. But when their indy-rock-meets-Carter-Family spirit overtakes, like in "Mary Ann and One Eyed Dan," it hits on all cylinders and transcend crowd-pleasing.
9. Karen Jonas – 'Oklahoma Lottery'
Small town character studies have always been a staple of country music. Karen Jonas builds scenes with her breathy drawl that make you feel like you lived through the desperation, danger and loneliness and litters the landscape of this excellent release.
8. Nikki Lane – 'All Or Nothin' '
Every night is Saturday night on Nikki Lane's 'All Or Nothin' ' The Black Key's Auerbach sets the mood and get's out of the way as Lane fuses SMART SONGS, 60's B-movie pop and country music gold to make her mark. So hang on, hold on and have the time of your life. But bring bail money and, be assured, there'll be a broken heart…and a scar.
7. Hiss Golden Messenger – 'Lateness of Dancers'
M.C. Taylor is a wandering soul. His fourth full-length as the moniker Hiss Golden Messenger continues his (hiss) quest across a troubling yet hopeful human landscape. This time the pat taken is in the form of his usual folk and country traditions with scenic asides in rock and R&B resulting in his best so far.
6. Old Crow Medicine Show – 'Remedy'
From buskers to roots music ambassadors Old Crow Medicine Show has shown great songs and keen instrumentation does have a place in the mainstream. The band faces their newfound fame by doing what they know best, Delivering a solid 'Remedy' that appeals to long-times fans and garners new ones that wouldn't be caught dead at a bluegrass festival.
5. Ben Miller Band – 'Any Way, Shape Or Form'
If you're looking for a band that mashes old forms with new look no further than Ben Miller Band's latest 'Any Way, Shape Or Form.' The traditional folk chestnut "The Cuckoo" is taken to a tribal-drum psychedelic level. "Any Way, Shape or Form" pushes the Ben Miller Band form just another string band toward something vibrant and a forceful.
4. The Felice Brothers – 'Favorite Waitress'
On their new release the Felice Brothers have returned from their sonic diversion in "Celebration, Florida" to their usual rustic terrain where Big Pink meets Brooklyn (with a little Velvet Underground thrown in) Gliding nimbly from ramshackle folk to smokey piano ballads to unbridled zydeco 'Favorite Waitress' is a fine stylistically homecoming to their splayed and gangly jams.
3. Marty Stuart & His Fabulous Superlatives – 'Saturday Night/Sunday Morning'
Country music. like life, has always been steeped in the struggle between the light and the darkness, sin and salvation. This double album takes us on a boxcar across the dark
('Jailhouse, 'Geraldine') and the light ('Uncloudy Day,' 'Boogie Woogie Down the Jericho Road') Stuart was there when Country and Americana music was the same thing. Thank goodness he's still on his game and cares to remind us.
2. Caroline Rose – 'Will Not Be Afraid'
This sonic offspring of Chrissie Hynde and Wanda Jackson debut release is everything that's great about music. It grabs you by the throat immediately with 'Blood on your Bootheels,' a cut on racism and violence void of sanctimony that hits like a topical bomb. 'Tightrope Walker' is a jaunty roots-rocker with spooky organ line as Rose lyrically juxtaposes two Americas and exposes us to be without a without net. Rose bends, shapes and fires words in a way that would make Dylan envious. This is a daring debut is the kind of record that will make you remember where you were when you heard it.
1. Sturgill Simpson – 'Metamodern Sounds in Country Music'
Shocking, right? But sometimes the hype does reflect reality. Simpson will surely be all over Americana and mainstream country best of lists (the latter showed a tendency to reach over the fence last year when Jason Isbell sat alongside Tim McGraw and Band Perry), and rightly so. The Kentuckian's success is more than a bro-country backlash. The praise from NPR Music to UK'S Telegraph speaks to than a more than a mere clerance of Music Row's current low bar. Simpson channels 70's hard outlaw country, spiked with bluegrass dexterity into songs that feel genuine. His topics are a contemporary a Kristoffersonion introspection of spirituality, identity and mind-altering substances. Simpson isn't saving country music, he's just reminding a us all that there's a hunger for vibrant music that is vibrant, thriving, and unrepentantly ornery.