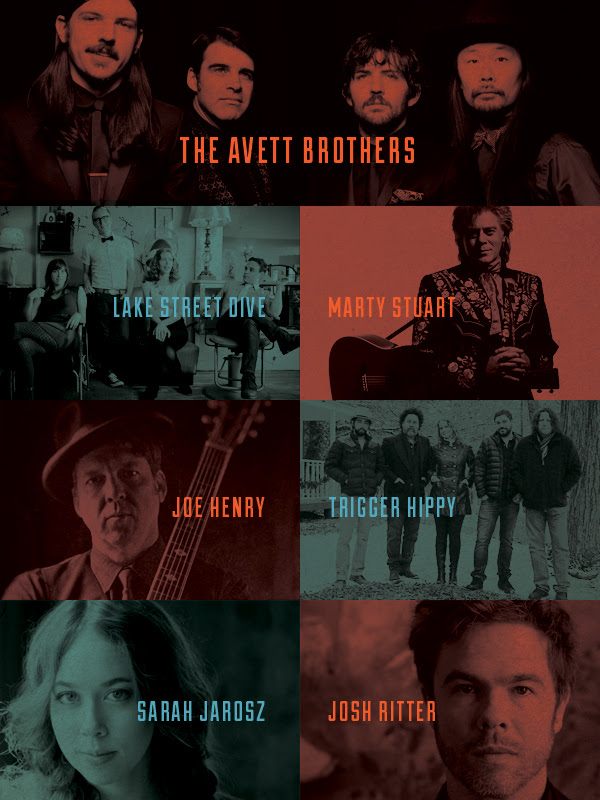 The Americana Music Association continues its tradition of showcasing some of the best in Americana and roots music by it's partial roster of Americanfest performers released today.
Though the lineup doesn't show any groundbreaking direction, I'm fine with that. There are lots of folks on the list that have been busting their hump for years and deserve this recognition rather then inserting acts to placate outsider accusations of one thing or another. Personally I'm happy to see Casa Twang favorites Howlin' Brothers, Jamestown Revival, John Moreland, Lera Lynn, Marah and Ben Miller Band on the bill. And Texas is well-represented by Billy Joe Shaver, Sarah Jarosz, Jason Eady and Hayes Carll
The event is celebrating its 15th as the premier Americana event by welcoming 160 performers taking the stage at 11 venues including 3rd & Lindsley, The Basement, City Winery, High Watt, Cannery, Mercy Lounge, The Rutledge, Station Inn, Music City Roots, Downtown Presbyterian Church and Musicians Corner.
Three-time Americana Group of the Year, The Avett Brothers, will headline the event at Riverfront Parl on Saturday Sept. 20. Americana's Music Festival & Conference registrations will have access. Tickets for the general public will go on sale Friday, June 27 at 10AMat www.ticketfly.com.
Check out THE Americanafest 2014 Spotify playlist.
The first half of Americanafest's performing artist list includes:
Allison Moorer
Amy Ray
Angaleena Presley
The Avett Brothers
The Barefoot Movement
Ben Miller Band
Billy Joe Shaver
Black Prairie
Brennen Leigh and Noel McKay
Buddy Miller
The Cactus Blossoms
Carlene Carter
Caroline Rose
Chatham County Line
Chuck Mead
Danny & The Champions of the World
The Deadly Gentleman
Del Barber
The Deslondes
Doug Seegers
The Duhks
The Dustbowl Revival
Emily Barker & the Red Clay Halo
Ethan Johns
The Fairfield Four
The Grahams
Grant-Lee Phillips
Green River Ordinance
Greensky Bluegrass
Gregory Alan Isakov
Greyhounds
The Harpoonist & the Axe Murderer
Hayes Carll
Howlin' Brothers
Immigrant Union
Israel Nash
Jamestown Revival
Jason Eady
JD Wilkes & the Dirt Daubers
Joe Henry
Joe Pug
Joe Purdy
John Moreland
Jonah Tolchin
Jonny Two Bags
Josh Ritter
Joshua James
Lake Street Dive
Lee Ann Womack
Leo Welch
Lera Lynn
Marah Presents: Mountain Minstrelsy
Marty Stuart
Matthew Ryan
McCrary Sisters
Nathaniel Rateliff
New Country Rehab
Oh Susanna
Otis Gibbs
Parker Millsap
Paul Thorn
Pete Molinari
Quebe Sisters Band
Rhett Miller
Robbie Fulks
Robyn Hitchcock
Rodney Crowell
Ruthie Foster
Ryan Montbleau
Sam Outlaw
Sarah Jarosz
Sean Rowe
Shakey Graves
Suzy Bogguss
Todd Snider & Friends
Tom Freund
Tony Joe White
Trigger Hippy (feat. Jackie Greene, Joan Osbourne, Steve Gorman, Tom Bukovac & Nick Govrik)
Whiskey Shivers
Willie Watson
The 15th annual Americana Music Festival & Conference occurs September 17-21, 2014 in Nashville, Tenn. The 13th annual Americana Honors & Awards Show on Sept. 17 at the historic Ryman Auditorium.