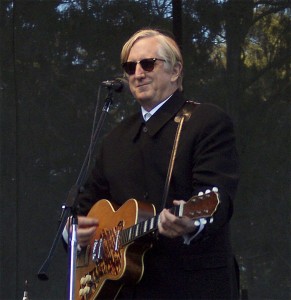 While discussing working on the Coen brothers upcoming Greenwich Village folk-movement inspired soundtrack for "Inside Llewyn Davis," with American Songwriter T Bone Burnett took the occasion to deride both technology and self-promotion.
Now the negative impact of technology on the music industry, from piracy to the lack of audio quality of the MP3 format, is well documented. On the latter theme of quality, Burnett's years of expertise as a successful musician and producer gives him the upper hand when discussing technologies impact on that side creative of the industry.
Where Burnett gets it wrong is when he says:
"Self-promotion is a horrible thing. As soon as an artist self promotes he ceases to become an artist, he becomes a salesman.'
T Bone should know better.
Many of the early turn of the century artists that influence Burnett's dust-bowl aesthetic were quite adept at using the technology of their day. They were also quite adept at the art, yes art, of self-promotion.
Ralph Stanley, who Burnett worked with on the watershed soundtrack for 'O Brother Where Art Thou," recounts in his book "Man of Constant Sorrow: My Life and Times" regularly appearing on the self-promotion tool of the day, radio. A teen-age Dr. Ralph, and his brother Carter, became regulars on the local radio station WNVA in Norton, Virginia.
After graduating from high school, and an honorable discharge from the Army, Stanley returned to Virginia where he and Carter formed a band and became an established part of WCYB in Bristol scheduling.
Would Burnett consider Ralph Stanley a "a salesman" in the derogatory vein he spoke above? I don't think so.
But there Dr. Ralph was, utilizing the YouTube, Facebook and Twitter of his day, the radio – promoting his music and upcoming live shows at local schools and churches.
Many of the artists that paved the way for Americana and country honed their musical and self-promotion chops on the road with traveling medicine shows. These traveling informercials arrived shortly after the Civil War and featured tumblers, dancers, fire-eaters, snake handlers, comedians and hillbilly musicians who attracted the locals with gratis performance. Once a crowd formed the smooth-talking huckster got to the point of the occasion, pitching some miraculous cure-all elixir.
These traveling shows not only allowed musicians to perform in front of an audience. It also taught them the importance of self-promotion.
T Bone himself owes much of his career to the tools of self-promotion. Movies and resulting TV, photo op and website coverage that accompany movie pre-release press junkets, like the one he was on when he talked to American Songwriter, have resulted in million-selling soundtracks that galvanized him the the mind of the mainstream as the Godfather of American. This has made him the go-to producer for artists – like Lisa Marie Presley and Elvis Costello – looking for a particular, and lucrative, sound.
Art and commerce has always been a thorny relationship, Cultural artifacts – visual arts, music, theatre , etc. – in modern history have always relied on state or private benefactors to assure the creator the lifestyle to create more and, ideally, freely.
It's almost cliched to say the music industry is in turmoil. Much of this is self-inflicted by laziness and short-term (and greedy) delusion that music would remain trapped in physical objects that could whose price could be dictated by the labels.
But now we know the product is not the record/tape/disc. It's the music. the other side of the double-blade is that affordable technology is a available to artists to take control of their careers. Amidst turmoil there is opportunity and a large part of an artist's opportunity self-promotion.
I respect Burnett, and everything he's done, and continues to do, for a genre I deeply love. But regarding the above statement he exhibits ideal of artistic purity he himself has not practiced, nor greatly benefitted, from.
An ideal that is dangerous fro artists that want to make a living at music and us fans that want to hear that music.
Just as Americana music has to recreate itself to thrive as a viable genre in the contemporary world, and not a cultural tinotype choked on nostalgic dust of an imaginary past. Burnett , of all people, should understand that self-promotion, and prudent technology use, is a age-old practice that paves the way for more great music for all of us.