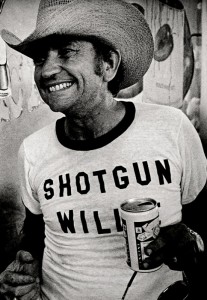 This is a great story behind the great title song of a great album.
Sure Willie is widely known as the Texas Yoda, but he has had a past occasionally reminiscent of a Cops episode. Or to paraphrase the Drive-By Truckers, it's the duality of the Texas thing.
Remember the one where his ex-aide sewed him up in his sheets as he drunkenly slept and beat him with a broom? Good times.
Here's another gem from Willie's newsletter:
Willie has been described as a man of wisdom and a peacemaker, but he wasn't always the gentle soul that many now know him as. He was nicknamed 'Shotgun Willie' for the shootout that happened when he heard his daughter Lana was being physically assaulted by her husband Steve.
"I ran for my truck and drove to the place where Steve and Lana lived and slapped Steve around," Willie recalls. "He really pissed me off. I told him if he ever laid a hand on Lana again, I would come back and drown his ass. No sooner did I get back to Ridgetop than here came Steve in his car, shooting at the house with a .22 rifle. I was standing in the door of the barn and a bullet tore up the wood two feet from my head. I grabbed an M-1 rifle and shot at Steve's car. Steve made one pass and took off."
Willie then returned to Steve and Lana's to find Steve had left and kidnapped their young son Nelson Ray. Lana told Willie that Steve was looking to 'get rid of him.' So Willie drove back to Ridgetop and waited.
"Thinking Steve would come to Ridgetop to pick me off about dusk, I hid in the truck so he couldn't tell if I was home. We laid a trap for him. I had my M-1 and a shotgun. He drove by the house, and I ran out the garage door. Steve saw me and took off. That's when I shot his car and shot out his tire. Steve called the cops on me. Instead of explaining the whole damn mess, the beatings and the semi-kidnapping and shooting and all, I told the officers he must have run over the bullet. The police didn't want to get involved in hillbilly family fights. They wrote down what I told them on their report and took off."
Not clear on what ever happened to the scumbag Steve or daughter Lana, but as we say in Texas, i'm not letting facts get in the way of a good story.