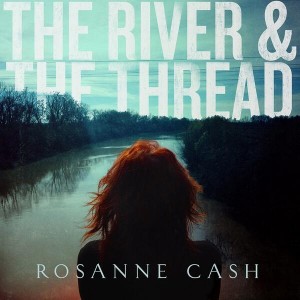 Roseanne Cash will release her 13th studio album, "The River and The Thread," January 14, 2014 on Blue Note Records.
Cash wrote the album's 11 original songs with her longtime collaborator (and husband) John Leventhal, who also served as producer, arranger and guitarist.
Of the album Cash says "If I never make another album I will be content, because I made this one."
"My heart got expanded to the South, to the people I had known, to the people I met…It started by going to Arkansas, to my dad's boyhood home…All these things started happening to feel a deeper layer of the South than I had ever experienced and I went down to the Delta, to all of the places where the great Blues musicians are from. And we went to [author William] Faulkner's house and Oxford, Miss., and just the richness of the Delta in particular started bringing songs to us. We started finding these stories, these great stories, and melodies, that went with these experiences
Cash was joined in the studio by a cast of friends and fellow musicians who also have a deep affection for and/or roots in the South, including Cory Chisel, Rodney Crowell (who also co-wrote one song), Amy Helm, Kris Kristofferson, Allison Moorer, John Prine, Derek Trucks, John Paul White (The Civil Wars), Tony Joe White and Gabe Witcher (The Punch Brothers.)
The cut below makes good on the promotional materials promise that "A Feather's Not A Bird" finds "… inspiration in the many musical styles associated with the South – swampy Delta blues, gospel, Appalachian folk, country and rock, to name a few"
"A Feather's Not A Bird" sound like it was born on the bayou. It's swampy groove works the Delta side of the tracks and certainly satisfies. There is a theme of "The map is not the territory: and a sense of discovery (or, more precisely rediscovery) that revolves around Florence, South Carolina.
Then there are gems like this:
"All the money's in Nashville, locked inside my hit. So I'm going down to Florence jsut to learn to love the thread." i have no idea what that means but I love it.
Pre-order The River & The Thread
"The River & The Thread" Track Listing
1. A Feather's Not A Bird
2. The Sunken Lands
3. Etta's Tune
4. Modern Blue
5. Tell Heaven
6. The Long Way Home
7. World Of Strange Design
8. Night School
9. 50,000 Watts
10. When The Master Calls The Roll
11. Money Road