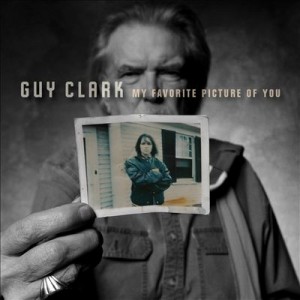 Describing his sculpting technique the Renaissance painter Michelangelo gave the beatific response "I saw the angel in the marble and carved until I set him free." The same can be said for the legendary singer/songwriter Guy Clark. He approaches songwriting like Michelangelo approaches marble. He carves away life until the song remains.
A recognized Master of the craft of songwriting, "My Favorite Picture of You," Clark's first album in four years is a rugged and tender result of a life lived and a craft perfected. Now past 71 years. Clark has
worked that craft to a singular style. More direct and economic than the work of his old partner in crime Townes Van Zandt, Clark is more in line with fellow Texas legend Kris
Kristofferson. The common is made divine and the everyday made sublime in his work.
Though he's called Nashville since 1971, his birthplace the Lone Star State runs throughout the album. Either in style, like the Bob Wills-tinged opener "Cornmeal Waltz," in
direct referral as a subject like in the Mariachi influenced tale of illegal border crossing El Coyote and the jaunty song of love and self-discovery "Rain in Durango." Then there's the some
of the songs contributors , the cover of Lyle Lovett's Waltzing Fool and I'll Show Me, which was co-writetn with longtime friend Rodney Crowell.
Clark's voice has naturally grown rougher and more wearied, but fits the songs like a pair of favorite old boots. His voice becomes noticeably more vulnerable and confessional
on the title cut about the love of his life, Susanna Clark, Clark's wife of 40 years, who passed in 2012. The album's cover has him holding up the song's source, a picture of his wife, angrily glaring in defiance after she returned home one day to find Clark and Townes Van Zandt boozing it up and generally cutting up. Clark uses this touchstone of love and the past to grapple with both and the results are one of the most heartfelt and honest songs I'eve ever heard.
Clark's voice is nicely complimented on may of the songs by Morgane Stapleton's delicately hewn vocals. Every song here s a keeper. The folky weeper "Hell Bent on a Heartache," the Bluegrass "Good Advice" and the the Celtic influenced femmale-on-femal twist on the classic murder ballad The Death of Sis Draper."
There is wonder, love, loss, bitterness and the whole fabric of humanity worn into these stories of lives of love found, lost , regret and happiness. The heart is shown like a card in play in a poker game only to be hidden away and used as a conquering suit. "My Favorite Picture of You" is a fitting wonder of craft bleeding into art from a man that makes making songs and living life all seem easy. And that's hard.