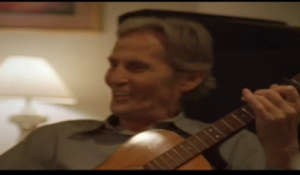 RollinStone.com posted this great clip from Ain't in It for My Health</em> , Jacob Hatley's documentary on the musical legend.
The film will premiere in upstate New York on April 19th, near his famous barn where his rambles are held to this day. The opening will occur exactly one year after his passing,
The film show's Hatley's intimate access to Helm and follows his comeback with the Grammy-winning Dirt Farmer album. Below is a clip from the film showing Helm performing acoustic rendition of Randy Newman's "Kingfish" his voice raspy as a result of throat cancer treatment.
From RollingStone.com "So this clip was one of the first things we shot," says Hatley. "We were in between takes on a music video for the Dirt Farmer record and had rented out this dilapidated motel for the shoot. We were all sick of shooting this lip synched, choreographed video and wanted to hear some real music, so Levon and Little Sammy Davis went in to one of the rooms and started playing. They did about eight songs, just for the crew. There was a heart shaped jacuzzi just off frame. The motel has since burned to the ground."