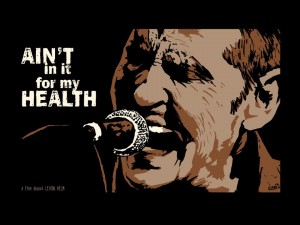 On Saturday (April 13), nearly one year to the day after his death, 'Ain't In It For My Health: A Film About Levon Helm' will open in Helm's hometown of Woodstock, N.Y.
The documentary has been in the works since 2007, when director Jacob Hatley, who was hired to spend a weekend directing a video for Helm's Grammy-winning Dirt Farmer, his first studio album since 1982. "Levon and I just happened to hit it off. I just ended up hanging out there. I found an excuse not to go home immediately." Hatley says
"Jacob was the perfect fly on the wall for many months as we experienced the ups and downs of a wonderful time in all our lives," Helm's longtime musical partner Larry Campbell tells Newsday. "The result is a rare, artful, and honest glimpse into the fascinating world of one of our true American treasures, Levon Helm."
The CD and DVD of the Oct. 3, 2012 tribute tribute concert 'Love for Levon' featuring friends, admirers and musical disciples such as Roger Waters, Warren Haynes, Gregg Allman and Lucinda Williams, has recently been released. Proceeds from the concert went to his family to help them keep his barn — the studio and live venue where his famous Midnight Rambles takes place to this day.
Ain't In It For My Health will screen at Upstate Films in Woodstock on Saturday, April 13 (132 Tinker St., upstatefilms.org). On the same night of the film's screening, a special "Midnight Ramble" concert will take place in Helm's Woodstock barn. The doors open at 5 p.m., and the event will feature a barbecue and another screening of the documentary, as well as a performance and Q&A session with The Levon Helm Band. Tickets are $125 and available for purchase at levonhelm.com.