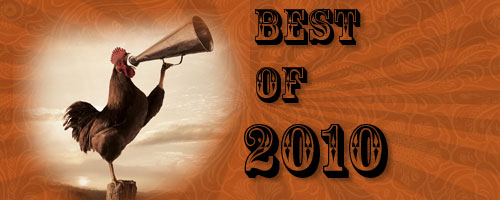 It's that time again. The end of the year list that are as common as as spam in your inbox, but it's tradition and I'm a sucker for tradition. So here we go!
If you follow my twitter feed (http://twitter.com/#!/TwangNation) you'll already know what's on this list. I did the countdown as seperate tweets lest week and I got a great response. You also know that its not merely a top 10 but a top 25! That's right, you get 25% more music for your money.
It has been another great year for Americana/roots music, and from what's currently coming across my desk for 2011 we can look forward to another. Old-timers are beating on the barn door and upstarts are using old parts to make new works that advance the form while staying true to the roots.  The genre appears to be attracting and cultivating the type of nurturing and craftsmanship that labels used to practice in the golden days of the 60s and early 70s. Of course this time without the lavish pay-out. The music industry is in turmoil from the corner office view but from the touring van and the laptop it's  a prime-time for opportunity. And if you're a burgeoning musician concerned about the current conditions I urge you to purchase Dr. Ralph Stanley's book Man of Constant Sorry and learn about what REAL hard time look like.
So I raise a pint and celebrate an embarrassment of riches that show the love of craft and and honor in roots that defines a road of American culture that is often overlooked and forgotten but often leads to the promised land.
As the year comes to a close, I'm reflecting on the past four years of writing Minkin's Music and all the good times with people I've met along the way. May the spirit of the season touch your soul and let comfort and joy shine upon you throughout the upcoming year.