Neo-trad Texas troubadour Charley Crockett just gave us another reason to look forward to summer. He's just announced his next studio album, "Welcome To Hard Times," will be released July 31st on Thirty Tigers.
"Welcome To Hard Times" is produced by Mark Neill (The Black Keys, Old 97s) with songwriting contributions from Pat McLaughlin (Steve Wariner, Tanya Tucker, Delbert McClinton) and Dan Auerbach (The Black Keys), "Welcome To Hard Times" is described as a "genre-bending mix of classic country, psychedelic spaghetti western and rhythm & blues. It may draw on heritage sounds, but this aptly-named collection perfectly fits these troubled times."
Crockett's vision for the record seems fatalistic if hopeful, "This record is for the folks who feel like everything's fixed. If you think you're playing a rigged game, you're right. If it seems like all the cards are marked in advance, they are. But you still gotta roll the dice, even when you know they're loaded."
Crockett released the album title track, and it's accompanying video, co-directed by Crockett and Bobby Cochran, which premiered today with American Songwriter Magazine.(watch below) Shot on location in the Sierra Nevadas, it will feature as part of a series of videos Crockett is shooting and directing over the next month, where he will play the same character walking alone through isolated landscapes in the American wilderness. Discussing the video concept, Crockett stated, "Whether it's out of admiration or fear, the whole world contemplates what the west means. When folks ask me what I'm really after, I guess that's it. Just to drift through it all my days. I'm making films that visually represent this land just as my music describes it in sound."
Crockett is no stranger to hard times. In early January 2019, while at a routine doctor's checkup. Crockett was diagnosed with Wolff–Parkinson–White syndrome, a congenital heart condition, as well as Aortic Valve disease, and he had to immediately undergo life-saving heart surgery. Crockett believes that this experience inspired him to make the record that he truly wanted.
Crockett stated, "I look at that scar and all I can think about is the limited amount of time I've got left, I wanted to make an album that would try to reclaim the conversation about country music." Crockett added, "My entering country music has been controversial, to say the least but I believe country fans have more eclectic tastes than they are given credit for. My country music is inspired by what I played in the subway car so I could eat, in the French Quarter in ragtag bands. I sat in pastures on farms across this country putting it all together into my own sound. I don't like labels but if that ain't country I don't know what is."
Crockett grew up in poverty and spent time living homeless and busking making his way from New Orleans to the subway platforms of New York City. Crockett also lost his sister to addiction and he is a twice-convicted felon and was falsely implicated in his own brother's crimes, "I've gotten more than my fair share of raw deals in my thirty-six years. But I don't let hard-luck own me." Crockett stated, adding, "I've been fortunate enough to see things that a person from my background is never meant to see, and that's worth something. It turns out that a wandering boy can learn a whole lot out there getting in trouble. Especially if he learns from his mistakes. I wouldn't take anything back that's happened to me. I'm not the best and I damn sure ain't the first. But I'm different, and in music, that's everything."
In spite of these challenges, Crockett has remained steadfast and persistent in his music career, releasing a catalog of critically respected self-released albums including "The Valley" and "Lil G.L.'s Blue Bonanza", which garnered critical acclaim.
Without the support of a major record label deal, Crockett has established himself as a breakthrough independent artist and the master of his own success. Generating over 36 million total streams across his song catalog, growing a grassroots following from his sold-out shows across America and Europe and making debuts at Stagecoach Festival, the Grand Ole Opry, and Newport Folk Festival.
Welcome To Hard Times was recorded in Valdosta, Georgia at Mark Neil's studio. Mark shared Charley's vision to make "a dark gothic country record." Neil stated, "It was a pleasure to have been involved in what I believe to be the best gulf and western country record ever made." The album was recorded with a studio band consisting of Kullen Fox, Colin Colby, Alexis Sanchez, Mario Valdez, Nathan Fleming, Billy Horton and Mackenzie Rosser.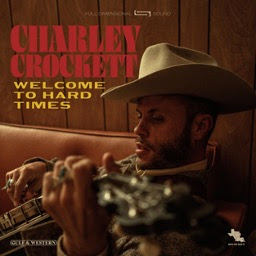 Preorder "Welcome To Hard Times."
Welcome To Hard Times tracklist:
Welcome To Hard Times
Run Horse Run
Don't Cry
Tennessee Special
Fool Somebody Else
Lily My Dear
Wreck Me
Heads You Win
Rainin' In My Heart
Paint It Blue
Black Jack County Crain
The Man That Time Forgot
The Poplar Tree