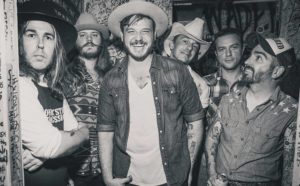 Today's Livestreams (Friday, March 20):
Bloodshot Records Virtual SXSW Day Part. 2PM-9PM via Facebook Live/a>. Live performances by Unkle Schmidty, Jason Hawk Harris Sarah Shook, The Waco Brothers, Rookie, Big Cedar Fever & Vandoliers!
Rhett Miller "pay-what-you-can" performance on Stageit at 9pm EDT, 6pm PDT. "Yes it's weird, but what isn't these days. I'm so grateful for the opportunity to continue to do the thing I love, and to be able to connect with y'all."
American Aquarium frontman BJ Barham continues playing AA albums in their entirety. Tonight is Night Four: Wolves – 5:00 PM PDT via Stageit
Bela Fleck & Abigail Washburn Announce 'Banjo House Lockdown' Live Stream 7 p.m. ET Facebook Live
Happy Hour w/ Ben & Alex of The Brothers Comatose 4 PM – 5 PM PDT via Facebook Live
Joshua Fleming (Vandoliers) 8pm CST on Facebook Live.
Third Man Records hosts "Third Man Public Access," a series of live-streamed performances from their Blue Room in Nashville, broadcast on Youtube at 1 PM ET daily. Details here.
Read More: Today's self-isolation livestreams (BB King tribute, Colin Meloy, Baxter Dury, Ultra Fest, more) | http://www.brooklynvegan.com/todays-self-isolation-livestreams-b-b-king-tribute-baxter-dury-ultra-music-festival-more/?trackback=tsmclip
Wade Bowen's Wade's World "Quaranstream" straight from his man cave in New Braunfels Texas. Featuring Cody Canada – Facebook Live– 8 PM CST.
Robert's Western World – The famous lower Broadway honky-tonk remains closed to the public, but it's stage features some of Nashville's finest. Joshua Hedley, Sara Gayle Meech, and Rachel Hester are just some of the RWW regulars keeping the twang alive. Facebook Live.
Livestreams (Saturday, March 21):
Mercy Bell will perform at 8pm CST/9pm EST via Facebook Live
Drop Dead Dangerous 7 PM EDT on Facebook Live.
Livestreams (Sunday, March 22):
American Aquarium frontman BJ Barham continues playing AA albums in their entirety. Tonight is Night Six: the newest release 'Laminations' – 5:00 PM PDT via Stageit
Sunny Sweeney – Live from Quarantine Prison Blues (Everywhere) – 7 PM – 10 PM – Facebook Live