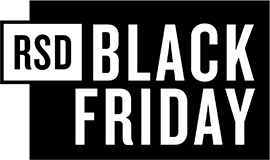 Luckily for vinyl fans, Record Store Day is now two separate events. The original big daddy event in April and it's smaller Black Friday.
The latter happens on 11/29, just in time for some early Christmas shopping for your own stocking. Below find some choice selections from the list that roots and Americana fans feen need a place on their turntable.
Descriptions are from RSD.com. See the full release list here.
Patsy Cline – Sweet Dreams: The Complete Decca Masters 1960-1963 – more details on this release
An amazing 3xLP set including all of Patsy Cline's Decca Studio master. This collection has never been released on vinyl and for Record Store Day Black Friday it's available on pink, purple and yellow pastel vinyl in a tri-gatefold sleeve.
(1000 available)
Dr. John – "Babylon"
When Dr. John hit the studio in 1968 to record Babylon, America was in a very turbulent period. On top of that, Dr. John was being pursued by various Los Angeles authorities for a handful of criminal offenses. It was, in his own words: "a heavy time for me."
This set the stage for Babylon being a reflection of the chaotic and tumultuous time that he was living in. He and his band dove deeper into the voodoo-inflected psychedelic rock and the R&B of Gris-Gris, while touching upon elements of free jazz and Captain Beefheart-style avant-garde. Babylon stands out as a psychedelic swamp of apocalyptic lyrical content, drunk, disorienting experimentation, and fascinating entry into Dr. John's catalog well-worthy of his expansive legacy.
Out of print on vinyl for 40 years, Get On Down is all too eager to reissue this unique recording for RSD Black Friday. In keeping with the album's hallucinogenic sound, it is presented on trippy never to be repeated splatter-colored vinyl and housed in a deluxe gatefold jacket.
A1. "Babylon" A2. "Glowin'" A3. "Black Window Spider" A4. "Barefoot Lady"
B1. "Twilight Zone" B2. "The Patriotic Flag-Waver" B3. "The Lonesome Guitar Strangler"
(2500 available)
Blind Willie Johnson – "Dark Was The Night, Cold Was The Ground/It's Nobody's Fault But Mine"
Blind Willie Johnson was the greatest and most popular guitar evangelist and influenced generations of musicians. His unique, intense, emotional and haunting gruff voice—coupled with some of the finest slide-guitar of any of his peers—firmly established Johnson's status as one of the premier gospel-blues artists of all time.
Between 1927 and 1930, Johnson recorded 30 powerful, timeless, landmark songs for Columbia Records in five sessions in Dallas, New Orleans, and Atlanta, generating strong sales and national fame.
On December 3, 1927, in a temporary studio in the Deep Ellum district of Dallas, Johnson recorded six groundbreaking songs, including the iconic slide guitar classic, "Dark Was the Night, Cold Was the Ground." Johnson's haunting response to Christ's crucifixion remains one of the masterpieces of American music. Ry Cooder described it as "the most soulful, transcendent piece in all American Music."Jack White called it "the greatest example of slide guitar ever recorded."
For RSD Black Friday 2019 Traffic Entertainment presents two of Johnson's most iconic sides as a 78 RPM microgroove record housed in a glorious reproduction of the Columbia sleeve wrapped in a full color OBI with detailed liner notes.
(1500 available)
The Marshall Tucker Band – "New Year's in New Orleans – Roll Up '78 and Light Up '79"
"Let's show the people coast to coast that we here in New Orleans can party! Are you ready to roll '78 and light up 79?!" announces the boisterous (and probably slightly buzzed) emcee introducing The Marshall Tucker Band to the tight-knit community of joint-passing, beer-cheersing rock 'n' rolling regulars at The Warehouse, New Orleans' legendary 1970s music hall. Not only would the audience of 2,000+ longhairs enjoy the New Year's Eve concert that night, but so would a huge audience of radio listeners rockin' in simulcast nationwide. The emcee claimed that this was the largest radio audience ever to hear a broadcast and at the time, it probably was. The band elevated themselves to the occasion and delivered an absolutely smokin' performance of what were already their most memorable and cherished hits.
• Sourced from the original 24-track tapes
• Mixed in Macon, Georgia in 2019 by Paul Hornsby, the original Capricorn Records producer who recorded and produced their first six gold and platinum albums.
• Featuring never before published photos by The Warehouse's photographer, Sidney Smith, plus images of archival documents form the recording engineers.
• Double LP, gatefold
Side A: A1 "Fly Like An Eagle" A2 "Long Hard Ride" A3 "Fire On The Mountain" A4 "Heard It In A Love Song" A5 "Blue Ridge Mountain Skies"
Side B: B1 "Can't You See" B2 "Ramblin'" B3 "This Ol' Cowboy"
Side C: C1 "Desert Skies" C2 "24 Hours At A Time"
Side D: D1 "New Year's Countdown/Auld Lang Syne" D2 "Searchin' For A Rainbow" D3 "Will The Circle Be Unbroken"
(1500 available)
JD McPherson – "Red Bows For A Blue Girl" / "Holly, Carol, Candy and Joy"
This is a new 7″ of two Christmas songs. "Red Bows for A Blue Girl" is a brand new original record specifically for RSD Black Friday. "Holly, Carol, Candy and Joy" is a b-side from the album SOCKs which was released in November of 2018.
(1500 available)
Willie Nelson – "Sometimes Even I Can Get Too High" b/w "It's All Going To Pot" (w/ Merle Haggard)
It's said that legends aren't born—they're grown. Willie Nelson, an enduring American icon and tireless supporter of marijuana legalization, offers the latest hit from his stash, a humorous ode to the sweetest of leaves as only Willie can do it. "Sometimes Even I Can Get Too High," a new song from the sessions for Willie's latest album, Ride Me Back Home Is backed with "It's All Going To Pot," another 420 favorite from Django and Jimmie, Willie and Merle Haggard's 2015 album.
(4000 available)
New Riders of the Purple Sage – "Thanksgiving in New York City (Live)"
Captured at the late show from November 23, 1972, at the Academy of Music, Thanksgiving In New York City features the band in the midst of an energetic and highly regarded tour. Along with Dawson classics like "Henry," "Portland Woman," and "Last Lonely Eagle," lead guitarist David Nelson and bassist Dave Torbert also bring some Bluegrass ("She's No Angel") and R&B ("I Don't Need No Doctor," "Willie And The Hand Jive") to the mix.
SIDE ONE: 1."Leaving On Her Mind" 2. "Portland Woman" 3. "Hello Mary Lou" 4. "Sutter's Mill" 5. "She's No Angel"
SIDE TWO: 6. "Henry" 7. "Contract" 8. "Linda" 9. "Take A Letter Maria"
SIDE THREE: 10." All I Ever Wanted" 11. "Groupie" 12. "Whiskey" 13. "Long Black Veil"
SIDE FOUR: 14. "Lochinvar" 15. "Truck Drivin' Man" 16. "Rainbow" 17. "I Don't Need No Doctor
SIDE FIVE: 18. "Louisiana Lady" 19. "Honky Tonk Women" 20. "Last Lonely Eagle"
SIDE SIX: 21. "Willie & The Hand Jive"
(1800 available)
J.S. Ondara – "Tales of America B Sides"
Born and raised in Nairobi, Kenya, J.S. Ondara fell in love with Bob Dylan and moved to Minneapolis when he was 20 to pursue a career as a singer-songwriter. His debut album, Tales of America, is an examination of the American Dream, but from the perspective of the outsider, the immigrant, the social commentator. This album made J.S. an NPR Slingshot Artist, a Rolling Stone Artist You Need To Know, and earned him a Best Emerging Act nomination from the Americana Music Association in 2019.
Tales of America: B Sides is a five-track LP packaged exclusively for Record Store Day, and features a previously unreleased track, a demo, a remix, and two cover songs.
"Milk + Honey" – previously unreleased
"Analog Man" – previously unreleased
"Jesus For President" – previously unreleased
"Torch Song" (Echo Park)
"Heart of Gold" (Neil Young cover)
(2000 available)
Elvis Presley – "American Sound 1969"
1969 was a pivotal year for Elvis Presley. Fresh from the success of the '68 Comeback Special, a revitalized Elvis headed to American Sound Studios with producer Chips Moman and a crack group of local session musicians. From these sessions came From Elvis In Memphis, one of the most beloved LPs of his career, plus the seminal hits "Suspicious Minds" (his 18th and final No. 1 hit) and "In The Ghetto." American Sound Sessions 1969, available for the first time on vinyl, features rare and unreleased outtakes from these legendary sessions.
Side A: 1. "Long Black Limousine (Take 6)" 2. "Wearin' That Loved On Look (Takes 12, 13 & 14)" 3. "You'll Think Of Me (Take 16)" 4. "I'm Movin' On (Take 2 – with vocal replacements and steel guitar overdub)" 5. "A Little Bit Of Green (Take 1)"
Side B: 1. "In The Ghetto (Take 1)" 2. "From A Jack To A King (Takes 1-3)" 3. "Without Love (There Is Nothing)(Take 1" 4. "I'll Be There (Takes 1-3)" 5. "Suspicious Minds (Take 8)(undubbed master)"
Side C: 1. "Stranger In My Hometown – Jam (undubbed)" 2. "It's My Way/This Time/I Can't Stop Loving You – Jam" 3. "True Love Travels On A Gravel Road (Take 2)" 4. "Power Of My Love (Take 1)" 5. "After Loving You (Take 2)"
Side D: 1. "Do You Know Who I Am? (Take 4)" 2. "Kentucky Rain (Take 8)" 3. "Only The Strong Survive (Take 29)" 4. "It Keeps Right On A Hurtin' (Takes 1 & 2)" 5. "Any Day Now (Takes 1 & 2)"
(4000 available)
Leon Redbone – "Strings And Jokes, Live in Bremen 1977"
Wanderer between the worlds. No other words can describe the musical work of Leon Redborne. His first official stage appearance took place in 1971 at the Mariposa Folk Festival in Orillia, Ontario, and soon after he began performing in local clubs where he became famous with his unique style. His trademarks were a perfect suit (white jacket, black trousers), dark sunglasses, a mustache, and a white fedora. Best known for his interpretations of music from the Depression Era–Blues, Ragtime, Folk and Tin Pan Alley—laying on top his remarkable singing style. Influenced by the music of Fats Waller, Jelly Roll Morton, Jimmy Rodgers or Irving Berlin, his interpretations are legendary.
Both concerts on this RSD Black Friday release took place in Bremen, Northern Germany, in 1977 and show two different sides of Leon Redbone. At the first concert, at the "Glocke", he was accompanied by tuba player Jonathan Dorn, and the second, at the "Post-Aula" was a solo concert, pure and simple. Both are electrifying because of his unique performance and the combination of Blues and influences from Folk-Jazz. He sings, yodels, murmurs, and hums and knows to fascinate his fans with his warm and outstanding voice. A must-have for every fan of traditional and not commonplace music.
(300 available)
Steep Canyon Rangers – "North Carolina Songbook"
GRAMMY-Award winning bluegrass outfit Steep Canyon Rangers brought a special surprise to attendees of their performance at Merlefest 2019. To honor their home state, the Rangers performed a selection of songs from the artists of North Carolina. Featuring unsung Carolinian heroes like Ola Belle Reed and Elizabeth Cotten to world-renowned performers like Thelonious Monk, Doc Watson, James Taylor and Ben E. King, the Rangers' live North Carolina Songbook performance shows why the Tar Heel State continues to celebrate their legacy of musical excellence and influence that dates back over a century.
1. "Stand By Me [Ben E King]" 2. "Don't Let Your Deal Go Down [Earl Scruggs/Charlie Poole]" 3. "Blue Monk [Thelonious Monk]" 4. "Jack of Diamonds [Tommy Jerrell]" 5. "Shake Sugaree [Elizabeth Cotten]" 6. "Sweet Baby James [James Taylor]" 7. "I've Endured [Ola Belle Reed]" 8. "Your Lone Journey [Doc Watson]"
(1500 available)
Richard Thompson – "The Cold Blue: Original Motion Picture Score"
The Cold Blue is a 2019 documentary that focuses on footage shot directly from bomber planes during WWII with narration from surviving members of the 8th infantry. Richard Thompson wrote and arranged the score to the movie, and its released on vinyl for the first time everas a double blue 180g vinyl set, with a worldwide pressing of 1500.
1. "The Cold Blue" 2. "The Cold Blue Part 2" 3. "No Tomorrow" 4. "Fresh Eggs" 5. "A Sudden Boom" 6. "Family" 7. "Tremendous Workers" 8. "Beautiful Sight" 9. "Beautiful Ship" 10. "Cold Air" 11. "Over There" 12. "Big Thunderstorm" 13. "Superstitious" 14. "Kill a Human" 15. "Red Flare" 16. "Just Germans" 17. "I'll Be Seeing You" 18. "Family (Guitar Version)" 19. "The Cold Blue (Guitar Version)"
(1250 available)
Desperado: The Soundtrack
Like his buddy and occasional collaborator Quentin Tarantino, Robert Rodriguez is one of those film directors whose movies always come with incredible soundtracks. But it's tough to top the array of music he assembled for his gun 'n' guitar-slinging western Desperado, the 1995 sequel to his breakthrough debut El Mariachi. Not only was the Desperado score composed and performed by the L.A. bands Los Lobos (whose performance of "Mariachi Suite" won a Grammy for Best Pop Instrumental Performance) and Tito and Tarantula (memorably seen the following year as the house band at the Titty Twister in Rodriguez's From Dusk Till Dawn), but it also boasted contributions from Dire Straits, Link Wray, Carlos Santana, and the Latin Playboys among other artists. A blend of ranchera, Chicano, and garage rock, it's the perfect accompaniment for the blood-soaked imagery of the film…and for this, the first vinyl release of the soundtrack, we at Real Gone Music have created the perfect visual accompaniment as well. For the gatefold jacket housing our 2 X LP set, we commissioned Illustrator Matt Ryan Tobin to create one-of-a-kind, never-to-be-reprinted illustrated artwork, a lyrical yet lurid tableau that was approved not just by Robert Rodriguez but also by all four actors depicted (Antonio Banderas, Salma Hayek, Steve Buscemi, and Joaquim de Almeida). Inside the gatefold, we designed two 4-color inner sleeves offering production stills from the film and pressed up 2500 copies in sultry "Blood & Gunpowder" vinyl. This pressing is exclusive for RSD Black Friday, and, again, both the jacket and the colored vinyl will never be reprinted…this might be the most collectible release we have ever created!
1. Los Lobos with Antonio Banderas "Canción Del Mariachi (Morena De Mi Corazón" 2. Dire Straits "Six Blade Knife" 3. Link Wray & His Ray "Jack the Ripper" 4. Latin Playboys "Manifold De Amour" 5. Latin Playboys "Forever Night Shade Mary" 6. Roger & The Gypsies "Pass the Hatchet" 7. Los Lobos "Bar Fight" 8. Tito & Tarantula "Strange Face of Love" 9. Los Lobos "Bucho's Gracias/Navajas Attacks" 10. Los Lobos "Bulletproof" 11. Carlos Santana "Bella" 12. Salma Hayek "Quédate Aqui" 13. Los Lobos "Rooftop Action" 14. Los Lobos "Phone Call" 15. Tito & Tarantula "White Train (Showdown)" 16. Tito & Tarantula "Back to the House That Love Built" 17. Los Lobos "Let Love Reign" 18. Los Lobos "Mariachi Suite"
(1800 available)
Joni 75 A Joni Mitchell Birthday Celebration
On Joni's 75th birthday, last November 7, a star-studded roster of musicians gathered to pay tribute to the legendary singer-songwriter. The evening was recorded and this vinyl release features performances by Brandi Carlile, Glen Hansard, Emmylou Harris, Norah Jones, Chaka Khan, Diana Krall, Kris Kristofferson, Los Lobos with La Marisoul, Cesar Castro & Xochi Flores, Graham Nash, James Taylor, Seal, Rufus Wainwright and more.
1. "Dreamland" –Performed by Los Lobos with La Marisoul, Xochi Flores & Cesar Castro
2. "Help Me" –Performed by Chaka Khan
3. "Amelia" –Performed by Diana Krall
4. "All I Want" –Performed by Rufus Wainwright
5. "Coyote" –Performed by Glen Hansard
6. "River" –Performed by James Taylor
7. "Both Sides Now" –Performed by Seal
8. "Our House" –Performed by Graham Nash
9. "A Case Of You" –Performed by Kris Kristofferson & Brandi Carlile
10. "Down to You" –Performed by Brandi Carlile
11. "Blue" –Performed by Rufus Wainwright
12. "Court And Spark" –Performed by Norah Jones
13. "Nothing Can Be Done" –Performed by Los Loboswith La Marisoul, Xochi Flores &Cesar Castro
14. "The Magdalene Laundries" –Performed by Emmylou Harris
15. "Woodstock" –Performed by James Taylor
16. "Big Yellow Taxi" –Performed by La Marisoul, James Taylor, Chaka Khan, and Brandi Carlile
(3000 available)
Tony Joe White – "That On The Road Look "Live"
The only live album recorded at Tony Joe White's peak…and it's never been available at retail before. Recorded in the fall of 1971 while TJW was opening for Creedence Clearwater Revival, this show became the proverbial "legendary lost live album," and for good reason: Warner Bros. recorded the concert on multitrack tape, fully intending it to be released. But for some reason lost to the mists of time, the album never came out until Rhino Handmade released it on CD in 2010 via their website. Which means it never went to regular retail at all in any format, and that's a real shame, because you could make a good argument that it's the best Tony Joe White album of 'em all, with a set list to die for, a great band (featuring Duck Dunn on bass), pristine fidelity, and plenty of Swamp Fox attitude. This exclusive RSD Black Friday white vinyl pressing comes inside a gatefold jacket featuring a front cover cut-out displaying the art on one of two inner sleeves, with great liner notes by Ben Vaughn.
1. "Roosevelt and Ira Lee" 2." A Night in the Life of a Swamp Fox" 3. "Rainy Night in Georgia" 4. "Mississippi River" 5. "Lustful Earl and the Married Woman" 6. "Willie and Laura Mae Jones" 7. "Back to the Country" 8. "Band Introduction" 9. "Traveling Bone" 10. "Stormy Monday" 11. "My Kind of Woman" 12. "Polk Salad Annie" 13. "That on the Road Look"
(1000 available)
Hank Williams – "The 1940 Recordings"
The songs featured on this RSD Black Friday 45 RPM 7" single catch Williams at age 18 on homemade recordings. Coupled with last year's 7" release The First Recordings 1938, these two 7's represent the earliest known recordings of Hank Williams. Newly restored and remastered by the Grammy-Award winning Hank Williams team!
A1) "Freight Train Blues" A2) "New San Antonio Rose"
B1)" St. Louis Blues" B2) "Greenback Dollar"
(2500 available)