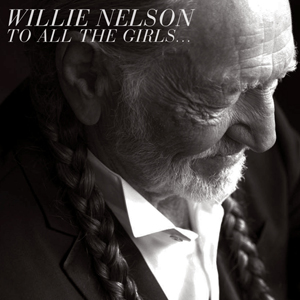 Willie Nelson just doesn't know the meaning of quit. The Texas Yoda took time from his extensive (some might say grueling) touring schedule to enter the studio with some of his favorite female singers for a duets album entitled 'To All The Girls….' (Oct. 15 on Legacy Recordings.)
Nelson features his talented daughter Paula Nelson, as well as legends like Loretta Lynn, Dolly Parton, Emmylou Harris, Roseanne Cash and newcomers Secret Sisters, Norah Jones, Carrie Underwood and Miranda Lambert.
Also representing the legend status is Mavis Staples. She and Nelson do a smooth version of Bill Withers' deeply personal "Grandma's Hands." Besides Withers the song has been previously covered by Mavis' own legendary family gospel group, The Staple Singers.
Preorder the album here.
To All The Girls track list:
1. Dolly Parton — From Here To The Moon And Back
2. Miranda Lambert — She Was No Good For Me
3. Secret Sisters — It Won't Be Very Long
4. Rosanne Cash — Please Don't Tell Me
5. Sheryl Crow — Far Away Places
6. Wynonna Judd — Bloody Mary Morning
7. Carrie Underwood — Always On My Mind
8. Loretta Lynn — Somewhere Between
9. Alison Krauss — No Mas Amor
10. Melonie Cannon — Back To Earth
11. Mavis Staples — Grandma's Hands
12. Norah Jones — Walkin'
13. Shelby Lynne — Til The End Of The World
14. Lily Meola — Will You Remember Mine
15. Emmylou Harris — Dry Lightning
16. Brandi Carlile — Making Believe
17. Paula Nelson — Have You Ever Seen The Rain
18. Tina Rose — After The Fire Is Gone