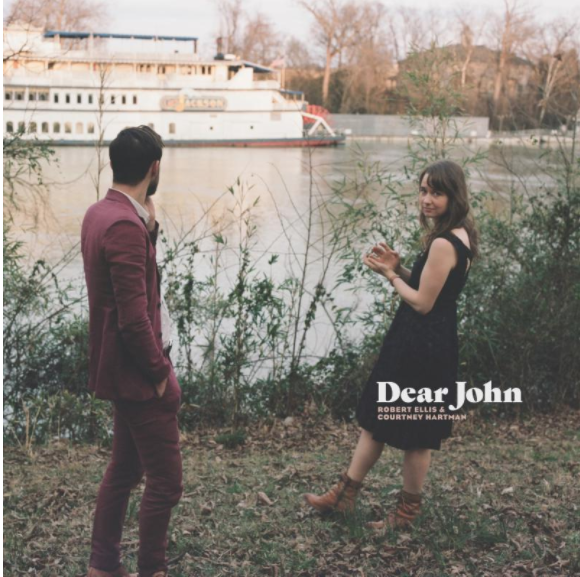 Texan Robert Ellis and Coloradan Courtney Hartman bonded backstage at a music festival in 2013 over their mutual love of John Hartford songs. After a few years of friendship and collaboration led to the creation of 'Dear John,' a collection of both well-known and obscure material that reveals witty and tender layers found in Hartford's lyrics. The album also allows Ellis and Hartman to showcase their perfectly blended vocals and the playful ebb and flow of their shared guitar playing.
"I feel like Courtney Hartman and I must have known each other in a previous life. We share a deep love and obsession with a lot of the same music. There is a unique cross-section of songwriting craft, tradition and it's context, and musicality that we both really get excited by," says Ellis. "John Hartford is sort of the apex of this and it came as no surprise to me that he was a big influence on both of us and what we do. These songs, and playing them with Courtney really seemed to recharge my spirit in some way. Through playing these songs we are connected to each other and to John in a way that makes me feel like I'm at home."
The album encompasses ten cuts that span John Hartford's 30+ discography including his best-known song "Gentle on My Mind" – later recorded by Glen Campbell – for which Hartford earned two GRAMMY awards for Best Folk Performance and Best Country & Western Song. Versions of the song were also recorded by Elvis Presley, Aretha Franklin, Frank Sinatra, Johnny Cash, Bing Crosby, Lucinda Williams, and most recently Alison Krauss.
Throughout his career, Hartford earned two additional Grammy awards, for 'Best Ethnic or Traditional Recording' for his record 'Mark Twang,' as well as Album of the Year for his work on the watershed soundtrack to 'O Brother, Where Art Thou?'
John Hartford's son Jamie noted, "They have captured a subtle part of my dad that gets overlooked way too often. Now they have an obligation to the world to get this out. I wish them much success."
From the 1980s onwards, Hartford had Non-Hodgkin lymphoma. On June 4, 2001, he died of the disease at Centennial Medical Center in Nashville, Tennessee. He was 63.
In support of the new release, Ellis and Hartman will hit the road for a limited tour kicking off on December 9 in Austin, TX at the Cactus Cafe, and ending at Stage One in Fairfield, CT on December 21. In between, they will make stops in Baton Rouge and Denver before two nights at Rockwood Music Hall in New York City.
Hear their gloriously heartfelt rendition of "Gentle on My Mind" below, and see 'Dear John' track listing and tour dates below:
'Dear John' Track List:
– Old Time River Man
– Them Way Long Time Ago Times
– Gentle On My Mind
– Right in the Middle of Falling for You
– Here I Am In Love Again
– Howard Hughes Blues
– Morning Bugle
– Delta Queen Waltz
– Up on the Hill Where They Do the Boogie
– We Did Our Best
Robert Ellis & Courtney Hartman Tour Dates:
12/7 – Dallas, TX @ The Rustic
12/8 – San Antonio, TX @ The Rustic*
12/9 РAustin, TX @ Cactus Caf̩
12/13 – Baton Rouge, LA @ Manship Theatre
12/15 – Denver, CO @ Swallow Hill Music
12/16 – Austin, TX @ Moody Theater^
12/18 – NYC @ Rockwood Music Hall (stage 3)
12/19 – NYC @ Rockwood Music Hall (stage 3)
12/21 – Fairfield, CT @ Stage One
12/26 – Houston, TX @ House of Blues^
*Robert Ellis full band w/ Courtney Hartman opening
^Robert Ellis full band opening for Robert Earl