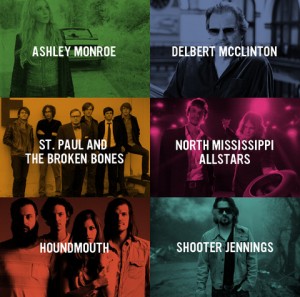 Building on the already excellent initial lineup announcement the Nashville-based Americana Music Association has released has released the full roster of artists performing during the event.
Some of the additions that stand out to me are roots-rockers Shooter Jennings and Austin Lucas, alt.country stalwarts Bottle Rockets and Ashley Monroe who apparently has no problem working both the Americana and Music Row sides of the fence (good!) One performer I'm bummed to see missing from the roster is Jason Isbell (Though his talented better half, Amanda Shires, is on the list.) There might be scheduling conflicts with his current tour supporting the excellent "Southeastern."
The vagueness of Americana's boundaries allows a richness and diversity within a shared source and vision. it's what legend, and scheduled performer, Darrell Scott describes positively as a "hard-to-define place."
the selections show a broad range of diversity and excellence the of the genre. Great to see many Casa Twang favorites represented as well.
The AMA has created a Spotify playlist of the performers on the 2013 bill.
The 14th annual event will take place in Nashville, Sept. 18-22. I'll be there. hope you are too!
Americana Music Festival & Conference Showcase Performing Artistt
Alanna Royale
Amanda Shires
American Aquarium
Amy Speace
Andrew Combs
Andrew Leahey & the Homestead
Aoife O'Donovan
Ashley Monroe
Austin Lucas
Band of Heathens
Bear's Den
Ben Miller Band
Bhi Bhiman
Billy Bragg
Black Prairie
Bobby Rush
Bottle Rockets
Brian Wright
Chelsea Crowell
Claire Lynch
Daniel Romano
Darrell Scott & Tim O'Brien
Dash Rip Rock
David Bromberg
Delbert McClinton
Della Mae
Donna the Buffalo
Drew Holcomb & the Neighbors
DUGAS
Elephant Revival
Farewell Drifters
Field Report
Frank Fairfield
Hillbilly Killers
Holly Williams
Houndmouth
Howe Gelb
Howlin' Brothers
Hurray for the Riff Raff
Infamous Stringdusters
JC Brooks & the Uptown Sound
JD McPherson
Joe Fletcher & the Wrong Reasons
Joe Nolan
John Fullbright
Jonny Fritz
Josh Rouse
Joy Kills Sorrow
Judah & the Lion
Justin Townes Earle
Kim Richey
Kruger Brothers
Laura Cantrell
Lera Lynn
Levi Lowrey
Lindi Ortega
Lisa Marie Presley
Luella & the Sun
Mandolin Orange
Matt Mays
Max Gomez
McCrary Sisters
Melody Pool
Mustered Courage
My Darling Clementine
Nicki Bluhm & the Gramblers
Nikki Lane
Noah Gunderson
Nora Jane Struthers
North Mississippi Allstars
NQ Arbuckle
Old Man Luedecke
Over The Rhine
Parker Millsap
Patrick Sweany
Paul Kelly
Peter Bruntnell
Phil Madeira
Pokey LaFarge
Randall Bramlett
Rayland Baxter
Richard Thompson
Rosanne Cash
Rose Cousins
Sam Doores, Riley Downing & the Tumbleweeds
Samantha Crain
Shakey Graves
Shannon McNally
Shel
Shooter Jennings
Sons of Fathers
Spirit Family Reunion
St. Paul and the Broken Bones
Steelism
Steep Canyon Rangers
Stewart Mann & the Statesboro Revue
Sturgill Simpson
Susan Cowsill
The Bushwackers
The Del-Lords
The Devil Makes Three
The Greencards
The Lone Bellow
The Lost Brothers
The Stray Birds
The Westbound Rangers
The White Buffalo
Tim Easton
Tommy Malone
Treetop Flyers
Two Man Gentleman Band
Uncle Lucius
Water Liars
Wheeler Brothers
Willie Sugarcaps
Willy Mason
Wood Brothers