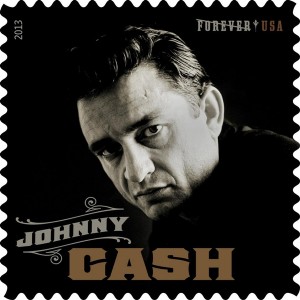 The Johnny Cash "Forever" Stamp celebration took place June 5th at the Ryman Auditorium featured John Carter Cash, The Oak Ridge Boys, Marty Stuart, Randy Travis, Carlene Carter, Wesley Orbison and other members of the Cash family to kick off the release of the limited-edition stamp
A "forever'stamp is a non-denominated stamp that retains full validity postage no matter of price increases.
Kathy Cash , Johnny's Daughter from his first marriage to Vivian Liberto Distin and sister of Rosanne Cash, posted her heartfelt and funny speech from the event. I re-post it here with a video of a rousing "Will The Circle Be Unbroken" from the finale. Enjoy.
___________________________________________________________
Good Morning.
Thank you for being here to celebrate the "Johnny Cash Forever Stamp" in the Music Icon series.
My dad and mom had a 4 year courtship in the early 50's. Dad was in the Air Force in Germany, mom was a young woman living in San Antonio, Texas. During that 4 year period, they exchanged an astounding 10,000 letters.
Dad was no stranger to licking a stamp.
He loved stamps and we have the letters to prove it.
When dad was on the road until he retired, he sent us hundreds of cards, letters, poems and Valentines, postmarked from all over the world. When he heard a new upcoming artist on the radio and liked what he heard, he always sat down to write a letter of encouragement.
Always postmarked, always mailed.
In a fast paced world of telegrams and faxes, then email and texts, dad always preferred and chose writing. It meant a great deal to him to send a handwritten letter, stamped and mailed to people he cared about.
Dad has been inducted into all 4 Halls of Fame : Country Music, Songwriters, Rock and Roll and Gospel. He received the Kennedy Honor Award, The National Medal Of Arts, and was the first person to receive the Spirit Of Americana "Free Speech Award." He earned thousands of awards for his musical accomplishments and humanitarian works. There's even a main street in Hendersonville, TN., named "The Johnny Cash Parkway."
Dad loved this country. I have no doubt that having his image on a United States postage stamp would be his proudest accomplishment.
If dad were here he'd be beaming with pride, and would say something to the effect of, "Well. Ain't that somethin'? This face of mine on a postage stamp. A government issued postage stamp. A FOREVER STAMP." He would love that it's a forever stamp.
Dad had such an impact on American history. To have him recognized in this capacity is incredible. It means future generations will realize what a monumental part of American history and music Johnny Cash is.
On behalf of the entire Cash family, I want to thank the United States Postal Service, the fans and collectors who initiated and participated in this remarkable effort, voicing their support for a Johnny Cash stamp.
Carlene Carter and Larry Gatlin sing "Jackson"