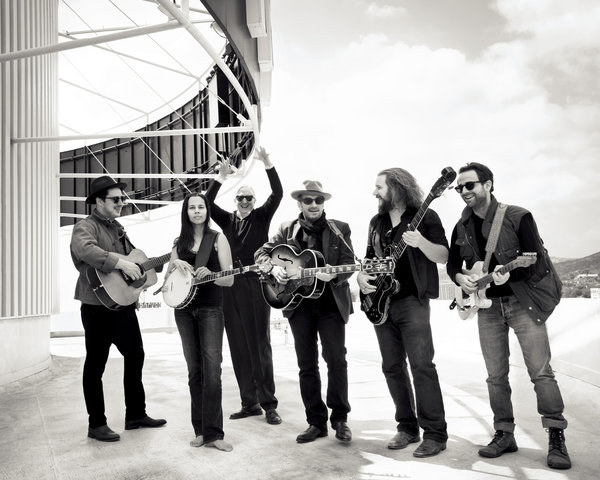 If there was ever an Americana and roots music watershed recording the Basement Tapes 1967 sessions from Bob Dylan and The band was one.
Now there's official word that that mainstay of Americana, T Bone Burnett, is working on a project "Lost On The River: The New Basement Tapes." The project has a solid (and marketable) roster – Elvis Costello, Rhiannon Giddens (Carolina Chocolate Drops), Taylor Goldsmith (Dawes), Jim James (My Morning Jacket) and Marcus Mumford (Mumford & Sons.)
The event focuses on two-dozen recently discovered lyrics written by Dylan during the 1967 period that generated original legendary Basement Tapes release.
Recording is nearly complete on the project which will be released later this year by Electromagnetic Recordings/Harvest Records. The album will be accompanied by a Showtime documentary titled Lost Songs: The Basement Tapes Continued, directed by Sam Jones (the Wilco documentary, I Am Trying To Break Your Heart)
I can imagine the germ of this endeavor occurred during the "Another Day, Another Time: Celebrating the Music of "Inside Llewyn Davis," held at New York City's Town Hall last September. That one-night event featured Mumford and Giddens as well as Joan Baez, Patti Smith, Jack White, The Avett Brothers, Punch Brothers, Gillian Welch, Dave Rawlings Machine, Willie Watson, The Milk Carton Kids, Colin Meloy and Lake Street Dive. (see below)
Truth is I'm ambivalent about this. A sequel to The New Basement Tapes is like a sequel to Casablanca. Is it necessary and will it ever have a chance to even come close to the genius of the original. And as much as i respect the artists involved, they are hardly the contemporary versions of Dylan and The Band.
If this was Ryan Adams and the Felice Brothers I still think it would fall short, but damn it would be interesting.
Here's to being proven wrong.
You can sign up for updates at on the project at the official site.
Lost On The River: The New Basement Tapes" will be released Nov. 11. Pre-order here.