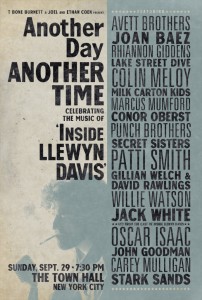 I was not fortunate enough to attends the Inside Llewyn Davis benefit concert this last Sunday at New York's Town Hall, but YouTube user Julie P did and was kind enough to share some videos of the performance which I've posted below.
The concert is inspired by the upcoming folk pseudo-documentary Inside Llewyn Davis by the incredible Coen brothers (O Brotehr Where Art Thou, No Country For Old Men, True Grit) The evet was produced by the Coens and the film's Executive Music Producer T Bone Burnett. the roots music who'd=who bill included The Avett Brothers, Joan Baez, Rhiannon Giddens of the Carolina Chocolate Drops, Lake Street Dive, Colin Meloy of The Decemberists, The Milk Carton Kids, Marcus Mumford, Conor Oberst, Punch Brothers, Dave Rawlings Machine, The Secret Sisters, Patti Smith, Gillian Welch and Willie Watson. The artists as well as stars from the film performed songs from the film live, as well as songs from the early 1960s that inspired it.
As more videos are posted I will add them here.
Colin Maloy, Joan Baez, and Gillian Welch
http://www.youtube.com/watch?v=Xy7dNZTNem8&feature=c4-overview&list=UUkM6IBsFkHspnonQLwecdKA
Gillian Welch, Rhiannon Giddens, and Carey Mulligan
http://www.youtube.com/watch?v=K15nU5a6Qek&feature=share&list=UUkM6IBsFkHspnonQLwecdKA
Patti Smith, Avett Brothers, Dave Rawlings + – People Have The Power
http://www.youtube.com/watch?v=VDCLmTq_y2M&feature=c4-overview&list=UUkM6IBsFkHspnonQLwecdKA
Marcus Mumford, Oscar Isaac, and Punch Brothers "Fare Thee Well"
https://www.youtube.com/watch?v=TstKeaP-aHk
Marcus Mumford and Joan Baez – "Corn Whiskey When I'm Dry"
https://www.youtube.com/watch?v=wIsr2bwVrz0&list=UUkM6IBsFkHspnonQLwecdKA
Marcus Mumford – "I Was Young When I Left Home" (Bob Dylan)
https://www.youtube.com/watch?v=gvVBce8hQF8&list=UUkM6IBsFkHspnonQLwecdKA
Elvis Costello, Punch Brothers, Inside Llewyn Davis actor Oscar Isaac, & Adam Driver "Please Mr. Kennedy"
https://www.youtube.com/watch?v=HzU8mz3eqTc&list=UUkM6IBsFkHspnonQLwecdKA