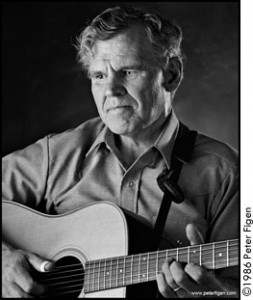 I'm not a religious man but I would like to have a word with god. I'd look up at his cloudy beard and steel-blue eyes and say "Stop." I'm tired of writing posts sending off out legends. Scruggs, Helm and now Watson.
Men who's storied careers shines a glaring light of authenticity and richness on the current music industry of glib irony and planned obsolesce.  Where AutoTune and beats take precedence over song-craft and instrumental dexterity.
A vascular disease Arthel Lane (Doc) Watson as an infant left him blind for life. He drank in the musical styles and lore from his family and became prolific on the harmonica. then at 10 he took up the banjo his father had crafted for him. By the time he was in his teens he settled on the guitar, the instrument he helped to revolutionize touring the folk circuit with his flat-picking virtuosity.
I've never attended MerlFest, the annual music festival held the last weekend in April in Wilkesboro, North Carolina named in honor of Watson's only son, Eddy Merle Watson, who died in a farm tractor accident in 1985.
Over it;s 24-year history on the four-day festival's 14 stages you could have see some of bluegrass, folk and country music's greats -Â  Dolly Parton, Willie Nelson, Earl Scruggs, The Kruger Brothers, Emmylou Harris, Jerry Douglas, John Prine, Alison Krauss and Union Station. You would have also caught some of roots and Americana music's shining stars -Gillian Welch , the Carolina Chocolate Drops, The Avett Brothers, Old Crow Medicine Show, coming up in the ranks. You would have also seen genre-crossers like Robert Plant, Elvis Costello and Linda Ronstadt making the pilgrimage to stretch their boundaries and pay their respects.
The festival always concluded with Doc holding court performing music of the ages with humility, spirituality and grace.
Of the dozens of artist I've seen perform at the roots festival Hardly Strictly Bluegrass over the last three years, three artists rose above the rest by emodying the ages and representing a deep musical legacy the other musicians on the bill drew from – Hazel Dickens, Ralph Stanley and Doc Watson.
Thank you Doc for sharing your gift with the world.
http://www.youtube.com/watch?v=kNYHJIr0ur4