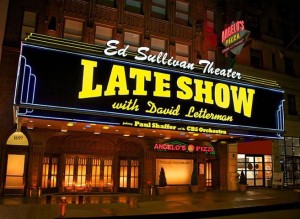 David Letterman, and his Late Show booking crew, have been long-time enthusiastic supporters of country and Americana music. Recently it seems like Dave has invited a roots artist to play every night of the week, and this is great new for the artists needing exposure and fans looking for great music.
And as Saving Country Music tells it, the Late Show was the one that reached out to many of these artists to perform on the program. Many of them, like dale Watson and Shove;s and Rope, getting national exposure for the first time.
Here's to you, Dave and crew, for championing great roots and Americana music like the clips below.
Ryan Adams – Lucky Now – December 5, 2011
Shovels & Rope – Birmingham – David Letterman January 30, 2013
http://www.youtube.com/watch?v=dfPnGEgtDXI
Elizabeth Cook – If I Had My Way, I'd Tear This Building Down – March, 14 2013
Dale Watson & His Lonestars – "I Lie When I Drink" – June 24, 2013
http://www.youtube.com/watch?v=BHcRTTy0Epg
Ray Wylie Hubbard – Mother Blues – David Letterman – January 9, 2013
http://www.youtube.com/watch?v=r92RkIKm6Wc
Marty Stuart "Country Boy Rock & Roll" June 29, 2010
Jason Isbell and the 400 Unit "Codeine" – November 2004
Pokey LaFarge – "Central Time" – 16 July, 2013
Tom Russell with Andrew Hardin – "Tonight We Ride" – 2009
Justin Townes Earle – "Harlem River Blues" – January 5, 2011
Andrew Bird with Tift Merritt and Alan Hampton – "If I Needed You" (Townes Van Zandt) – 10/30/2012
Jamey Johnson with Alison Krauss – "Make the World Go Away" 10/12/2012
Steve Earle – "Copperhead Road" – 1988
Emmylou Harris , Alison Krauss and Gillian Welch – 2001
Willie Nelson – "Always On My Mind" – date?
Earl Scruggs and Friends – Foggy Mountain Breakdown – May, 12/07