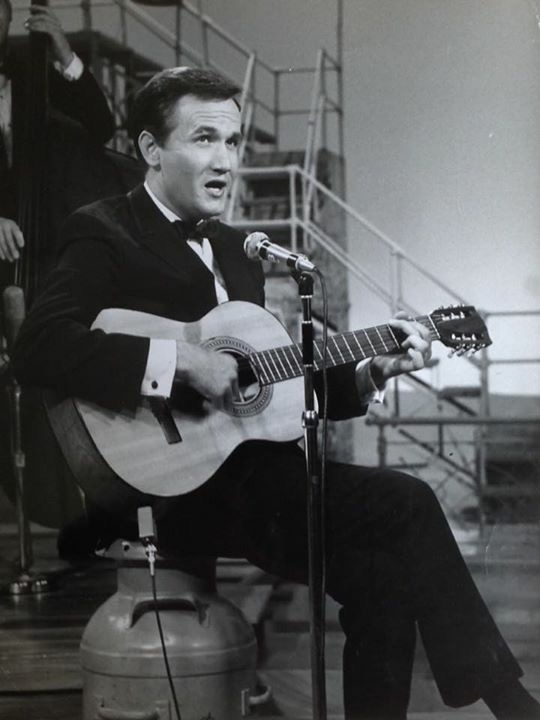 Few people these days are aware of the gENius of Roger Miller. If he's known at all it's for his deceptively goofy sons like 'Dang Me' and Z"You Can't Rollerskate In A Buffalo Herd." He was also the one of the greatest songwriters to ever work the country music genre snagging 11 Grammy Awards, a Tony Award for writing the music and lyrics for the Broadway play "Big River' and was voted into the Nashville Songwriters Hall of Fame in 1973 and the Country Music Hall of Fame in 1995. He performed, and was friends with greats like Willie Nelson and Kris Kristofferson.
Speaking of Kris Kristofferson, Miller was also the to record and commercially release his "Me and Bobby McGee" a full year before Janis Joplin made it a classic.
Now his friends and new blood that owe him a debt have come together to pay tribute. 'King of the Road: A Tribute to Roger Miller,' out Aug. 31 via BMG, pays long overdue respects to one of American music's premier entertainers and songwriters. The two-disc collection contains new renditions of Miller's songs by Ringo Starr, Dolly Parton, Eric Church, Loretta Lynn, John Goodman and more than two dozen others, including Willie Nelson, Kris Kristofferson and Merle Haggard on one track. Produced by Miller's son, Dean Miller, and Colby Barnum Wright, 'King of the Road' offers a fresh look at the work of a creative giant who has been gone 26 years but whose genius continues to shape contemporary music in ways both overt and subtle.
Read more about the project in a new interview at The Tennessean: https://tnne.ws/2toJY7B
Before Miller's premature death of cancer at age 56, the Country Music Hall of Famer had 31 Top 40 Billboard country hits (10 of which crossed over to the pop chart), including his signature songs "Dang Me" and "King of the Road." He held the record for most GRAMMY wins in a single night until Michael Jackson and 'Thriller' broke it in 1984. Miller wrote songs and voiced a character for Walt Disney's 1973 Robin Hood film. He also wrote the music and lyrics for the Tony-winning Big River, helping launch the career of actor John Goodman, who reprises the musical's "Guv'ment" on 'King of the Road.' As Dean Miller writes in liner notes accompanying 'King of the Road,' "Roger Miller was too gigantic to be contained by genres and definitions."
'King of the Road' includes versions of Miller's biggest '60s hits, like "Chug-A-Lug" (Asleep at the Wheel ft. Huey Lewis) and "England Swings" (Lyle Lovett), and lesser-known treasures from a catalog full of gems. As with Miller's own output, the album contains plenty of unexpected turns — country superstar Eric Church's playful take on Robin Hood's "Oo De Lally," for instance, or Starr's selection of "Hey, Would You Hold It Down?," a song from Miller's long-out-of-print 1979 'Making a Name for Myself' album. By any standard of measurement, Miller was "one of the greatest songwriters that ever lived" — even if he did say so himself. And he did, in the first of a handful of the album's live-performance interstitials that capture the spontaneous wit of a mind that operated at a breakneck pace.
There is a television event in the works, more information coming soon.
The scope of material and performances on 'King of the Road' both capture Miller's personality and convey an astonishing legacy that's still felt today. "Roger Miller didn't have to say much," Dean writes in the liners. "You were simply drawn to him. He had a magnetic smile, and electric wit and a passion for life and music that transcended generations."
'King of the Road: A Tribute to Roger Miller' Tracklist:
Disc One
Greatest Songwriter (Banter)
Chug-a-Lug – Asleep at the Wheel ft. Huey Lewis (!)
Dang Me – Brad Paisley
Leavin's Not the Only Way to Go – The Stellas/Lennon and Maisy
Kansas City Star – Kacey Musgraves
World So Full of Love – Rodney Crowell
Old Friends (Banter)
Old Friends – Willie Nelson, Kris Kristofferson, Merle Haggard
Lock Stock and Teardrops – Mandy Barnett
You Oughta Be Here With Me – Alison Krauss ft. The Cox Family
The Crossing – Ronnie Dunn, The Blind Boys of Alabama
In the Summertime – The Earls of Leicester ft. Shawn Camp
Fiddle (Banter)
England Swings – Lyle Lovett
You Can't Rollerskate in a Buffalo Herd – Various Artists
Half a Mind – Loretta Lynn
Invitation to the Blues – Shooter Jennings, Jessi Colter
It Only Hurts Me When I Cry (Live) – Dwight Yoakam
Disc Two
Hey, Would You Hold It Down? – Ringo Starr
Engine, Engine #9 – Emerson Hart ft. Jon Randall
When Two Worlds Collide – Flatt Lonesome
Oo De Lally – Eric Church
You Can't Do Me This Way and Get By With It – Dean Miller ft. The McCrary Sisters
Chicken S#$! (Banter)
Nothing Can Stop Me – Toad the Wet Sprocket
Husbands and Wives – Jamey Johnson ft. Emmylou Harris
I Believe in the Sunshine – Lily Meola
Guv'ment – John Goodman
Old Songwriters Never Die (Banter)
The Last Word in Lonesome Is Me – Dolly Parton ft. Alison Krauss
I'd Come Back to Me – Radney Foster ft. Tawnya Reynolds
Reincarnation – Cake
One Dying and a Burying – The Dead South
Do Wacka Do – Robert Earl Keen, Jr.
King of the Road – Various Artists