On the night of the 10th annual Americana Music Association Awards, the director of the organization, Jed Hilly, recounted from the stage of the historic Ryman Auditorium a few of the key accomplishment te genre had enjoyed over the last few years. The National Academy of Recording Arts and Sciences included a separate Americana Grammy category and Miriam-Webster added the word Americana to their dictionary: "a genre of American music having roots in early folk and country music." I was fortunate to be chosen to cover the Grammys as the official Americana blogger this year and so was personally appreciative of that part formal industry recognition and I think the Miriam-Webster definition is imprecise but Hilly's assessment is correct, movement now feels like progress.
The nearly 50 panels ranged from topics better suited for barroom debates  (Is  Blues Americana?) to tips and insights in booking shows, using Cloud-based, digital distribution,  steaming music services and tips on using social media to expand your fan base.
As great as the America Music Awards program and panels were the real action was around Nashville. A neat definition of Americana was made even more futile by the contemporary variations on display by the 100 bands showcased at five of the city's best live music clubs throughout the dates of the conference.
Wednesday night started with Austinite power-couple Kelly Willis & Bruce Robison at the Station Inn. I had see their show several months ago at my home in San Francisco and they had honed the songs and patter over the miles. The married pair emanated a presence and rapport that can only be delivered from two people that have been in the thick and thin together. Jokes about marriage counseling followed by numbers laced with classic country was reminiscent of John and June or George and Tammy. Then across town to catch Blind Boys of Alabama and another Austin resident Hayes Carll at the Mercy Lounge. The BBoA are simply one of the most amazing live acts I've ever seen. Their version of Amazing Grace performed over the familiar lonesome strains of House of the Rising Sun will give you hope while making you weep. Hayes Carll delivered his learned honky-tonk with spirit and a Texas crooked smile to charged crowd that hung on every word, even when that song was as wordy as KMAG YOYO.
Thursday was all about the 10th annual awards Americana Music Association Honors and Awards held at the Mother Church of Country Music, the Ryman Auditorium. Once again Jim Lauderdale performed MC duties and Buddy Miller led the house band once again and also triumphed by winning two awards, Artist of the Year and Instrumentalist of the Year. Miller showed the utmost humility by stating after the second hand-made folk-art trophy was handed to him  "Well this is just embarrassing. I feel like I get away with murder," he said. "I'm really, really not that good. … But I get to play with some wonderfully incredibly talented people." Emmylou Harris quipped that they should just name the hand-made trophies "The Buddy." I think she's on to something.
Robert Plant and his Band of Joy took home the trophy for Album of the Year took acceptation to Miller's assessment. Saying of his Raising Sand and Band of Joy collaborator "I stole a great deal with my old companions, and I was very fortunate, the last few years, to be welcomed by some spectacular people, especially in this town," Plant said. ""I'm never going anywhere without Buddy Miller. " Regarding the Band of Joy win, I would argue that a covers album should not be in the running for album of the year, but if one is Gurf Morlix's album of Blaze Foley covers "Blaze Foley's 113th Wet Dream" should have been that album.
Musical highlights included the Civil Wars' Barton Hollow, the Avett Brothers' The Once and Future Carpenter and soul singer Candi Staton's tribute to Rick Hall, founder of Fame Recording Studio in Muscle Shoals, Ala. with Heart on a String.
Song of the Year winner Justin Townes Earle delivered on an up-tempo Harlem River Blues, the Secret Sisters represented country tradition with Hank Williams' Why Don't You Love Me and Scott and Seth Avett of the Avett Brothers provided background vocals during Jessica Lea Mayfield's For Today.  Other performers included Lucinda Williams (Blessed), Amos Lee (Cup of Sorrow), Elizabeth Cook (El Camino), Buddy Miller (Gasoline and Matches), and Jim Lauderdale (Life by Numbers).
The show closed out with Greg Allman on Hammond B-3 organ leading Plant, Griffin, Miller, Lee, Cook, Â and others on an extended version of the gospel standard, "Glory, Glory Hallelujah."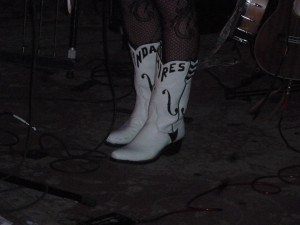 Post awards activities too place primarily in the Basement under Grimey's Record Store. I walked in on the winsome Amanda Shires mid-set, decked in a lovely dress and monogrammed boots her fluttering vibrato held the packed house in silence. Malcolm Holcombe followed with a two-piece accompaniment that in no way fenced in his frenetic guitar picking as he strolled the stage and growled songs of love and hope. On advice of a friend I stuck around for Pokey LaFarge & the South City Three. Their country-swing-blues sound was a perfect to close a late night.
Friday I was fortunate enough to catch the great Henry Wagons at the Second Fiddle Australian/Americana lunch showcase. Wagons is one of these guys that was born to perform, and it works to his favor that he's cool to be around. Later that night I headed over to the Mercy Lounge to catch Robert Ellis playing the opening bill at the Mercy Lounge, "I thought I had gotten the shitty slot." Ellis said grinning at the nearly packed room. He and his band then proved why they are the one to watch in the coming. years. It reminded me of when I first saw Ryan Bingham in New York City in 2007, great things to come. Amy LaVere followed playing her jazzy folk renditions  with winsome charm and playing, and seeming waltzing, with her stand-up bass. I then spent time catching Elizabeth Cook doing her always excellent set and heading downstairs to the Cannery Ballroom to see Jim Lauderdale & Buddy Miller show how it's done. Did I mention this is the best Americana conference/festival in the world? Then across to catch the Bottle Rockets do an acoustic show at the Rutledge, where the band proved that even unplugged they are one of the best live acts in America.
Saturday I decided to hit the the Americanarama in the parking lot of Grimey's Preloved Music Record Store to see a current favorite, Nikki Lane,  perform her blend of 60's surf rock and country noir. Lane charmed the crowd and then wowed them. She also won extra style points from me for sporing a Waylon Jennings logo tattoo on her forearm. I was suprised by the band Hymn For Her that I judged by their name to be a wispy folk duo. They were anything but as they tore through their set of hillbilly garage-rock with Lucy Tight on cigar-box guitar & Wayne Waxing on guitar, kick drum and harmonica. They blew me away with their cover of Morphine's Thursday.
Overall this year's conference seems like the community has come into their own with old friends and new mingling to laugh , argue and celebrate the thing that brings us together. Great music.
[youtube]http://www.youtube.com/watch?v=3skEpvi09Pc&feature=related[/youtube]