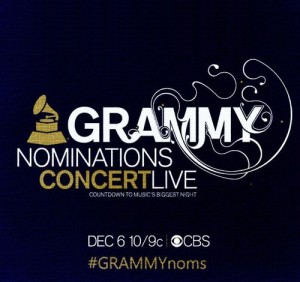 The National Academy of Recording Arts and Science held their big to-do to announce a few of the nominees for the next round of the 56th Annual GRAMMY Awards. The choices in the Americana and roots categories again display an appreciation of some of the veterans of the genre and the roots they represent.
Collaborations reigned in the Best Americana Album category. Emmylou Harris may add another trophy to the 12 GRAMMYS she a lead has on her mantel with "Old Yellow Moon," her duet collaboration Hot Band guitarist and legendary singer-songwriter , Rodney Crowell. Steve Martin & Edie Brickell are nominated for "Love Has Come For You," their first joint effort and Americana stalwarts Buddy Miller And Jim Lauderdale are up for their "Buddy And Jim." Mavis Staples , who won for Best Americana Album in 2011 is up for "One True Vine." Legendary composer, producer, performer Allen Toussaint intimate and live deliberation of his new New York City home "Songbook" rounds out the list
Nominees for Best American Roots Song include another new New York resident (By way of Texas) Sarah Jarosz for the title cut of her third studio release, "Build Me Up From Bones." Steve Earle snagged a spot for "Invisible," his song focused on the homeless and indigent, from his latest "The Low Highway." Old partners reconvene to gain a spot with Tim O'Brien & Darrell Scott's "Keep Your Dirty Lights On" from their Memories and Moments. Best Americana Album nominees Edie Brickell & Steve Martin is nominated for the title cut "Love Has Come For You" and Allen Toussaint for "Shrimp Po-Boy, Dressed."
There are no slackers in a bluegrass band, and Best Bluegrass Album nominees are some of the best in the field. A nice surprise was the choice for newcomers Della Mae's nomination for their sophomore release "This World Oft Can Be" Members of The Boxcars have collected numerous IBMA and GRAMMY Awards and have shared the stage with legends so it's no surprise that their third album "It's Just A Road" was nominated. Though Harlan Howard was referring to country music when he coined the term "…three chords and the truth." James King and his cracker-Jack band adopted it as the title for their first GRAMMY-nominated album. Veterans Dailey & Vincent (Jamie Dailey (guitar, bass, vocals), Darrin Vincent (mandolin, guitar, bass, vocals)) are up for their 3rd GRAMMY Award nomination for their sixth release "Brothers Of The Highway" and the Del McCoury Band nabbed a nomination for their 14th release "The Streets Of Baltimore." Del and the band won in the category in 2006 for "The Company We Keep."
Roots music greatness continued with the Best Folk Album category, whose boundaries blur so much with Best Americana Album category that any performer from either side could swap with a perfumer from the other and few people would notice. Patriarch singer/songwriter Guy Clark grabbed his 6th nomination for his latest "My Favorite Picture Of You." The Greencards received their 3rd GRAMMY nomination for their sixth studio album "Sweetheart Of The Sun" and Sarah Jarosz is up for her 2nd nomination for "Build Me Up From Bones." Newcomer favorites The Milk Carton Kids are on the list for their current "The Ash & Clay." "They All Played For Us: Arhoolie Records 50th Anniversary Celebration," the roots-rich benefit
in tribute to the Arhoolie Foundation, and the 50th anniversary of Arhoolie Records, is also included.
Music Row continues to show some interest in Americana-leaning performers with country newcomer
Kacey Musgraves up for Best New Artist, Best Country album (Same Trailer, Different Park) andBest Country Snog ("Merry Go 'Round".) Best Country Duo/Group Performance category features The Civil Wars for "From This Valley, " Kelly Clarkson Featuring Vince Gill for "Don't Rush" and Kenny Rogers With Dolly Parton for "You Can't Make Old Friends."
Other nominations honoring Americana and roots artists are the soundtrack for "Muscle Shoals", nominated for Best Compilation Soundtrack for Visual Media.
Root-rock pioneer Neil Young, with his band Crazy Horse, is looking to garner this third GRAMMY win with "Psychedelic Pill" for Best Rock Album
Multiple GRAMMY winner, and a member of the Rock and Roll Hall of Fame, folksinger Pete Seeger received a GRAMMY nomination for "The Storm King," in the category of Best Spoken Word Album.
Uncle Tupelo / Wilco front man Jeff Tweedy is up for Producer of the Year, Non-Classical for his work with Mavis Staples, Low and Sarah Lee Guthrie And Johnny Irion.
Alabama Shakes is up for Best Rock Performance ("Always Alright") Jack White for Best Rock Performance ("I'm Shakin'") Neko Case for Best Alternative Music Album (The Worse Things Get, The Harder I Fight…) and Mumford & Sons are nominated for Best Boxed or Special Edition Limited Package, Best Music Film (The Road to Red Rocks)
After the nominations were announced twitter was abuzz with folks pointing out a glaring oversight of Jason Isbell's "Southeastern" for Best Americana Album. The album is on all Americana and roots music end of year lists.
Isbell took to twitter to address with humor the snub,"Don't worry guys, I'll get plenty of noms. There's a Chipotle right across the street from the hotel! #NOM"
"Don't worry guys, I'll get plenty of noms. There's a Chipotle right across the street from the hotel! #NOM"
Congratulations to them all the nominees. Keep an eye on GRAMMY.com and on CBS at 8 p.m. ET/P on on January 26, 2014 to see who wins.