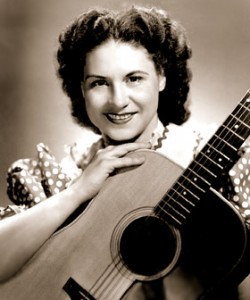 I am sad to announce the passing of yet another legend, Kitty Wells. Well's known as the "Queen of Country Music", died today in Nashville at the age of 92 following complications from a stroke. Her official site reads Wells "passed peacefully with family by her side at her home."
Born Ellen Muriel Deason Wright, Wells started her country music career with her late husband Johnnie Wright in 1937.
In 1952 she was the first female singer to reach No. 1 on the country charts with her signature song, "It Wasn't God Who Made Honky Tonk Angels." (below) The song was an "answer song" to the Hank Thompson hit from the same year, "The Wild Side Of Life." Kitty was inducted into the Country Music Hall of Fame in 1976.
The news swept across social media rapidly. Elizabeth Cook tweeted "Thank you, and RIP Kitty Wells." @WSMradio , the twitter account for the station that carries the Grand Ol' Opry tweeted "The staff at WSM would like to express our condolences to the family of Kitty Wells, the "Queen of Country Music," who passed away today."
And this from Loretta Lynn Official Facebook page "Kitty Wells will always be the greatest female country singer of all times. She was my hero. If I had never heard of Kitty Wells, I don't think I would have been a singer myself. I wanted to sound just like her, but as far as I am concerned, no one will ever be as great as Kitty Wells. She truly is the Queen of Country Music."
[EDIT] In a press releases Barbara Mandrell, a longtime friend of Kitty Wells, offers her comments on her mentor's life and work:"Kitty Wells was every female country music performer's heroine. She lead the way for all of us and I feel very grateful and honored to have known her. She was always the most gracious, kind and lovely person to be around. I so appreciated her being a part of my life and a mentor to me."
[EDIT]In another press release from Dolly Parton gives her respect "Kitty Wells was the first and only Queen of Country Music, no matter what they call the rest of us.  She was a great inspiration to me as well as every other female singer in the country music business.  In addition to being a wonderful asset to country music, she was a wonderful woman.  We will always remember her fondly."  
[EDIT] "She paved the way for generations after her and really made a mark for women in country. It's a tough business for women. She proved that she could sell records and tickets and have hits in a time when that hadn't been proven yet by female acts." Lee Ann Womack
From 1953 to 1968, various polls listed Wells as the No. 1 female country singer. Tammy Wynette finally dethroned her. She continued her performing career occasionally on into her 80s.
WKRN reports funeral services will be held Friday at 1 p.m. at the Hendersonville Church of Christ in Hendersonville, Tenn. Burial will follow in Spring Hill Cemetery. Visitation will be held Thursday from 2 p.m. to 8 p.m.
In lieu of flowers, donations should be made to Goodpasture Christian School, C/O Kitty Well/Johnnie Wright Scholarship Fund.