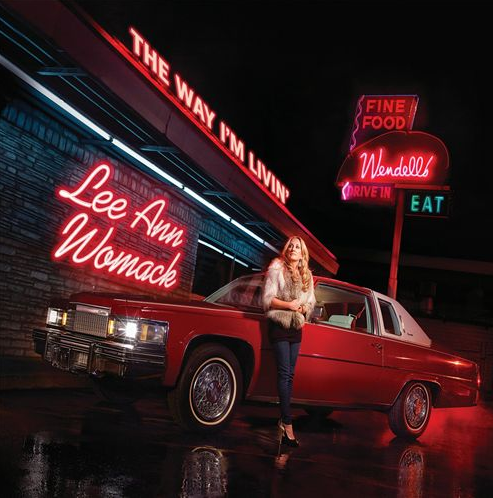 I knew when Lee Ann Womack was up to something great when she was hanging around Americanafest in 2012. Appearing in a all-request showcase with Buddy Miller she held the Mercy Lounge stage as she has all those packed arenas shows she played not not long ago.
But playing arena shows means playing by a narrow set of rules that (hopefully) lands you on mainstream country radio. Womack has worked the system like a pro, resulting in having four of her six studio albums reach Gold and selling over 6 million albums worldwide
I hope her new release "The Way I'm Livin' " hits the charts and makes her gobs of money. But if it does it'll do so by breaking the current rules of country music, and without compromise.
Womack's seventh studio album, produced by her husband Frank Liddell (Miranda Lambert, Chris Knight, Pistol Annies) and her first effort for stalwart Americana label Sugar Hill Records, was recording live in the studio with the band. The 13 tracks has her wrapping Her warm-honey vocals around classic country themes of hardship, temptation and salvation, and she's keeping mighty fine company on the journey.
Her version of Hayes Carll's jukebox weeper "Chances Are" is pure jukebox greatness. Womack really brings out a new and longing characteristic of the song's melancholy soul. The title song is a gospel stomper of swampy guitars and sonic salvation that heats up and leaves you wondering if your being taken to the Pearly Gates or Dark Underworld. Either way, the soundtrack's excellent.
"Send It on Down" is a the other side of the salvation coin. No brashness in this last-ditch plea for mercy and a bus ticket written by Chris Knight. Bruce Robison is represented in a coupe of cuts, "Nightwind" is a beautiful bluegrass-style call to an nocturnal call to a lost love. Lost love is also the theme of "Not Forgotten You" though the up-tempo accompaniment might through you off it's heart-broken trail.
Womack retains Roger Miller's rollicking tempo on "Tomorrow Night in Baltimore" but turns it up slightly to a humps it up a bit with blazing electric and steel guitar. Lost love and regret is given emotional gravity as Womack breaths life into Brennen Leigh's lovely honky-tonk lament "Sleeping with the Devil."
There's a sense of freedom and love of music throughout "The Way I'm Livin' " Womack, Liddell and the extraordinary supporting musicians have produced a contemporary version of a country gold.
I don't know what challenges that might have been awaiting Womack had she chosen to mount the gilded running-wheel of Music Row instead of jumping the Americana fence. But I'm certain had she done so "The Way I'm Livin' " would have been a very different album. Thanks goodness she didn't as the freedom to pursue her heart and vision has resulted in one of the best, and most honest, albums of her career.
Official Site | Buy