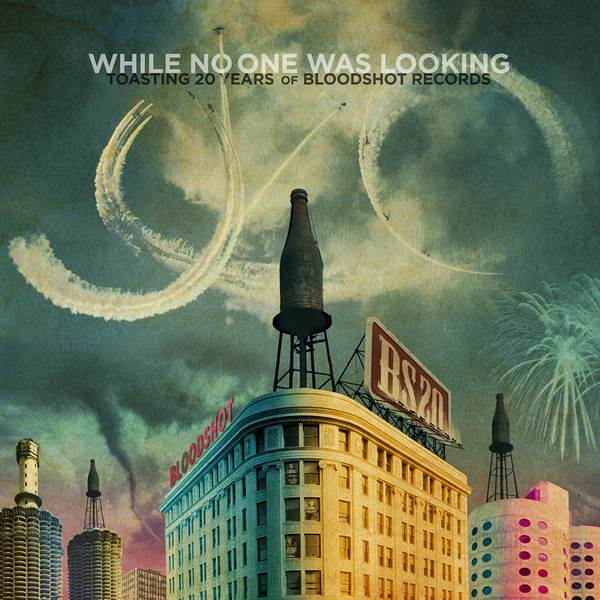 Chicago's mighty Bloodshot Records has quietly been hoisting the roots rock and alt.country flag for, well as long as those words came into mainstream use.
Hard to believe that it's been 20 years since the intrepid indy released it's inaugural compilation 'A Life of Sin: A Compilation of Insurgent Chicago Country.'
The music industry has gone through some pretty rough changes in the last two decades but Bloodshot has blasted along releasing some of the best the genre has to offer.
This November 18 you've got one more item to add to your Christmas wish-list. 'While No One Was Looking: Toasting 20 Years of Bloodshot Records,' a collection of 38 reinterpretations from the label's catalog will be released.
Blitzen Trapper, Andrew Bird and Nora O'Connor, Ben Kweller, Mike Watt, Nicki Bluhm and the Gramblers, Shakey Graves, Chuck Ragan, Superchunk, and many others cover current and former acts such as Justin Townes Earle, Ryan Adams, Neko Case, Scott H. Biram, Ha Ha Tonka, Lydia Loveless, Old 97's, Murder By Death, Robbie Fulks, Cory Branan, and more.
Personally I'm looking forward to hearing Into It. Over It cover Neko Case's "Deep Red Bells" and Kevin "Shinyribs" Russell covering Lydia Loveless' "All the Time." Yowzaa!
Pre-order (limited ed. blood-red vinyl is the way to go) and track listing are below.
Preorder "While No One Was Looking"
Full Album Track Listing:
Disc 1:
1. Blitzen Trapper – "To Be Young (Is to Be Sad, Is to be High)"
Originally performed by Ryan Adams on BS071 Heartbreaker (2000)
2. Chris Shiflett & The Dead Peasants – "Look the Other Way"
Originally performed by Justin Townes Earle on BS193 Nothing's Gonna Change the Way You Feel About Me Now (2012)
3. Samantha Crain – "Cold Forgiver"
Originally performed by Ha Ha Tonka on BS207 Lessons (2013)
4. Chuck Prophet – "Dirt"
Originally performed by Andre Williams on BS185 Hoods & Shades (2012)
5. Hiss Golden Messenger – "Where I Fell"
Originally performed by Robbie Fulks on BS211 Gone Away Backward (2013)
6. Dave Davison (of Maps & Atlases) – "Things I Didn't Say"
Previously performed by Bobby Bare, Jr.'s Young Criminals' Starvation League on BS110 From the End of Your Leash (2004)
7. Ted Leo – "Dragging My Own Tombstone"
Originally performed by Waco Brothers on BS054 Electric Waco Chair (2000)
8. Into It. Over It. – "Deep Red Bells"
Originally performed by Neko Case on BS099 Blacklisted (2002)
9. Split Single – "My Backyard"
Originally performed by Nora O'Connor on BS116 Til the Dawn (2004)
10. Limbeck – "Sound of Running"
Originally performed by Old 97's on BS066 Early Tracks (1995, 2000)
11. Tim Kasher – "Aspidistra"
Originally performed by The Scotland Yard Gospel Choir on BS148 The Scotland Yard Gospel Choir (2007)
12. Shakey Graves – "Happy Birthday Julie"
Originally performed by Wayne Hancock on BS080 A-Town Blues (2001)
13. Ivan & Alyosha – "My Winding Wheel"
Originally performed by Ryan Adams on BS071 Heartbreaker (2000)
14. Chuck Ragan – "Survivor Blues"
Originally performed by Cory Branan on BS195 MUTT (2012)
15. The Minus 5 – "Cherokee Grove"
Originally performed by Mark Pickerel and His Praying Hands on BS146 Cody's Dream (2008)
16. Carolyn Mark – "Last to Know"
Previously performed by Alejandro Escovedo on BS027 More Miles Than Money (1998)
17. Daniel Romano – "Strange Birds"
Originally performed by Jon Langford & The Sadies on BS092 Mayors of the Moon (2003)
18. Charlie Parr – "Manifold"
Originally performed by Devil in a Woodpile on BS065 Division Street (2000)
19. The Reverend Peyton's Big Damn Band – "St. Nick on the Fourth in a Fervor"
Originally performed by Ha Ha Tonka on BS145 Buckle In The Bible Belt (2007)
20. Possessed By Paul James – "I Came Around"
Originally performed by Murder By Death on BS200 Bitter Drink, Bitter Moon (2012)
Disc 2:
1. Andrew Bird and Nora O'Connor – "I'll Trade You Money for Wine"
Originally performed by Robbie Fulks on BS211 Gone Away Backward (2013)
2. Ben Kweller – "2:00 AM"
Originally performed by The Meat Purveyors on BS091 All Relationships Are Doomed to Fail (2002)
3. Frank Turner – "The Corner"
Originally performed by Cory Branan on BS195 MUTT (2012)
4. Superchunk – "Come Pick Me Up"
Originally performed by Ryan Adams on BS071 Heartbreaker (2000)
5. KOJI – "East Jefferson"
Originally performed by Ben Weaver on BS173 Mirepoix & Smoke (2010)
6. The Great Crusades – "Fake Out Jesus" (Live)
Originally performed by The Blacks on BS 063 Just Like Home (2000)
7. Mike Watt & The Missingmen – "Up to My Neck In This"
Originally performed by Jon Langford & The Sadies on BS092 Mayors of the Moon (2003)
8. Nicki Bluhm & the Gramblers – "Oh My Sweet Carolina"
Originally performed by Ryan Adams on BS071 Heartbreaker (2000)
9. Jerry David DeCicca – "Broken Bottle"
Previously performed by Alejandro Escovedo on BS027 More Miles Than Money (1998)
10. The Handsome Family – "1000 Dollar Car"
Originally performed by The Bottle Rockets on BS212 The Brooklyn Side (1994, 2013)
11. Warm Soda – "All Grown Up"
Previously performed by Gore Gore Girls on BS142 Get the Gore (2007)
12. James Leg (of Black Diamond Heavies) – "Is That You in the Blue?"
Originally performed by Dex Romweber Duo on BS186 Is That You in the Blue? (2011)
13. Two Gallants – "Truck Driver"
Originally performed by Scott H. Biram on BS122 The Dirty Old One Man Band (2005)
14. Diarrhea Planet – "Dry Land"
Originally performed by Waco Brothers on BS015 Cowboy in Flames (1997)
15. Kevin "Shinyribs" Russell – "All the Time"
Originally performed by Lydia Loveless on BS214 Boy Crazy (2013)
16. The North Carolina Music Love Army (featuring Caitlin Cary, Chip Robinson, and Kenny Roby) – "Stick to the Plan"
Originally performed by Graham Parker on BS140 Don't Tell Columbus (2007)
17. William Elliott Whitmore – "I Wish I Was the Moon"
Originally performed by Neko Case on BS099 Blacklisted (2002)
18. Samuel Fogarino (of Interpol) – "Liked It a Lot"
Originally performed by Charlie Pickett on BS 154 Bar Band Americanus (1984, 2008)