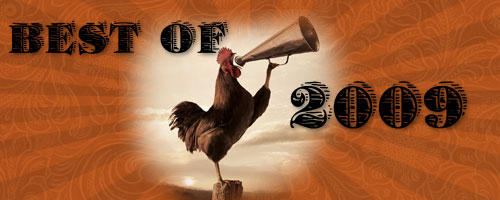 It's been a bumper-crop year for Americana and roots music. There are many reasons for this sonic bonanza but I believe the main drive results from an aging generation used to genre defying music now looking for something a little more comfortable, but no less challenging, as they move from their 20s to their 30s. A generation that grew to see mash-ups as a newly formed musical expression are much more comfortable with genre bending acts like The Drive By Truckers and Deer Tick, and the success of recent T. Bone Burnett stewarded projects, the O' Brother Where Art Thou soundtrack and Robert Plant and Allison Krauss' Raising Sand brings older performers and songs to a new audience and shows that the music is not only interesting and exciting, and in a culture steeped in hipster irony something emotionally authentic, but it can make money as well.
Maybe part of the boom was the newly added Americana Grammy category (yeah, I don't buy that either), or maybe this aging population are used to the internet and discovering music their way instead of having pre-fabricated crap shoved down our throats by the big labels whose only business plan over the last decade is to sue the fans and squeeze musicians tighter, and the commercial radio stations that enable them. As a grassroots cultural correction Americana, like punk rock in the 70's, is a response to this environment of mediocrity. Only this time it's with a banjo instead of a Fender Jaguar and a Mohawk (though some of these musicians do sport Mohawks) and wielding the power of social media that does much of the jobs the big labels used to do a generation ago. Whatever the reason for all the music, I'm just happy to be a recipient and humble purveyor of all the goods, and I hope some of you readers find some of this stuff interesting as well.
I've expanded my top 10 list to 20 this year to make room for this great embarrassment of riches. By doing this I've also done away with my addendum Honorable Mentions, which was always kind of like a cheat anyway.
I was honored to be included with 29 of the best music blogger compadres around in the top 20 Bird List, but I have to admit that the list I submitted for that list has changed about 10 more times ultimately resulting in the list you now see before you….enjoy, disagree, fume and fret ,leap for joy, whatever…just get me some of that spiked Nog while you're up.
1. Charlie Robison – Beautiful Day (turning life's lemons into Luckenbach lemon-aid)
2. Kris Kristofferson- Closer To The Bone (#2 this year, but career-wide nobody can touch Kristofferson for songwriting.)
3. Gretchen Peters with Tom Russell – One To The Heart, One To The Head (a brilliant Western cinematic duet)
4. Lindsay Fuller and the Cheap Dates –Self Titled (Flannery O'Connor with a telecaster)
5. Miranda Lambert – Revolution (The anti-Taylor works from inside Music City)
6. George Strait – Twang (The King of Country. Period)
7. Tom Russell – Blood and Candle Smoke (Beat poet hillbilly travels dusty roads and smoky coffee shops with members of Calexico)
8. Carolyn Mark and NQ Arbuckle – Let's Just Stay Here (Quirky yet familiarly cozy Canadian country music)
9. Corb Lund – Losin` Lately Gambler(See Canadian reference above)
10. Grant Langston – Stand Up Man (Bakersfield is alive and well)
11. Wrinkle Neck Mules – Let The Lead Fly (alt.country is alive and well)
12. William Elliott Whitmore – Animals In The Dark (punk and folk ethos delivered with timeless soul)
13. Amanda Shires – West Cross Timbers (Winsome chanteuse travels dark and dusty regions of the heart)
14. Angela Easterling – Black Top Road (Roots/Rock sweetheart with a folk sense of cultural activism)
15. Willie Nelson & Asleep at the Wheel – Willie and the Wheel (perfect union channels the spirit of Bob Wills)
16. Todd Snider – Excitement Plan (Steve Earle should study this release, social commentary doesn't have to suck)
17. Justin Townes Earle – Midnight At The Movies (the younger Earle continues to make his mark by reaching into country music's past)
18. The Felice Brothers – Yonder is the Clock (The Basement Tapes run through a dark prism)
19. Guy Clark – Somedays The Song Writes You (A Texas treasure that can do no wrong)
20. Deer Tick – Born on Flag Day (Indy spirit that uses twang as a strong driver)
21. Those Darlins – Self-titled (Riot Grrrl spunk with a Carter Sisters trad reverence)