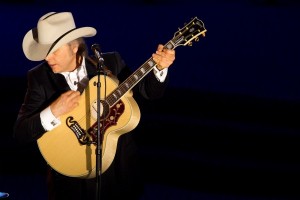 It seems too crazy to be true. It was over a year ago that I read about a potential collaboration between Dwight Yoakam and Beck. I thought it was too good to be true and as the months rolled by I thought my hunch was correct. No way Jose.
I've never been so glade to be mistaken. The recently announced "3 Pears," is the result of that creative union and will be be released Sept. 18. It's also Yoakam's first studio album of original material since in seven years ‎and his return to Warner Bros. Records.
I read that Yoakam has been working on the 12 songs on the album since 2008 and jokingly describes the process as "reaaall reaaaallllll sloooww."
Let's hope it results in a release that's reaaall reaaaallllll good!
Here's a little Bakersfield heaven with Dwight joining the Hag on his "Swinging Doors."
http://www.youtube.com/watch?v=yiARHDNECBo&feature=related