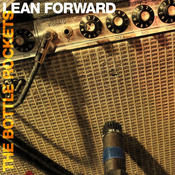 One of the forebearers of the old school alt.country work ethic of play hard, play often, and play well.
The Bottle Rockets still contain the DNA of thier earlier incarnation of Chicken Truck, a straight up honky-tonk band that preceded the Rockets, and from their relationship with Uncle Tupelo in the 90's. But while many of thier contemporaries  have either crashed and burned or abandoned the alt.country genre altogether for indy-rock cross-market gold (I'm  looking at you Tweedy!), guitarist/singer Brian Henneman,  guitarist John Horton, drummer Mark Ortmann and bassist Keith Voegele found their groove and honed their craft from years together and miles on the road.
Lean Forward is really two records in one. If you give it a casual spin it's a tight and powerful rock and roll record that belies the craftsmanship by hitting you in the gut. On closer inspection the deceptively straightforward songs tell of everyday troubles while displaying a smart silver lining.
Wrong turns on tour are serendipitous events (The Long Way), Rolling-Stoned swaggering blues embrace inevitability in the face of good intentions (Shame On Me) and a Bo Diddley stomp-rocker about either a repo-man or a car thief (Nothin' But A Driver) takes pride in his work.
Hard Times serves up a tasty slice of Southern funk and strikes a working-class Zen view of life – "Hard times, that's nothin'. Hard times pass" and ending in resolve "I'm not broke down. I'm just out of gas." Kid Next Door goes up with the Drive By Truckers' Dress Blues and the Dixie Chicks Traveling Soldier as great slice-of-life songs that show the cost of war from a main street view.
The Bottle Rockets have been a criminally overlooked American rock band for seventeen years now and judging by Lean Forward it hasn't bothered or slowed them down one bit
Official Site | MySpace | Buy

[youtube]http://www.youtube.com/watch?v=IwZieRvf650[/youtube]