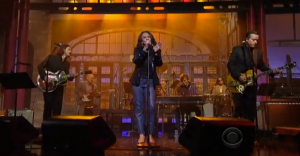 the Late Show with David Letterman continued it's support of great music by featuring a special musical performance in honor of the film Muscle Shoals, featuring R&B legend Candi Staton, Jason Isbell, John Paul White (The Civil Wars) and The Swampers (Spooner Oldham, Jimmy Johnson & David Hood).
the ensemble performed "I Ain't Easy To Love" written by James Leblanc and Angela Hacke, is featured in the Magnolia Pictures film Muscle Shoals, in theaters now & available on iTunes and On Demand.
About the film:
"Located alongside the Tennessee River, Muscle Shoals, Alabama is the unlikely breeding ground for some of America's most creative and defiant music. Under the spiritual influence of the "Singing River," as Native Americans called it, the music of Muscle Shoals has helped create some of the most important and resonant songs of all time. At its heart is Rick Hall who founded FAME Studios.
Overcoming crushing poverty and staggering tragedies, Hall brought black and white together in Alabama's cauldron of racial hostility to create music for the generations. He is responsible for creating the "Muscle Shoals sound" and The Swampers, the house band at FAME that eventually left to start their own successful studio, known as Muscle Shoals Sound. Greg Allman, Bono, Clarence Carter, Mick Jagger, Etta James, Alicia Keys, Keith Richards, Candi Staton, Percy Sledge and others bear witness to Muscle Shoals' magnetism, mystery and why it remains influential today."
http://www.youtube.com/watch?v=i5q4QOnU7kM
Muscle Shoals movie trailer –