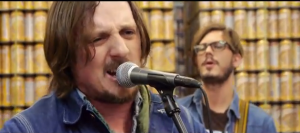 I'm not sure if I was the first to coin the term but I'm pretty sure i was the first to tweet it – that's so country it's Americana.
By that I mean as Music City continues to do what it's always done, chase trends to broaden consumer acceptance, fill radio slots and asses in arena seats, and make truckloads of money, who looks after the legacy of the music? The legacy of twang, soul and grit that Rodgers, the Carters and Hank Sr. left us? The focus on the song as deep, personal expressions and not just target-marketed laundry lists? Ladies and gents it's Americana straight up.
sure music Row still determines the brand "Country Music" but they don't won the legacy or spirit. Tom Petty hit the nail squarely in the noggin when he described contemporary country music as "Bad rock with a fiddle. Zing! While the rhinestone cowboys chase hits and eschew tradition (Blake!) the real soul of country music has found a new home in the Americana camp. Now by Americana I also include the underground, muddy roots acts as well, as I believe a lot of the passion and blue-collar core is often found on that side. Here are a few videos to make my case.
Legacy: in their golden years no one in Music Row bothered to return phone calls to Johnny Cash and Porter Wagoner who were still viable a, had songs, and wanted to work. It took hip-hop/rock producer Rick Rubin and musician/producer Marty Stuart to work with these legendary men, respectively, and understand their storied place in music history. Working with their own label (Rubin) and an L.A. rock label (Epitaph) allowed these legends to produce some of their best work at the end of their lives and leave this world with dignity and fans with a few more treasures. Hell, even country music legend Lee Ann Womack teamed up with Americana stalwart Buddy Miller to stretch her wings.
Johnny Cash – "Hurt" (Nine Inch Nails)
http://www.youtube.com/watch?v=SmVAWKfJ4Go
Porter Wagoner – "Committed to Parkview"

Leann Womack & Buddy Miller – "Don't Tell Me"

Soul – At it's core country music is soul music. It bleeds life in common stories plaintive and wondrous. Here are some performers that reflect that rough beauty.
Robert Ellis – "Cemetery"

Jason Eady – "AM Country Heaven"

Elizabeth Cook – "Mama's Prayers"
www.twangnation.com/blog/wp-admin/post.php?post=5944&action=edit
Twang and Grit – Musicianship has always been the stock and trade of country music , but it used to be more than a backdrop for party anthems. Here are some that are tearing it up without dumbing it down.
Sturgill Simpson – "You Can Have The Crown / Some Days"

Whitey Morgan and the 78's – Cocaine Train

Turnpike Troubadours – "Before The Devil Knows We're Dead"

Dale Watson – "I Lie When I Drink"