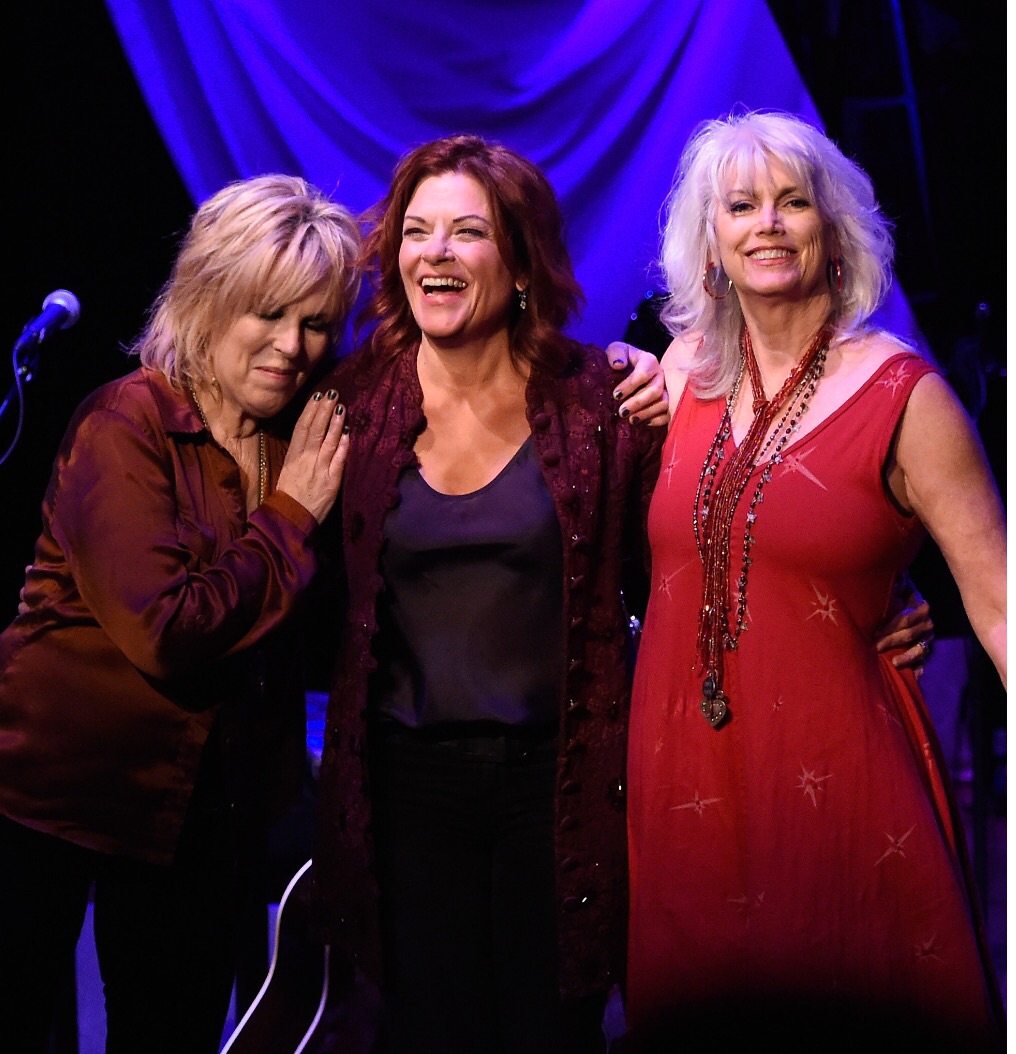 Photo by Rick Diamond, Getty Images
This is a guest post by Holly Gleason
​When Emmylou Harris sang, "One thing they don't tell you about the blues when you got 'em/ You keep on falling 'cause they got no bottom" in the aching "Red Dirt Girl," the first song in what was supposed to be Rosanne Cash's second night as the Country Music Hall of Fame's 2015 Artist in Residency, the night seemingly could've turned into a night of one upsmanship and "watch this." Raw, almost bleeding and deeply vulnerable, Harris' song set a high bar for artistry and emotional pulse that could've read as a challenge.
​But given that Harris and Cash have been dear friends for 35 years and Lucinda Williams friends for almost 25, what emerged was a testimony to love, grace, talent and songs well-realized. Drawing on old songs, cover songs and songs yet to be recorded, the American roots music queen wove a tapestry of human emotion that brought everyone in touch with their deepest – perhaps even unacknowledged – selves.
​Seeing three women who've lived lives, ignited intense love affairs, faced great disappointments, shored up, thrived not just survived – and then wrote or found songs that distilled those things is a thrill. But to watch them love and respect each other unabashedly, shower the others with compliments and tell cheeky stories is to understand the power of women unfurled.
​For Rosanne Cash, whose velvety claret voice soothed Williams' rusty barb wire tones on the final verse and chorus of "Sweet Old World," the most rock-leaning of the threesome inspired a moment of true rapture with her song of death and devastation. Williams' version of the song from the 1992 album of the same name has taken the stunned despair and deepened it with both a world-weary recognition of how much it hurts losing people you love and an appreciation for how wonderful the world is.
​Emmylou Harris waxed wry, offering the insight about NPR's liberal point of view: "the truth" before launching into stark "Emmett Till," which she introduced by explaining his racially-driven murder 50 years ago may well have tipped the civil rights struggle in a way that allowed Barack Obama to America's first black President. Not one to preach, the gently reflection suggests much about the power of songs and women to deliver volatile social messages in ways that make injustice emerge on their own.
​That is the power of the feminine mystique in experienced hands: they can tackle charged topics, embrace Bob Dylan (Cash's "Girl from North Country") with innocence informed by passion, get visibly emotional (Williams before singing her beauty in the ravages "When I Look At the World" from last year's "Where The Spirit Meets The Bone" album) and near intimidation (Cash talking about how she spent her first five years trying to impress Harris "and this song did it") met with off-handed humor (Harris' reply "which one?") as the walk-up to Cash's second #1, the dusky torch "Blue Moon with Heartache."
​For those gathered in the 800-seat Ford Theater, it was the rare peak into the realm of women unfettered. The pair let it all hang out: glorying in songs, basking or demurring from the praise, making off-handed jokes and being unabashedly honest about their love for each other. In the small details – designer Natalie Chanin's teaching Cash to sew with the admonition "You have to learn to love the thread" turning into the metaphor that inspired the double-Grammy winner "A Feather's Not A Bird" or Harris revealing the inspiration culled from a birthday gift from the late Susanna Clark, "a print of a Terry Allen piece, what looked like a Leonardo DaVinci drawing of an arm, which would've been enough, but then there was a boat emerging from the arm, and it was called, 'When She Kisses The Ship Upon His Arm" – empowers and grounds part of where their strength lies.
​But more than that, it is the communion of friends, artists, muses. For Cash's second night of a three night residency – the final being September 24 – she pulled back the veil and revealed the essence of a woman's heart. It is joy, hope, sorrow and beauty all tempered with love and knowing, and when it is joined to songs tendered with lyrics of nuance, it is a stunning thing, indeed.
​By the time of the encore, the cheers had taken on a force of their own. After pulling Cash's breakthrough "Seven Year Ache," the tale of a heartbreak moving through a wide swath of town, as the common ground, each woman had shown her strength and lifted the others up. Celebratory, that man become incidental – yet Johnny Cash's "I Still Miss Someone," the night's final song, also suggested these three understand the potency of romance, desire and falling in love to the hilt.
​What isn't necessary becomes wanted, and that is the magic of life, emotion and the uncertainty of how we move through the world. Standing shoulder to shoulder on the edge of the stage, Cash, Harris and Williams bowed – as much to the forces that brought them to this place as to the packed house on their feet.
Holly Gleason has written regularly for ROLLING STONE, THE LOS ANGELES TIMES, PASTE, NO DEPRESSION and HITS, as well as contributing to RELIX, THE OXFORD AMERICAN, PLAYBOY and THE NEW YORK TIMES. She lives in Nashville, Tennessee.