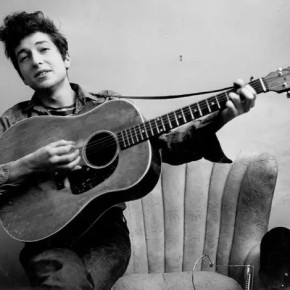 Bob Dylan was honored by MusiCares, the charity organization that aids musicians in need, at the Los Angeles Convention Center on Friday night. Though Dylan himself delined to perform
(as did Neil Young when he was so honored) artists like Willie Nelson, Beck and Bruce Springsteen covered some his timeless songs
Dylan did take a rare opportunity to deliver a heartfelt and bracingly forthright 30-plus-minute acceptance speech calling out songwriters who had criticized his work while also calling out Music City and commercial country music.
Of course if anyone at the Academy was surprised by Dylan's frankness they haven't been paying attention to the man's 50 + year career.
The only omission in Dylan's speech that gave me pause was the oversight of his old backing group, The Band. Then again as scathing as he is to some of the people in his past maybe this was a good thing.
He also heaped praise on individuals on the industry that bravely too a chance on him and musicians that coverd his songs without being sked to. Covers that made the charts and brought mainstraem recognitions, and cash, to Dylasn early on.
After his introduction by former President Jimmy Carter Dylan entered to a standing ovation. He then referred to his written notes and began, "I'm going to read some of this."
Bob Dylan's MusiCares person of the year acceptance speech:
I'm glad for my songs to be honored like this. But you know, they didn't get here by themselves. It's been a long road and it's taken a lot of doing. These songs of mine, they're like mystery stories, the kind that Shakespeare saw when he was growing up. I think you could trace what I do back that far. They were on the fringes then, and I think they're on the fringes now. And they sound like they've been on the hard ground.
I should mention a few people along the way who brought this about. I know I should mention John Hammond, great talent scout for Columbia Records. He signed me to that label when I was nobody. It took a lot of faith to do that, and he took a lot of ridicule, but he was his own man and he was courageous. And for that, I'm eternally grateful. The last person he discovered before me was Aretha Franklin, and before that Count Basie, Billie Holiday and a whole lot of other artists. All noncommercial artists.
Trends did not interest John, and I was very noncommercial but he stayed with me. He believed in my talent and that's all that mattered. I can't thank him enough for that. Lou Levy runs Leeds Music, and they published my earliest songs, but I didn't stay there too long.
Levy himself, he went back a long ways. He signed me to that company and recorded my songs and I sang them into a tape recorder. He told me outright, there was no precedent for what I was doing, that I was either before my time or behind it. And if I brought him a song like "Stardust," he'd turn it down because it would be too late.
He told me that if I was before my time — and he didn't really know that for sure — but if it was happening and if it was true, the public would usually take three to five years to catch up — so be prepared. And that did happen. The trouble was, when the public did catch up I was already three to five years beyond that, so it kind of complicated it. But he was encouraging, and he didn't judge me, and I'll always remember him for that.
Artie Mogull at Witmark Music signed me next to his company, and he told me to just keep writing songs no matter what, that I might be on to something. Well, he too stood behind me, and he could never wait to see what I'd give him next. I didn't even think of myself as a songwriter before then. I'll always be grateful for him also for that attitude.
I also have to mention some of the early artists who recorded my songs very, very early, without having to be asked. Just something they felt about them that was right for them. I've got to say thank you to Peter, Paul and Mary, who I knew all separately before they ever became a group. I didn't even think of myself as writing songs for others to sing but it was starting to happen and it couldn't have happened to, or with, a better group.
They took a song of mine that had been recorded before that was buried on one of my records and turned it into a hit song. Not the way I would have done it — they straightened it out. But since then hundreds of people have recorded it and I don't think that would have happened if it wasn't for them. They definitely started something for me.
The Byrds, the Turtles, Sonny & Cher — they made some of my songs Top 10 hits but I wasn't a pop songwriter and I really didn't want to be that, but it was good that it happened. Their versions of songs were like commercials, but I didn't really mind that because 50 years later my songs were being used in the commercials. So that was good too. I was glad it happened, and I was glad they'd done it.
Purvis Staples and the Staple Singers — long before they were on Stax they were on Epic and they were one of my favorite groups of all time. I met them all in '62 or '63. They heard my songs live and Purvis wanted to record three or four of them and he did with the Staples Singers. They were the type of artists that I wanted recording my songs.
Nina Simone. I used to cross paths with her in New York City in the Village Gate nightclub. These were the artists I looked up to. She recorded some of my songs that she [inaudible] to me. She was an overwhelming artist, piano player and singer. Very strong woman, very outspoken. That she was recording my songs validated everything that I was about.
Oh, and can't forget Jimi Hendrix. I actually saw Jimi Hendrix perform when he was in a band called Jimmy James and the Blue Flames — something like that. And Jimi didn't even sing. He was just the guitar player. He took some small songs of mine that nobody paid any attention to and pumped them up into the outer limits of the stratosphere and turned them all into classics. I have to thank Jimi, too. I wish he was here.