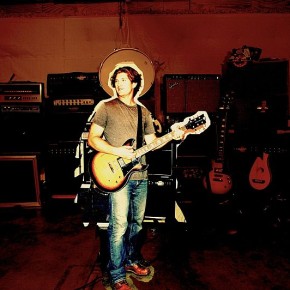 'Terminal Current' is the second full-length album from The Ravenna Colt (former My Morning Jacket guitarist/engineer Johnny Quaid) and it shimmers like Summer heat waves off a rural blacktop road. Here the full release below.
Kentucky-born musician Johnny Quaid filters his personal Americana dreamscape through The Ravenna Colt, traversing folk-rock territory while "creat(ing) Quaid's vision of stories and soundscapes as told from the eyes and ears of a carpenter and troubadour."
In 1998, Quaid joined Jim James on a project that would change their lives – My Morning Jacket. The group worked feverishly touring and recording and has not slowed down since. Quaid lends his guitar licks and engineering style to the first three albums, The Tennessee Fire, At Dawn and It Still Moves.
Quaid departed from the group amicably at the start of 2004. He left his native Kentucky, headed west to California and worked as a carpenter while keeping a writer's pen at hand. After moving back east to Tennessee, Quaid released The Ravenna Colt's debut album 'Slight Spell' in 2010.
Quaid has since relocated to Boise, where he pulled talent from the city's fervent indie/roots music scene to assemble the latest incarnation of The Ravenna Colt. Terminal Current was recorded in Boise and Louisville, Ky., at Above the Cadillac and La La Land studios.
The video for "Absolute Contingency," the lead single off The Ravenna Colt's (former My Morning Jacket guitarist/engineer Johnny Quaid) forthcoming album Terminal Current (Removador/Karate Body), premiered today via The Alternate Root. Watch the Joe Baughman directed video.
"I take the art of making a record very seriously." Says Quaid "I don't rely on number of songs to constitute an album. I approach it more like making a film — I tell a story and create a feeling with the music. All my songs are very personal, despite the titles and themes. Music for me is really a means of therapy. With each album, I've really just captured the events that have lead up to it. I've had some major life changes between Terminal Current and Slight Spell, and I think you can hear/feel that."
The Ravenna Colt will host a release party and performance 7 p.m. Friday, Feb. 20, at Neurolux, 111 N. 11th St., Boise. Sleepy Seeds opens the show. Tickets are available in advance atticketweb.com or The Record Exchange, 1105 W. Idaho St., Boise.
The band also will perform on Radio Boise (89.9FM/93.5FM) during the Radio Boise Live Music Hour at 4 p.m. Feb. 20 and at an all-ages release party preview at 6 p.m. Thursday, Feb. 19 at The Record Exchange.