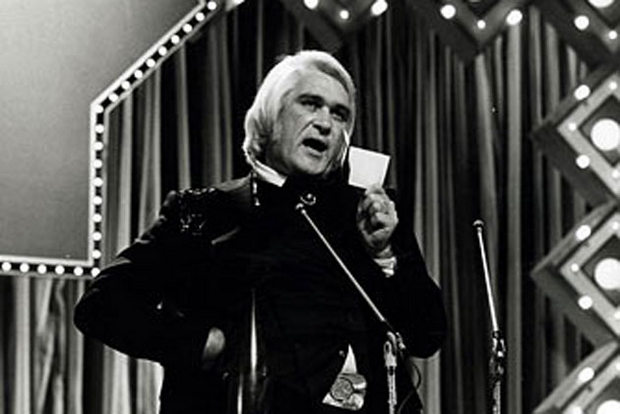 At the 1975 Country Music Association awards in Nashville reigning Entertainer of Year recipient made a statement still talked about today, but now available on YouTube (for now)
The "Silver Fox" had won the honor the year before and obligated to announce the winner of the category the current year.
A visibly buzzed Rich made his way to the stage and proceeded to milk the moment or effect and, apparently, torture the nominees
"I know the people that are up for it are suffering right now."
As he reads the list of nominees – John Denver, Waylon Jennings, Loretta Lynn (who he proceeds to ask on a date in front of her husband, Mooney) Ronnie Milsap and Conway Twitty.
The audible scattered laughter from the crowd when John Denver's name was read told you what you needed to know about the attitude in the room to the pop-folk newcomer.
The winning envelope is torn (annihilated) open and the winners name is announced. "My friend, John Denver." Just after setting the naming card afire.
Talk about an outlaw move.
But Rich was anything but an outlaw. He tore up the charts with singles like "Behind Closed Doors" and "The Most Beautiful Girl." Pop-country fair that was key in moving country music into cross-genre audience expansion.
Denver was a natural extension of Rich, Eddie Arnold and Glenn Campbell to fuse pop and jazz elements into country, softening it's edges and filtering out the twang that alienated a coveted uptown audience.
Whether Rich was joking or not is only known by him. Whether he was making some great gesture or just trying to get attention in a drunken stpor has been fodder for speculation for years.
Rich stayed publicly mum on the controversial event. But many in the tight-knit industry took his insubordination seriously and his career suffered as he found it increasingly hard to find work afterword.
The world the Rich and Denver shaped now dominates the industry, airwaves and filled arenas across the nation. There's not enough lighters in the world to change that fact.
https://www.youtube.com/watch?v=qXgiCr-V9HM