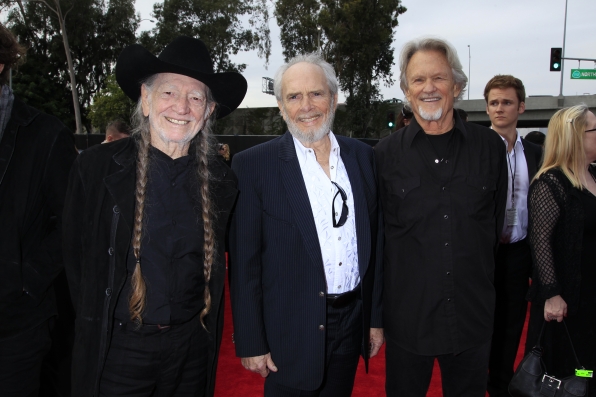 The live (and lively) performance by country legends Willie Nelson, Kris Kristofferson, and Merle Haggard on the 56th Annual Grammy Awards stage to perform the classics "Highwayman," "Okie From Muskogee" and "Mamma's Don't Let Your Babies Grow Up to Be Cowboys" was a magnificent, albeit creaky, moment of music history. It is also a testament to how far off the reservation Music City has veered.
Leaving aside whether Blake Shelton merited a spot alongside such luminaries (cough…Jamey Johnson, Sturgill Simpson…cough) it was a highlight of the event.
Wille mentioned to Billboard.com that a formal collaboration among the three is in the works.
"We're working on one now, yeah," Nelson said, adding that they'll release it "as soon as we get it together."
Tentatively called "The Musketeers" (SavingCountryMusic.com) this will be the first time the trio has collaborated on the same project. Nelson is the common bond as he recorded the Townes Van Zandt's classic, "Pancho & Lefty," with Haggard and worked with Kristofferson in The Highwaymen alongside Johnny Cash and Waylon Jennings.
Given Kristofferson and Haggard's recent health concerns a collaboration album released this year might be the last we hear from these gentleman. I certainly hope not.
But going out among friends would be a fine adios.