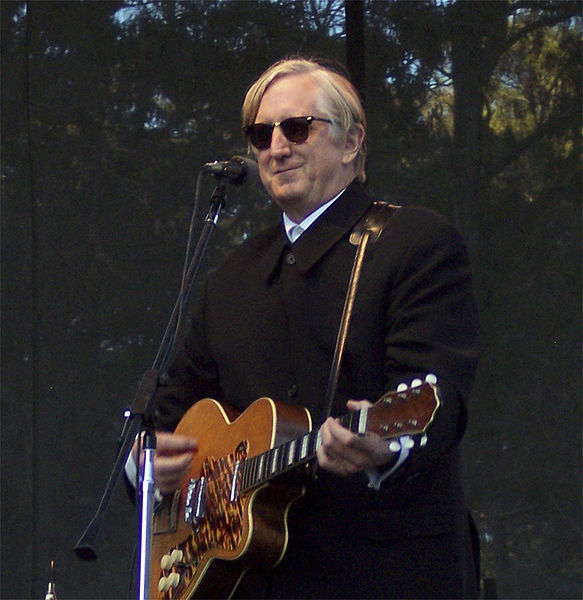 T Bone Burnett is launching a new label, but if recent views still stand he won't be promoting it.
Variety reports that roots-music auteur T Bone Burnett will launch a new music label , Electromagnetic Recordings, with Capitol Music Group. The label's roster includes Gregg Allman and Jerry Lee Lewis.
It's not surprising, given Burnett's adversity aversion to technology, that the label appears to have no web presence and that the promotion appears to be handled by other rather than Burnett himself, except for being available for interviews. Is that promotion? (I say yes!)
"T Bone is quite simply one of culture's most creative forces," says Steve Barnett, CEO of Capitol Music Group. "He is an influential curator and tastemaker, and his projects are consistently of stellar quality and integrity."
Burnett shares the admiration "Steve Barnett is a very interesting, energized, smart executive," Burnett says. "(He) actually listens to, and believes in music as a force for good in the world. He has given me a base for which I can invest in some very good young artists. We'll be doing films, television, records and tours. It is about music. The marketing focus is simple: it is music for people who like music. It's all going to be good and it's all going to be done analog. This is one of our things."
Burnett has been in constant demand (in spite of a profession of no self-promotion) He recently lent his executive music producer and composer duties for his fourth film collaboration with Joel and Ethan Coen, "Inside Llewyn Davis," and last year, did the same for "The Hunger Games" and ABC's "Nashville."
Burnett has also taken on another music exec producer role for HBO's forthcoming "True Detective" series starring Matthew McConaughey, and has begun working on "The Basement Tapes … Continued," an album and film documentary that will revisit 16 previously lost Bob Dylan lyric sheets from 1967. Dylan will be involved and as well as some of today's most acclaimed artists.